Highlands tipped to ride high on back of cobalt boom
---
As a partner in the substantial Ramu nickel-cobalt mine, Highlands Pacific has lots of what the lithium battery makers want. It also has a market cap of just $80m, which is why the stock is now attracting buy recommendations.  Plus, will Perseus' forecast production increases revive its share price?
Cobalt is a key metal in the dominant lithium-ion battery chemistries, meaning demand for the stuff is being swept along by the biggest disruptive industrial event since Henry Ford's Model T hit the roads in the early 1900s – the electric vehicle revolution.
The problem is that 65% of the world's cobalt is sourced from the Democratic Republic of the Congo, with the artisinally-produced component of that – think child labour and shocking working conditions – accounting for some 15%.
That's not good enough for the world's auto makers. A more diverse and ethically-sourced supply chain is needed. The more-than-doubling in the cobalt price to $US60,000 a tonne is providing the incentive for that to happen.
But it is going to take time, prompting most forecasters to have cobalt staying at elevated levels for the foreseeable future.
Nickel is also a key metal in the dominant lithium-ion chemistries. And it too has been enjoying a strong price gain this year, albeit from a low base.  It is now sitting at $US5.57 a pound, which is 27% higher than last year's average.
The price performance of cobalt, and to a lesser extent nickel, has been powering up the market caps of the ASX explorers/developers which have made the metals their speciality.
Some might become producers. Most won't. It's just that super-strong prices don't in themselves guarantee exploration success or a successful mining operation.
Investor enthusiasm for the cobalt/nickel explorers is understandable. It is where amped-up leverage resides.
But a more conservative response to the battery boom and the associated cobalt/nickel thematic has been to look to the existing producers, which in this market means the nickel producers where cobalt is a by-product.
It's why the share prices of Western Areas (WSA) and Independence (IGO) have been on the tear since July.
But today's interest is in one of the market's most over-looked mining companies – Highlands Pacific (HIG).
Ramu nickel-cobalt but one of HIG's steak knives
HIG's share price has been on the move as well, rising from 6c in July to 8.5c this week. That gives it a market cap of $80m, which is much less than some of the more fancied cobalt explorers out there who might or might not have a mine one day.
HIG, on the other hand, is an 8.56% partner in the Chinese-managed Ramu nickel-cobalt mine in PNG. Built at a cost of $US2.1 billion, Ramu started life in 2012. It was a difficult birth but the mine has come good, reporting net cash flow of $US40m for the September quarter.
More to the point is that Ramu accounts for 3% of the world's current cobalt production - and PNG is not the DRC. The booming cobalt price means about 30% of the mine's revenues are now coming from the metal.
On estimates by Morgans' Chris Brown, all-in sustaining costs for Ramu's nickel (after cobalt credits) is about $US3/lb.
HIG's interest in Ramu will increase in time. It will move to an 11.3% stake at no cost after cashflow from its existing interest pays off $US128m in project debt and it has an option to get to 20.55% at market prices, with the all important attached marketing rights to its then share of nameplate capacity.
At the full 20.55%, HIG's annual share would be some 6,400 tonnes of nickel and 617 tonnes of cobalt.
And while Australian nickel producers get busy thinking about producing a mixed hydroxide product (MHP) for the lithium ion battery market, that is what Ramu already does. Its MHP production in the September quarter contained 8,549t of nickel and 808t of cobalt.
Morgans' Brown reckons HIG's ability to get to 20.55% of Ramu makes its "attractive to an industry participant in a stronger commodity market, particularly as MHP is the preferred feedstock for a range of lithium ion batteries commonly used by automakers".
Brown didn't mention "takeover potential" but it can be said HIG has a share register that could facilitate some action. It has the trading group Trafigura with 16%, the Chinese-owned Pan Aust with 14%, and the PNG sustainability fund with (11%).
HIG'S other steak knives
HIG is more than Ramu. It has a 20% stake in the Frieda River project, one of the world's biggest undeveloped copper/gold resources (13Mt of copper and 20Moz of gold).
But for the sake of $US3.6b and a dispute between HIG and Pan Aust, the 80% owner, on the development pathway, Frieda River would now be talked about as the region's next big copper-gold mine development.
The size of the resource ensures it will be on the development radar before too long, particularly as copper remains in tight supply. But HIG won't necessarily be waiting around as it has appointed advisers to investigate a potential sale of its stake.
HIG has a bunch of other PNG interests. But for brevity, its best to leave it to Brown's sum of the parts valuation of the company of 45c a share to give a feel for what the collection is worth.
From that he derives a price target of 22c a share.
Turning point for Perseus
The share price is not showing it yet, but there is plenty of thinking going on around whether West African gold producer/developer Perseus is about to shake off  its ranking as one of the most heavily discounted gold stocks on the ASX.
The discount reflects the shortcomings at Perseus' first mine, the 200,000 ounce-a-year Edikan mine in Ghana. September quarter figures indicated that Edikan's problems have finally been sorted.
But the market will want to see a few more steady quarters before breaking out in celebration.
It is Perseus' super-charged growth to 500,000oz annually from 2020 that has got the market wondering whether it is time to let the company out of the sin bin. 
The push to 500,000ozpa is well underway, with Perseus' second mine, Sissingue in Cote d'Ivoire, due to start production in the March quarter next year, lifting group production in 2018 to 250,000-285,000oz.
And this Friday the company is due to release its definitive feasibility study into the development of its third mine, the Yaoure project, also in sunny Cote d'Ivoire.
An initial 13-year mine life producing upwards of 200,000oz annually from 2020 is the expectation.
Confirmation of such a production growth profile will be hard to ignore in a market where 500,000 oz producers are pretty rare. The current discount in the share price could start to reverse.
If it doesn't, Perseus will go to the top of the list of gold producers that could get swallowed up in the wave of industry consolidation tipped for next year, with Canadian producers leading the charge.
Perseus has been trading at 32c for a market cap of $331m. The discount it which trades is reflected in the substantially higher share prices for the stock set by analysts after the release of the September quarter production report on October 16.
Citi set a 53c target while Canaccord went for 75c and Credit Suisse 78c.
---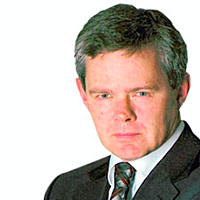 Principal
Independent Journalist
One of Australia's leading business journalists, Barry FitzGerald, highlights the issues, opportunities and challenges for small and mid-cap resources stocks, and most recently penned his column for The Australian newspaper.
Expertise