Markets anti-outlook for 2018
---
Let's be clear: as Yogi Berra said "it's tough to make predictions, especially about the future". Forecasting is often seen as a dismal science, not unlike the other dismal science – economics – due to its difficulty and how often forecasts are wrong.
But to dismiss all forms of forecasting, we believe, is to throw away some useful tools for building mental models - after all one needs to have some form of a plan for your portfolio.  
Each half, we think about five "anti-forecasts" for things we don't think will happen in the coming months.
Often with trying to identify where one should focus their attention for risks is helped by trying to define where one thinks they shouldn't focus, rather than being overly precise on the focus point. Once some things are ruled as unlikely, then it should help narrow down by what's left as implying what we think will happen - plus it makes for a slightly more entertaining way to think about problems.
Back Check
First, we must reflect on the performance of our last set of "anti-forecasts" over this half that just ended.
European Banks will NOT be a graveyard for investors (Deutsche Bank to outperform World stocks)
Miss! The less said about this one the better as it's basically been wrong since the first day! An Italian political crisis, thrown into the mix of general European underperformance and some single stock issues, is a nasty recipe.
The Australian dollar will NOT go anywhere (vs USD plus or minus 3c)
Miss! Having started the year at 78c, we thought a range of 75-81c would hold. The 81c mark proved to be the high of January, but the low of 74c where it is now, is just wrong, but wrong nonetheless. Whilst there has been job growth, the wages just haven't come through and the RBA has remained on hold as the US rates rose. General risk off has pushed it to the low end of the range.
Global growth will NOT falter
Hit! The global economic expansion is continuing. However, while 2017 ended with what looked like a synchronised upswing firing on all cylinders, this gave way in 2018 to the US looking like the strongest horse again. The US growth profile accelerated post Trump's tax changes while European and Asian economies data generally disappointed with softer data than expected.
Weak Australian consumers will NOT buckle the Australian economy
Hit! Australian retail sales have remained soft without becoming weak. Consumers drew savings down and good exports saw a robust 3% growth rate for the Australian economy over the last 12 months.
Pakistan will NOT lose to India
Going for the video ref: Pakistan was leading handily over India for most of the half, but the trade war rhetoric of May and June and general risk aversion has seen this come back to being within 1% of where it started. A drawn test match?
2.5 out of 5 is not our best half, though if nothing else it does correlate with our (incorrect) positioning.
New Views
We conclude this report looking at our predictions of what WILL NOT happen by December 31st, 2018.
US 10-year bond yields will NOT break above 3.50%
Even if the Fed hikes twice this year, US 10 years are unlikely to move much higher after a big selloff earlier in the year. We think it suggests that the curve flattens even if the whole curve moves up a bit.
US Equity Markets (MSCI USA) will NOT finish lower
This is the historical outcome for equities of flattening but not inverted yield curve: higher EPS and bond yields that are more likely to go sideways rather than up, which all add up to a market that likely goes higher from here. The US market is chosen as it removes the choice of 1998 or 2006 scenarios.
US Investment Grade Credit will NOT go below its 2018 lows (JP Morgan Global Aggregate IG Credit Index Spread)
Without being a credit expert, this is a data point worth watching for equities. Credit should be the loser from being late in the cycle (higher Fed funds rates means more choice for investors who demand more premia for the risk). Even if we are wrong and a recession is nearer than we think, credit spreads do poorly in that scenario.
Trump's ratings will NOT collapse
For all the anti-Trump rhetoric globally, he has managed to hold his core voters near by controlling the narrative around his actions. His approval rating is around 42% showing a modest increase over the year. We don't expect this to decline significantly (<35%) in the second half. With his loyal home supporters behind him, Trump can continue to turn the global order upside down.
Figure 1 - President Trump's approval rating as at July 2018
Source: Project FiveThirtyEight
Australian shares will NOT outperform global shares
With a local market dominated by overvalued banks, cyclical resource stocks and a retail duopoly, it is hard to see much upside. The ramifications of the Banking Royal Commission threaten to create a vicious cycle for an already sliding housing market, which will threaten consumer confidence. And there is no market B for Australian iron ore if China's slowing growth and emerging credit jitters persist. The feed through to a weak Australian dollar should make this a winner even if global equities have dull returns.
Figure 2 - Equity markets returns USD & AUD, Jan 2018 - Jun 2018
Source: Bloomberg, Team Analysis
Further Insight
This article is a section from Morphic Asset Management's Half Yearly Report published in July 2018. For more information please click here
---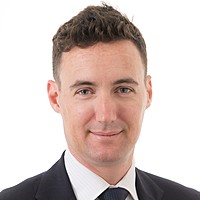 Co Head Global Equities (ex-Asia)
Ellerston Capital
Chad co-founded Morphic Asset Management in 2012. As a stock picker Chad is also a generalist but has strong regional knowledge of Europe and the Americas. He has also been awarded the CFA Charter.
Expertise