Hot dogs, roast chicken and petrol
---
What do these three items have in common? Costco.
Loss leaders have been used by retailers to attract customers for a long time. Costco is renowned for doing it better than most.
Each year Costco sells more than 130 million of their famous hot dog and soda combo's. Since launching in 1985, the price point has been unchanged at $1.50. If the price had kept pace with inflation, it would be over $4 today.
Costco also sells more than 100 million roast chickens a year at the artificially low price of $4.99. To limit future losses (around $30 million to $40 million a year), the company has set up its own processing plant, a move that will save 35c per chicken.
On average petrol is 30c per gallon cheaper at Costco, with motorists saving $4 each time they fill-up a standard size car. 51% of petrol customers will also shop in store.
With 116 million paying members globally (see chart), Costco is uniquely positioned to compete with larger rivals Walmart and Amazon. Revenue earned from membership fees and exactly zero advertising spend enables the company to maintain a gross margin of only 13% (compared to 24% for Walmart), providing exceptional value for customers.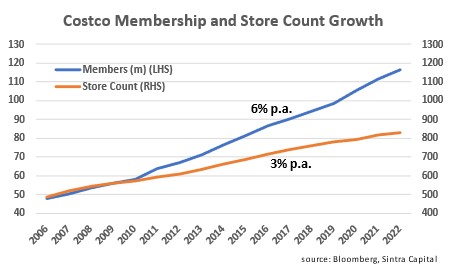 Costco possesses a robust business model that is resilient to both inflation and recessions. With future earnings growth driven by membership fee increases and further international expansion, Costco is a core holding of the Sintra Global Fund.

Never miss an insight
If you're not an existing Livewire subscriber you can sign up to get free access to investment ideas and strategies from Australia's leading investors.
And you can follow my profile to stay up to date with other wires as they're published – don't forget to give them a "like".
........
Sintra Capital Pty Ltd believes the above information is accurate at the time of compilation. However, no warranty is made as to the accuracy or reliability of any estimates, opinions, conclusions, recommendations or any other information contained in this note and any attachments. Sintra Capital Pty Ltd disclaims all liability and responsibility for any loss or damage which may be suffered by any recipient through relying on anything contained in or omitted from this information.
---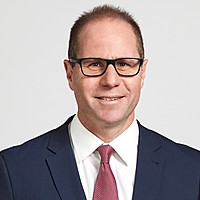 Portfolio Manager
Sintra Capital
Tony has extensive experience in international equities having worked in both London and Australia. Tony was formerly senior portfolio manager and head of international equities at K2 Asset Management (2016-2022). Prior broader market roles...
Expertise