How global supply chain disruptions have caught out central banks in 2021
---
This year has seen a series of unusual price moves in many different asset classes, energy prices have soared, and of course, cryptocurrency has been all over the place. 
But one of the most striking moves is the cost of shipping goods around the globe, which has essentially gone stratospheric in 2021. The Baltic Dry Index which takes into account 23 different shipping routes carrying coal, iron ore, grains and many other commodities, rose from circa 1,000 to over 5,500 over the course of this year. To put that in context, that index has been calculated for over 35 years, since 1985, where it started at 1,000. Further context is that this year alone, the largest shipping company in the world, the Danish company A.P. Moller – Maersk, will generate more free cash flow - US$15 billion - than it managed to cumulatively generate in its previous 20 years of operations.
That surge in free cash flow generated by AP Moller – Maersk is a function of the rise in the cost of shipping containers as well as commodities. The index below is one of a series calculated by Drewry, a supply chain advisor, that tracks the cost of shipping containers across the major global routes. The one shown here tracks the cost of shipping containers from Shanghai to Los Angeles. It clearly shows that while 2020 saw an upside breakout from the previous range, as the cost per container rose above $2,500 for the first time, 2021 is when the price per container really soared, touching $12,000 per container.  
Cost of shipping a 40-ft container from Shanghai to Los Angeles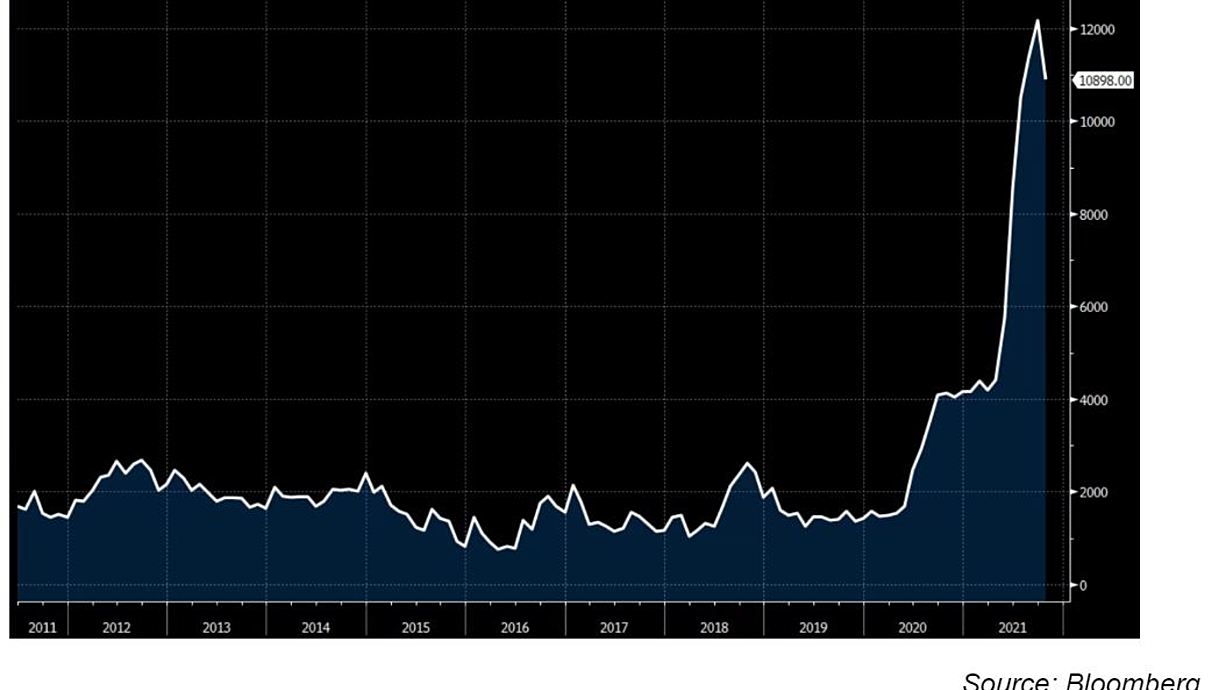 It should be noted that the cost of shipping a container in the opposite direction, from Los Angeles to Shanghai, is a fraction of the cost, at US$1,300. While loaded containers head to the USA, it is typically empty containers that make the return trip, as goods flow from Chinese factories to American consumers, with not much heading the other way. Clearly, there has been a significant shift in the supply-demand dynamic between Chinese factories and those American consumers. 
And it's not just American consumers, the cost of shipping containers to Europe has also skyrocketed. Demand has risen for goods as the ability for consumers to spend money on services has diminished. Virus related lockdowns have seen consumers across the globe unable to dine out or travel and subsequently shift more of their spending to goods. And the dramatic rise in the cost of shipping is a clear indication that there was not enough spare capacity for the increase in global demand for goods.
That shift and subsequent step up in demand also caught out retailers, manufacturers, and suppliers alike. In recent decades there has been an unrelenting drive to run businesses with ever-lower levels of inventory. 
Just-in-time inventory management makes for efficient businesses both operationally and financially. However just-in-time doesn't function well when demand surges and inventory is sucked up and suddenly every business is frantically trying to restock. The resulting scramble for supply chain capacity further compounded the situation.
This remarkable increase in the demand for the shipping of goods has been further exacerbated by air freight capacity dropping. Air cargo capacity, an important part of the global supply chain, has dropped by nearly 50% since the arrival of virus restrictions. 
That is because around half of all air cargo used to travel in the belly of passenger planes. With that effectively gone, the pressure on shipping capacity has never been higher. And that was before the captain of the Ever Given container ship had a booboo in the Suez canal, further stressing global supply chains.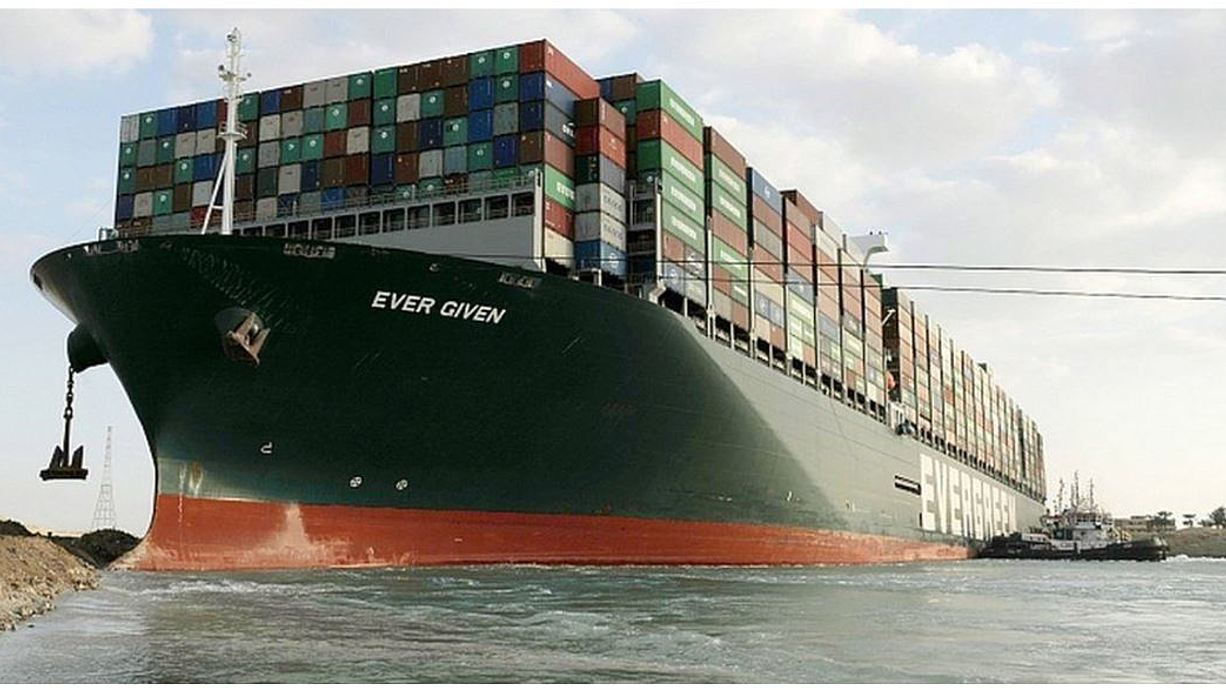 There have been numerous knock-on effects of these disruptions. For example, Home Depot and Costco have started to charter their own container ships to have guaranteed capacity. There are long delays for low margin bulky goods, such as sofas and chairs, which are often not worth shipping due to the current high cost. In October the US Postal Service stopped accepting parcels for delivery to over 20 difficult and expensive to reach countries, including New Zealand. 
But the biggest impact on the global economy is the part this disruption has played in making inflation in 2021 higher and less transitory than central banks had hoped it would be.
As surely as night follows day, capital is attracted to an industry that is seeing excessive profits. A.P. Moller – Maersk will surely use current excess profits to build more ships, as will its competitors, and new entrants may be attracted. However, the reality is that it takes time for that response to result in additional ships in the ocean and a lower equilibrium in prices to emerge. And in due course consumers will likely spend more on services as restrictions ease, albeit the delta variant has delayed that process. But in the meantime, the current supply chain distortions continue to play a part in elevated prices for goods and commodities around the world and in the process give central banks a real headache. 
Never miss an insight
Enjoy this wire? Hit the 'like' button to let us know. Stay up to date with my content by hitting the 'follow' button below and you'll be notified every time I post a wire.
Not already a Livewire member? Sign up today to get free access to investment ideas and strategies from Australia's leading investors.
........
Castle Point has taken all reasonable care in the preparation of these articles, however accepts no responsibility for any errors or omissions contained within. Past performance is not necessarily an indication of future performance. Opinions expressed in these articles are our view as at the date of issue and may change
---
Partner
Castle Point Funds
Stephen has over 25 yrs investment experience & co-founded Castle Point, a NZ boutique fund manager, in 2013. Prior to that he worked at funds management companies in Auckland, London & Edinburgh. Castle Point WINNER FundSource Boutique Manager 2019
Expertise