Howard Hughes Corporation – US-based real estate developer
---
Commercial and residential real estate developments in the United States are probably not the first thing that comes to mind when you think about Hollywood and Hawaii.
For movie buffs, depending on their age, Howard Hughes is synonymous with the Golden Years of Hollywood or more recently Leonardo DiCaprio in The Aviator (2004) or Warren Beatty in Rules Don't Apply (2016).
Residents and visitors in Honolulu familiar with the Ward Centre and the surrounding Kaka'ako and Ala Moana district would also be familiar with the Howard Hughes name.
The Howard Hughes Corporation (HHC) is well into its 10-year plan to develop this master planned community in Honolulu comprising of luxury and affordable residential accommodation, retail and commercial spaces as well as dining, entertainment, art and leisure facilities. Residents have moved in, the residential towers under construction have pre-completion commitments in the order of 90% and anchor dining and retail brands include Nobu and Wholefoods.
The development has garnered a lot of attention, media coverage and kudos for HHC, particularly in relation to job creation, the projected benefits for the local economy, its sustainability credentials and design awards.
This 24 hectare property in Hawaii is just one asset in HHC's portfolio of property holdings in the United States.
Picture: Artist impression, art and retail precincts (from l to r), Ward Village, Hawaii.
About the company
Listed: New York Stock Exchange in 2010
Stock Code: HHC
Sector: Real Estate Developers
Market Capitalisation: ~US$5.2 billion
Head Office: Dallas, Texas
"And while Howard Hughes' passions for aviation and the silver screen are legendary, it was his visionary investments in real estate that form the bedrock of our company today. Our goal is to be one of the leading American companies of the 21st Century." Source: HHC website, Our Company, History.
Originally founded in 1913 by Howard Hughes Snr. as an oil drilling tools business, HHC has gone through several changes to get to where it is today – an organisation focused on its core business of real estate development and management.
The company is the beneficiary of the vision of Howard Hughes Jnr. and his real estate investments, as well the real estate crisis of 2009, when HHC became a separate company again in 2010 as part of a spin-off from General Growth Properties. Details of the corporate history are outlined in table one at the end of this article.
HHC is a business of significant scale, it's diversified portfolio of property assets in premium locations in 14 states across the United States is valued at over US$8.5bn.
The company is well capitalised, has a strong risk management culture and operates in three complementary segments, namely:
Operating Assets consisting of 54 retail, office, multi-family and hospitality properties.
Master Planned Communities such as Ward Village in Hawaii, Summerlin in Las Vegas as well as Bridgeland, the Woodlands and the Woodland Hills in Houston.
Strategic Development. HHC has more than 50 million square feet of vertical development entitlements within the existing assets in its portfolio.
Why we like Howard Hughes Corporation
HHC is a great company, with great management that was added to the portfolio at a great price. The top five reasons we own the stock follow.
Ownership of premium assets in high demand locations. The real assets generate robust cashflow and value creation opportunities and are difficult to replicate in high demand locations such as New York, Las Vegas, Houston and Hawaii.
Low debt levels. Relative to peers, HHC has very low debt levels for a real estate development company and limits most leverage to individual projects to protect the parent company.
Qualified and experienced management. The Board and executive management team are industry experts with extensive experience managing real assets to generate value. David R. Weinreb, CEO since 2010, is an entrepreneurial real estate industry veteran with over 30 years' experience who has built and run his own investment business. In September 2017, his tenure was extended for a further term of 10 years via a new employment contract.
Management alignment. The Board of Directors and management have a combined equity holding of approximately 20%. The management compensation structure further aligns the interests of management and shareholders. On joining the company, the CEO purchased $15 million of long-dated stock warrants from his own resources. In June 2017, David Weinreb self-funded and purchased a further $50 million of long-dated stock warrants.
Valuation and runway. We added HHC to the portfolio when it was trading at a material discount to our risk-adjusted assessment of the company's value and since acquisition have taken opportunities to book profits in response to price movements.
In 2017, HHC realised US$1.1bn in total revenues, an increase of US$65.1mn from 2016. The result reflects…  continued maturing of operating assets and increased sales in Master Planned Communities
CEO, David Weinreb, noted, "Real estate is a long-term business and as a result, decisions are often made that negatively affect the short-term earnings results of a company, but are the right decisions to maximize long-term value. To that end, our management team, and we believe, our investors should not solely focus on quarterly GAAP earnings when judging our results. We evaluate metrics at a segment level to provide the best tools to help determine our progress and success." Source: Howard Hughes Corporation CEO David Weinreb on Q4 2017 Results - Earnings Call Transcript posted on Seeking Alpha.
HHC's stock price has fluctuated since listing in 2010 at $38. As we outlined in our quarterly report in June 2016, the value of real assets relative to the company's intrinsic value over time has provided opportunities to adjust our position and realise book profits. Since that report, over the past 18 months the share price has risen to close at $139 at 28 February 2018 as per figure one below.
Figure 1. Howard Hughes Corporation Share Price
Conclusion
HHC offers investors access to high quality, premium hard assets in sought after, premium locations across the United States that are difficult, and in some cases impossible, to replicate. While Australian investors are renowned for their property love affair, with a real estate portfolio likely comprised of the family home and, or investment residential and commercial properties, the portfolios and the capacity to generate value over the long-term are unlikely to be on a par with the opportunity HHC offers. HHC has a growth runway, business model, management team and low debt profile that Australian investors simply can't emulate.
Table 1. Summary of Howard Hughes Corporation Ownership History
Year

 

1913

Howard Hughes Corporation founded by Howard Hughes Snr

Core business: Oil drilling tools

1924

Howard Hughes Jnr assumes control of the business

Business interests expand to include: aviation, mining motion pictures, radio and television broadcasting and real estate

1973

Hughes Empire becomes the Summa Corporation

1994

Summa Corporation renamed The Howard Hughes Corporation

1996

The Howard Hughes Corporation merges with The Rouse Company of Colombia, Maryland.

The Howard Hughes Corporation continues as a subsidiary of The Rouse Company.

Non-core assets disposed of to refocus on real estate

2004

Shopping Mall owner General Growth Properties, Inc. acquires the Howard Hughes Corporation and The Rouse Company.

2009

General Growth Properties, Inc. files for bankruptcy.

2010

The Howard Hughes Corporation spin-off from General Growth Properties and listed in NYSE.
Source: Howard Hughes Corporation
Wayne Peters is Chief Investment Officer at Sydney-based, global fund manager, Peters MacGregor Capital Management.
Disclosure: Peters MacGregor Capital Management Limited holds a financial interest in Howard Hughes Corporation through various mandates where it acts as investment manager.
---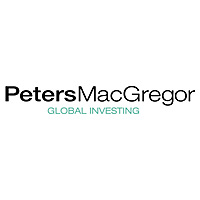 Peters MacGregor Capital Management
Peters MacGregor Capital Management is a value-focused investment manager specialising in global equities. Our clients range from family offices and high net worth investors through to self-managed super funds and financial advisers.
Expertise