India takes leadership, both on and off the field
---
Yesterday we saw India's cricket team defeat Australia at the Gabba despite all odds. Most so-called experts called for a 4-0 drubbing, especially after the first test was over in three days and the Indian captain departed. Despite significant adversity (including multiple injuries), the Indian team overcame them and then landed a knockout blow by winning yesterday and removing the response of "it was a drawn series anyway".
But it is not just on the cricket field where India has produced better results despite ill-fated perception from foreigners. It is also via their stock market as well. Typically, economies which have strong fundamentals for growth not only perform better over the long term but tend to rebound from adversities much quicker given the right direction, growth and economic policy and reforms in place. I am sure we can see the parallels with the Indian cricket team.
It is our view that over the last year Australia as a nation has been far more complacent, Australia's has dealt with COVID-19's health issues, but not necessarily used it to refocus on GDP growth, economic evolution and pivot required to channel it towards growth in the upcoming decade. Reliance is again largely pinned on a recovery in real estate related activity and commodity cycle. Given our population's lack of size and scalability, we have not sought to develop industries which can be globally competitive and less cyclical, Additionally, over time and we have given up on manufacturing and become reliant on a handful of countries for exports.
Given Australia's favourable economic landscape over the last 30 years has been favourable with receding interest rates, a commodity super cycle and a boom in real estate construction and prices, the term "lucky country" has remained aptly chosen. Going ahead, it will be important to choose the right concoction of politicians, development industries and create value-add economically.
Our general view in Australia is that we are the fortunate country from a lifestyle perspective, and we look up to the achievements of the USA, UK, Euro and China (albeit sometimes mockingly). However, achievements of other nations (particularly emerging ones) are sometimes written off as lucky, insignificant, or untrue.
Emerging market economies with size and scale are likely to emerge as winners faster than we know it despite the attention-seeking headlines. The global supply chain and competitiveness within in will be critical as will the speed and adoption of technology. COVID-19 was the perfect time to attempt to pivot the economy towards the future. India has the luxury of strong demographics, significant scalability, rising productivity and a customer base which every global company wants to access as illustrated by significant ongoing investments made by Amazon, Google, Facebook, Intel, Walmart etc.
India's share market composition also favours growth industries with a large weighting to Technology, Pharmaceuticals, Consumption which bodes well for less volatile earnings and better results going forward. Resilience and daring to be bold by pivoting to the future, is not just on the cricket field, but also economically and by corporates.
For now, India wins the series on the cricket field and retains the Border-Gavaskar trophy. It also holds greater interest from global equity investors (its market capitalisation recently cross US$2.5 trillion) and is an investment destination neglected by those who choose to hold onto the past. A strategic, long-term weighting would place most ahead of the curve.
Not already a Livewire member?
Sign up today to get free access to investment ideas and strategies from Australia's leading investors.
........
This document ('Document') has been produced by India Avenue Investment Management Limited ('IAIM') ABN 38 604 095 954, AFSL 478233 and has been prepared for informational and discussion purposes only. This does not constitute an offer to sell or a solicitation of an offer to purchase any security or financial product or service. Any such offer or solicitation shall be made only pursuant to a Product Disclosure Statement, Information Memorandum or other offer document (collectively 'Offer Document') relating to an IAIM financial product or service. A copy of the relevant Offer Document relating to an IAIM product or service may be obtained by writing to us on info@indiaavenueinvest.com or by visiting www.indiaavenueinvest.com. This Document does not constitute a part of any Offer Document issued by IAIM. The information contained in this Document may not be reproduced, used or disclosed, in whole or in part, without the prior written consent of IAIM. Past performance is not necessarily indicative of future results and no person guarantees the performance of any IAIM financial product or service or the amount or timing of any return from it. There can be no assurance that an IAIM financial product or service will achieve any targeted returns, that asset allocations will be met or that an IAIM financial product or service will be able to implement its investment strategy and investment approach or achieve its investment objective.  Statements contained in this Document that are not historical facts are based on current expectations, estimates, projections, opinions and beliefs of IAIM. Such statements involve known and unknown risks, uncertainties and other factors, and undue reliance should not be placed thereon. Additionally, this Document may contain "forward-looking statements". Actual events or results or the actual performance of an IAIM financial product or service may differ materially from those reflected or contemplated in such forward-looking statements. Any trademarks, logos, and service marks contained herein may be the registered and unregistered trademarks of their respective owners. Nothing contained herein should be construed as granting by implication, or otherwise, any license or right to use any trademark displayed without the written permission of the owner. Certain economic, market or company information contained herein has been obtained from published sources prepared by third parties. While such sources are believed to be reliable, neither IAIM or any of its respective officers or employees assumes any responsibility for the accuracy or completeness of such information. None of IAIM or any of its respective officers or employees has made any representation or warranty, express or implied, with respect to the correctness, accuracy, reasonableness or completeness of any of the information contained in this and they expressly disclaim any responsibility or liability therefore. No person, including IAIM has any responsibility to update any of the information provided in this Document. Neither this Document nor the provision of any Offer Document issued by IAIM is, and must not be regarded as, advice or a recommendation or opinion in relation to an IAIM financial product or service, or that an investment in an IAIM financial product or service is suitable for you or any other person. Neither this Document nor any Offer Document issued by IAIM takes into account your investment objectives, financial situation and particular needs. In addition to carefully reading the relevant Offer Document issued by IAIM you should, before deciding whether to invest in an IAIM financial product or service, consider the appropriateness of investing or continuing to invest, having regard to your own objectives, financial situation or needs. IAIM strongly recommends that you obtain independent financial, legal and taxation advice before deciding whether to invest in an IAIM financial product or service.
---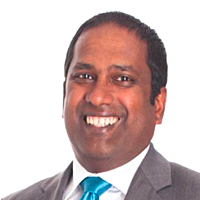 Managing Director
India Avenue
Mugunthan Siva is Managing Director of India Avenue, an Australian based boutique asset management company with offices in Sydney and Mumbai. He has over 25 years experience in Australia and is lead portfolio manager for the India Avenue Equity Fund.
Expertise