Inflation is the new economic pandemic and ignoring it won't make it go away
---
The local market started aimless with confusing US lead before global investors buying helped the market to finish positive despite some late selling from local investors. Health care and miners were the best sectors while tech and retail were the worst. We are continuing the record of seven weeks in a row without a double digit turnover day. US market was spooked after Janet Yellen (i.e. US Treasury Secretary) said interest rates may need to be raised to control a hot economy. She did later backtrack and talk down the need for a rate rise and inflation worries. She also talked up outlook for moving the world away from race to the bottom in corporate tax rate. She is very pro higher regulation and higher taxes. She said what was needed to be said and what the data has been showing for months. She has made it easier for US Fed to start talking about tapering QE in H2 as inflation takes off. As an ex-US Fed chair, she understands the pressure they are under and talking about and back tracking is a good way to put that view in the market and yet claim US Fed's independence. 
Markets ignore facts till it slaps them across the face. US inflation data update next week…buckle up for 3-4%!!!
The trade deficit in the US (see Chart 1 below) widened to a new record of US$74.4 billion in March 2021, from a revised US$70.5 billion in the previous month and compared with market expectations of a US$74.5 billion gap. Imports jumped 6.3% to an all-time high as the domestic demand consolidated its recovery amid re-opening efforts. Purchases rose for consumer goods, industrial supplies and materials, capital goods and vehicles, while tourism-related services also saw a solid increase. At the same time, exports rose 6.6% to a 13-month high, boosted by sales of industrial supplies and materials, capital and consumer goods. Exports of services such as travel and transport were also up. Still don't think rising inflation in China and falling USD will not drive rising US inflation higher? Time will tell.
Chart 1: Trade deficit in the US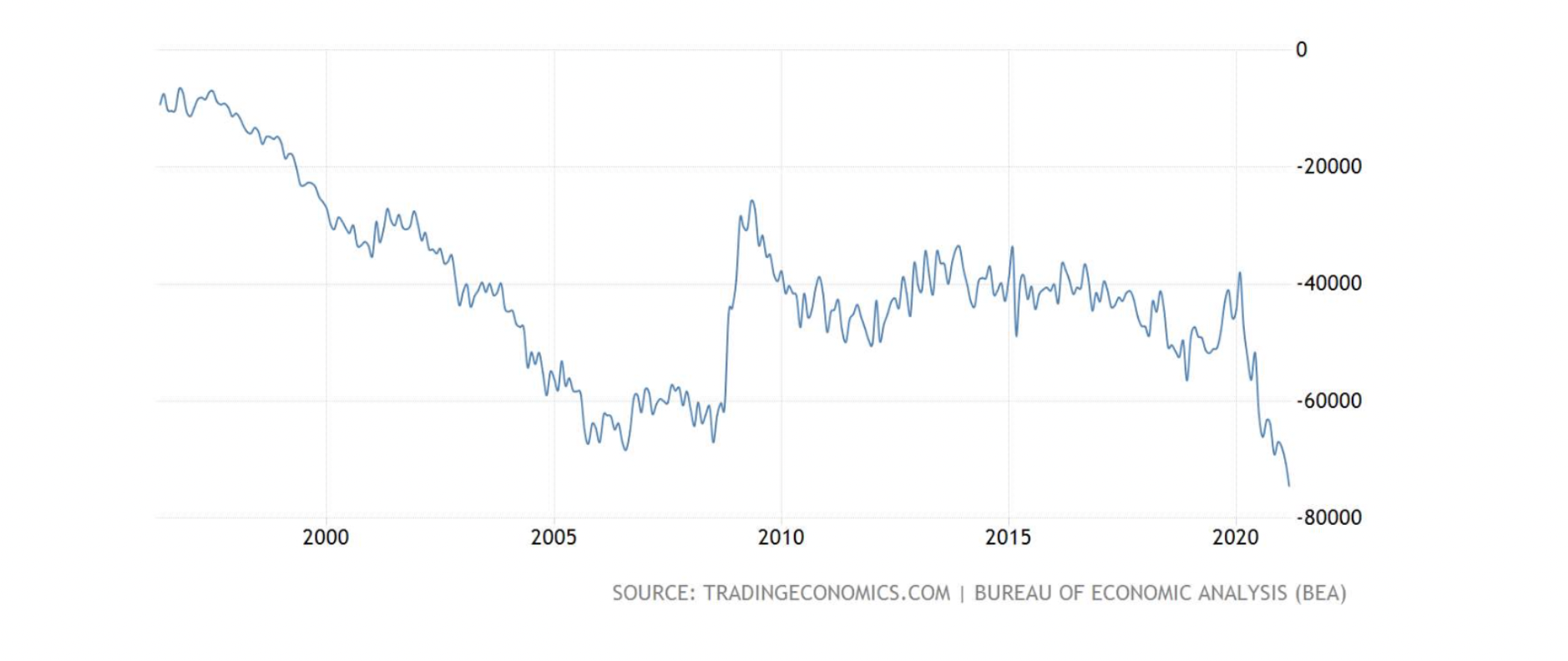 The value of new loans granted for owner-occupied homes in Australia (see Chart 2, below) rose by 3.3% from the previous month to a record high of AU$22.41 billion in March 2021, after a 1.8% drop in February. The rebound was driven by increased loan commitments to investors for existing dwellings. Compared to the same month a year earlier, the value of these loan commitments jumped 55.6%. Nothing to see here. That just looks like the normal cycle when lending standard fall to the floor for a group of banks that had a royal commission find countless problems. RBA and APRA are running away from the property mess. Banks have escaped from the RC with almost nothing take from them. Banks are playing the obvious game…too big to fail. Sadly, even if you are too big to fail, someone has to pay for the mess and it will be the public. 
Chart 2: Owner-occupier home loans, Australia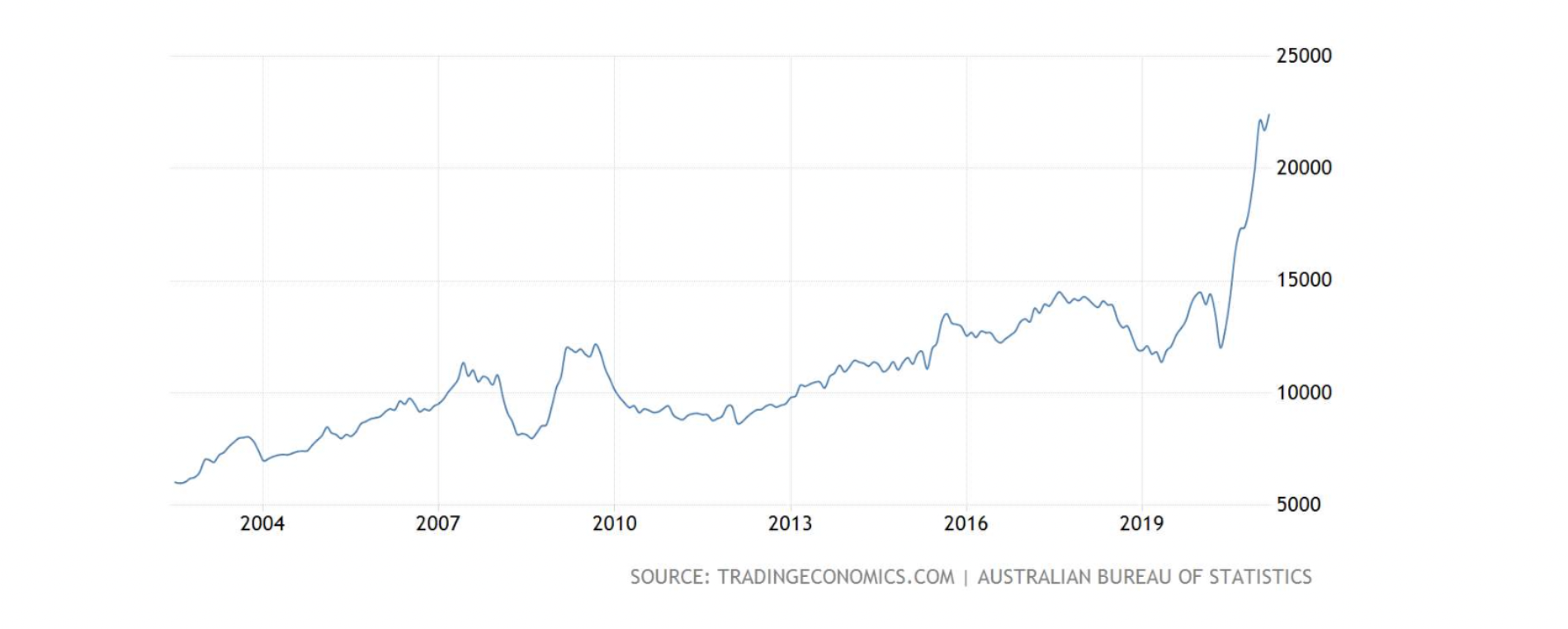 Global bond yields are rising and that means borrowing costs for banks are rising. It is a matter of time before mortgage rates rise despite RBA's delusional rate. Like it or not, Banks are already pushing up fixed rates. It is just a matter of time.
Comments on US market last close… 
The US market was down from the open and then dipped lower after Yellen comments about rates before recovering in the afternoon to finish negative. Yellen said rates may have to rise somewhat to keep the economy from overheating with stimulus. NASDAQ -1.88%, RUSSELL -1.28%, S&P -0.67% and DOW +0.06%. US is trade deficits blew out with stimulus spending. European markets were red as well. Risk off trade pushed investors into bonds and USD. Oil keeps rising despite more supply and lockdown restrictions. Banks and Miners did the best while Tech and Retail were the worst. US is the key economy for equities and jobs data later this week and inflation next week will confirm Yellen's comments. Nothing earth shattering but has been ignored by markets. China and Japan closed today as well.
Full SUNSET STRIP report with end of day market stats are on the attached link.
Never miss an insight
Enjoy this wire? Hit the 'like' button to let us know. Stay up to date with my content by hitting the 'follow' button below and you'll be notified every time I post a wire. Not already a Livewire member? Sign up today to get free access to investment ideas and strategies from Australia's leading investors.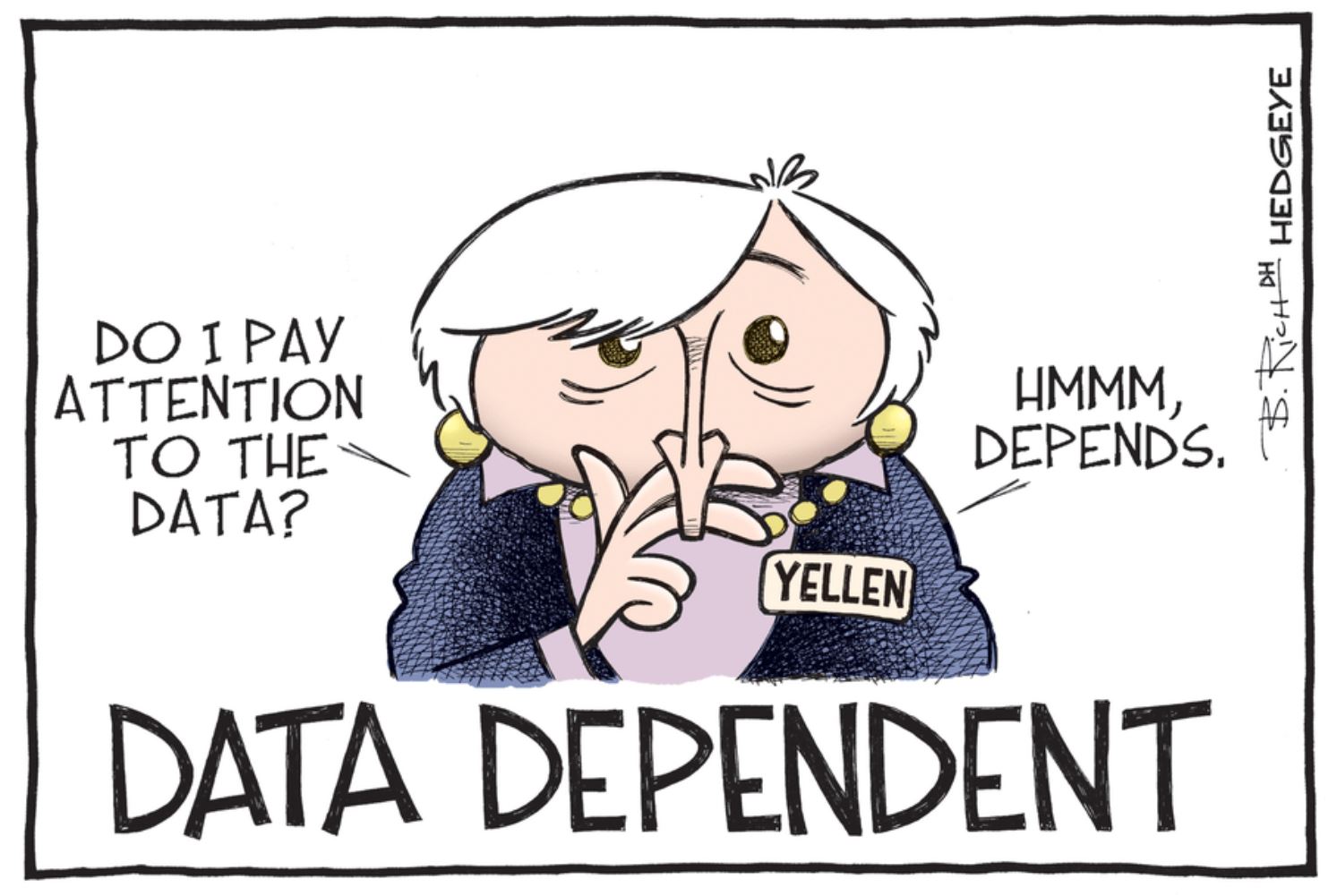 ........
Deep Data Analytics provides this financial advice as an honest and reasonable opinion held at a point in time about an investment's risk profile and merit and the information is provided by the Deep Data Analytics in good faith. The views of the adviser(s) do not necessarily reflect the views of the AFS Licensee. Deep Data Analytics has no obligation to update the opinion unless Deep Data Analytics is currently contracted to provide such an updated opinion. Deep Data Analytics does not warrant the accuracy of any information it sources from others. All statements as to future matters are not guaranteed to be accurate and any statements as to past performance do not represent future performance. Assessment of risk can be subjective. Portfolios of equity investments need to be well diversified and the risk appropriate for the investor. Equity investments in listed or unlisted companies yet to achieve a profit or with an equity value less than $50 million should collectively be a small component of a balanced portfolio, with smaller individual investment sizes than otherwise. Investors are responsible for their own investment decisions, unless a contract stipulates otherwise. Deep Data Analytics does not stand behind the capital value or performance of any investment. Subject to any terms implied by law and which cannot be excluded, Deep Data Analytics shall not be liable for any errors, omissions, defects or misrepresentations in the information (including by reasons of negligence, negligent misstatement or otherwise) or for any loss or damage (whether direct or indirect) suffered by persons who use or rely on the information. If any law prohibits the exclusion of such liability, Deep Data Analytics limits its liability to the re-supply of the Information, provided that such limitation is permitted by law and is fair and reasonable. Copyright © Deep Data Analytics. All rights reserved. This material is proprietary to Deep Data Analytics and may not be disclosed to third parties. Any unauthorized use, duplication or disclosure of this document is prohibited. The content has been approved for distribution by Deep Data Analytics (ABN 67 159 532 213 AFS Representative No. 1282992) which is a corporate approved representative of BR Securities (ABN 92 168 734 530 and holder of AFSL No. 456663). Deep Data Analytics is the business name of ABN 67 159 532 213.