Investing for Life: Grant Hackett, OAM, CEO at Generation Life
---
"Talking about things, and being open and honest, is actually a sign of strength – not weakness."
This is how our guest in this episode of Investing for Life talks about strength; a different perspective to his invincible, world record-breaking persona in the pool.
I had the privilege of speaking with CEO of Generation Life and former Olympic, Commonwealth and World Champion swimmer, Grant Hackett OAM.
From the high of winning gold at a home Olympics and holding 16 world records throughout his career, to the discomfort of racing with a partially collapsed lung, Grant's life journey truly oscillates from glory to pain in pursuit of success and meaning.
However, it is Grant's insights on his transition from Olympic champion to corporate leader, and the very public breakdown of his marriage, that sheds new light on his greatest setback to date.
Through this experience, Grant learned the foundations of real leadership, the power of vulnerability, and why helping others to be their best is a far greater outcome than solo success. In his words, these were "the most eye-opening elements to my entire life."
"It actually gave me a licence to ask for help, to talk through all those things that I was experiencing, and then actually have some tools to deal with them. Even just talking about them was like removing 50% or 60% of the burden that I carried for quite some time.
"Since that point in my life, I have practised vulnerability."
Tune into Grant's discussion to hear:
His journey towards Olympic glory, regrets and physical challenges along the way;
The pain of his public divorce and separation from his children;
How he reconciled with his athlete persona when starting his corporate career;
His work and successes as CEO of Generation Life today.
You can also learn more about Generation Life here
........
Disclaimer: Issued by Platinum Investment Management Limited ABN 25 063 565 006, AFSL 221935. This information is general in nature and does not take into account your specific needs or circumstances. You should consider your own financial position, objectives and requirements and seek professional financial advice before making any financial decisions.
---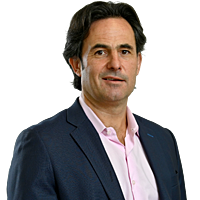 Head of Investment
Platinum Asset Management
Douglas initially joined Platinum in May 2003 as an investment analyst covering industrials and as primary communicator for advisor presentations. He previously worked for CBA as a product actuary and prior to this as an investment manager for...
Expertise