One thematic investors can't ignore
---
The delivery of education using technology (EdTech) has become a powerful investment theme, amplified by the lockdowns caused by Covid-19. Remote learning is not only enabling the continuation of education in developed nations, but is also reducing the gap between rich and poorer nations in accessing quality education.
Examples of EdTech are online learning apps, digital content, curriculum management software, e-textbooks, and communications and administration platforms. Education cannot ignore the technological revolution underway. It needs to be a distributive and collaborative model that mirrors how we now share information, ideas and experiences on the internet through forums, social media and blogs. Edtech is one of our sub-themes under our Supertrends investment umbrella.
The current delivery of EdTech is limited by the cost of devices and the internet data required to use them. Encouragingly, costs are falling and access to broadband increasing. EdTech delivery also relies on a suitable home environment. Another impediment is self-motivation of students. Gamification, that is, incorporating games into the learning experience, is succeeding in engaging students. Examples of "Edutainment" are Duolingo, Ruangguru and Byju's. Artificial intelligence can adapt the application to a student's speed and style. It can also use facial recognition to track if a student is paying attention, which would be useful in a classroom setting. Mindspark, an Indian maths app, can assess learning levels and personalise content.
At the peak, Covid-19 saw approximately 1.4 billion students studying remotely. 
Online teaching saw Zoom, Microsoft Teams and Google Classrooms become household words. Forced to use online platforms, students, and business people found them user friendly and generally effective. Google Classrooms, which allows teachers to send lessons and materials to students, doubled its users to 100 million in March 2020.
Number of Learners Impacted by Covid-19 School Closures
Source: UNESCO
There are other examples of EdTech companies expanding their reach during the crisis. Afya Edicational, a leading medical education group in Brazil, aims to make students lifelong medical learners. When Covid-19 hit, it moved classes to its online platform and opened it to other medical institutions without cost. It then created a free course on mechanical ventilation, respiratory emergencies and imaging diagnosis. Education platform Remind, which integrates with other platforms like Google Classroom and Canvas, collects information such as attendance, and enables two way communication between parents, students and teachers, added 6 million active users in 1 month. Ruangguru (Teachers Room), is South East Asia's largest EdTech company and based in Indonesia. It provides app based online learning materials, including access to teachers and mirrors Indonesia's curriculum. At the beginning of Covid-19, it was the number one app in Indonesia.
Pre Covid-19, Credit Suisse forecast EdTech expenditure to grow at 15% p.a in the next 5 years.
The majority of EdTech companies are in the US, which accounts for 43% of all EdTech headquarters. India, Brazil, China and the UK also have notable numbers. China and other emerging markets are a major part of the listed EdTech investment universe. Some Chinese EdTech stocks have doubled this year. Pure online after school tutoring companies have fared particularly well. Even before the crisis, the penetration of online tutoring in China was between 15% and 25%. 
Following the lockdown, Chinese online tutoring companies provided their courses for free and user numbers increased by a factor of ten. 
Even if conversion to paying customers is half of previous levels, it will mean a doubling of the user base. Standout performers include China Online Education Group, Koolearn and GSX Techedu. Another example is Youdao. It is the #1 language app in China and has leveraged this to create a collection of popular writing and translation apps, and drive traffic to its online courses. The CEO of US listed 2U, which offers turnkey platforms for online learning at top universities, said as a result of Covid-19, 
"as online learning becomes the norm, now and into the fall, we believe the prospective students will increasingly view online programs as attractive alternatives to campus-based programs. Quality will matter here. And when done right …online can be as good as or even better than the campus."
Covid-19 has put EdTech on the fast track. It has also highlighted issues of equity and accessibility. What is certain is that, Covid-19 has dramatically enhanced the role of technology in education, and the learning experience for students and teachers has forever changed. 
Learn more about Credit Suisse approach to Supertrends
When we introduced our Supertrends three years ago as our framework for high-conviction long-term thematic equity investing, we focused on multi-year societal trends that we believed would lead to fast-growing business opportunities. To stay up to date with where we are finding the most compelling opportunities, hit the follow button below. You can also read Credit Suisse's latest supertrend report below
---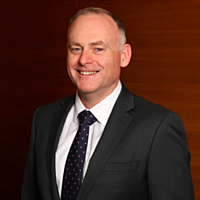 Chief Investment Officer
Credit Suisse
Andrew McAuley is a Managing Director of Credit Suisse Wealth Management Australia. As Chief Investment Officer, he is responsible for developing discretionary and advisory investment strategies across multi asset class portfolios for clients in...
Expertise