Investing in Nordic innovation - Erik Sprinchorn
---
David is joined by Erik Sprinchorn of Tin Fonder's New Technology fund. The TIN Fonder New Technology fund is an equity strategy that invests in technology, health and digital brands and has been able to generate returns since Inception from March 2019 to November 2021 of over 35% p.a.
The fund invests in technology-driven growth companies with a focus on the Nordic region. Tin Fonder started the New Technology strategy with the belief that digital assets will become more valuable in the future. They believe that a mutual fund with innovative companies should be the core rather than the spice of long-term savings.
Erik has worked at TIN Fonder since its inception in February 2019. In recent years, Erik worked at Swedbank Robur with a focus on managing small cap funds, including the Swedbank Robur Ny Teknik fund. Erik has previously worked within equities and portfolio management since 1995 at Swedbank Robur, SEB Enskilda, Alecta and Brummer & Partners.
Not already a Livewire member?
Sign up today to get free access to investment ideas and strategies from Australia's leading investors.
More podcasts

If you're enjoying Inside the Rope and don't want to miss a future episode, click 'follow' below to get notified when a new episode is released.
........
This research note has been prepared without consideration of any client's investment objectives, financial situation or needs. Before acting on any advice in this document, Koda Capital Pty Ltd recommends that you consider whether this is appropriate for your circumstances. While this document is based on the information from sources which are considered reliable, Koda Capital Pty Ltd, its directors, employees and consultants do not represent, warrant or guarantee, expressly or impliedly, that the information contained in this document is complete or accurate. Koda does not accept any responsibility to inform you of any matter that subsequently comes to its notice, which may affect any of the information contained in this document. © Copyright Koda Capital 2020 | AFSL: 452 581 | ABN: 65 166 491 961 | www.kodacapital.com
---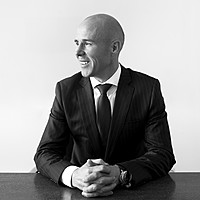 Adviser & Partner
Koda Capital
David Clark is an Adviser & Partner at Koda Capital. In his podcast 'Inside the Rope', David interviews some of the leading minds in wealth management.
Expertise