Is there a trade-off between 'doing the right thing' and long-term success?
---
It is now 50 years, half a century, since the economist Milton Friedman argued that the sole purpose of business was to generate profits for shareholders. He did have a greater good in mind - that successful companies would pay taxes which would benefit society - but this second notion didn't gain as much currency as the first, particularly among the business community. 
This thinking has appeared a somewhat immutable truth over the past five decades. However, last year's announcement by the U.S. Business Roundtable, made up of some of the world's leading companies, including many world class multinationals we own in our portfolios, provided a watershed moment that it was perhaps time to reframe Friedman's argument. Might sustainability or durability - for these companies and the world – in fact depend on a more holistic perspective? In particular the signatories made commitments to their customers, employees, suppliers and communities, alongside the promise of generating long-term value for their shareholders.
As long-term investors in high quality companies, this just strikes us as good business practice and even common sense. Dealing briefly with the four stakeholders the Business Roundtable mentioned, there are obvious examples of why each of these matter:
Consumers: It is becoming increasingly clear in the world of consumer staples that to be successful companies have to deliver 'performance' products, which actually deliver benefits, not least because social media helps consumers become far savvier.
Employees: In many sectors dependent on highly skilled workers, most obviously software & IT services, the ability to recruit, motivate and retain staff is a crucial source of competitive advantage.
Suppliers: Companies are increasingly being held responsible for their whole supply chain, be it around worker safety or environmental impacts.
- Communities: Aside from the obvious point that communities are generally consumers, companies now have to deal with a tougher political and regulatory environment, for instance around trade, tax, anti-trust, data privacy and the environment.
"Our portfolios are designed for performance not impact, but it is increasingly true that impact will affect performance over time."
To us there is no trade-off between 'doing the right thing' and long-term success. Long-term success requires that companies 'do the right thing'. We have been clear from the start that our portfolios are designed for performance not impact, but it is increasingly true that impact will affect performance over time, as companies are becoming increasingly responsible for the externalities they create, be they carbon, plastic waste or the loss of privacy.
Being more positive, the new Zeitgeist presents opportunities as well as risks, as purpose-led brands or those that stay on the right side of employees and regulators, can drive financial opportunity. This may be in the form of market share gains, pricing or an engaged workforce respectful of the regulatory environment. As Unilever's CEO Alan Jope argues it is "not about purpose instead of profit but rather profit through purpose"- in other words, customers are more likely to purchase brands that clearly signal values with which they are aligned.
"Environmental and social factors have become ever more important to the companies we invest in given the climate crisis, social media, and less predictable political environments"
As investors in compounders, we have always been focussed on the long term. The companies we own tend to be less cyclical than the index, and have strong strategic positions. As such, it has always been implicit that ESG-type factors were towards the top of the list of threats to sustaining high returns, hence our historic focus on governance. Over the last few years, the environmental and social factors have become ever more important to our companies, given the climate crisis, prevalence of social media and the less predictable political environments. Our response has been to become more systematic around ESG considerations. 
In some cases, it is relatively easy to get to the familiar comfort of numbers, for instance in accounting for the likely incremental costs of around 30 bps per year to consumer staples companies paying the 40% premium for fully recycled plastic (or cutting the growth rates for those who fail to adapt). Equally, the risk from higher corporate taxes can be measured by comparing the company's current tax rate with the revenue weighted average of tax rates where the company operates. It is even possible to model the impact of a $100/tonne tax on CO2 emissions; fortunately this is manageable for the companies in our global portfolios, as the carbon intensity is 87-89% lower than that of the index, based on tonnes of CO2 per $million sales. (1)
Other issues are not so easily reduced to numbers, and these have given rise to fascinating conversations within the team. For instance:
How to think about tail-risks – low probability events with major potential costs, such as a data breach?
Which risks are sufficiently material for us to change a company's cost of capital or terminal growth rate in our model?
What value do we put on diversity, and what cost on its absence? More broadly, culture is crucial, but is it measurable?
It is within this context that we have been working on developing a proprietary ESG scorecard for our companies which will focus not only on material stock specific issues and controversies, but also on attaching metrics to pressing "universal" issues such as environment threatening carbon emissions, safety, data, regulation and diversity, whether risks or opportunities. Where these are significant enough, there will be an explicit adjustment to either our modelled numbers, our valuation methodology or to the position sizes in our portfolios.
"We don't have all the answers yet, but what we offer is a commitment to confront these issues within the team rather than outsourcing, and a history of thorough engagement with the companies we own"
As ever, we remain pragmatists, artists as well as scientists, recognising that issues are seldom clear-cut. As bottom-up fundamental investors, we seek greater understanding of our investments in an ever more complex world. We are striving to arrive at a reasonably objective assessment of the net effect of our companies' positive and negative activities on their return potential. We openly admit we do not have all the answers yet, and almost certainly never will! What we can offer is a genuinely long-term perspective, a commitment to confront these issues within the team rather than outsourcing them elsewhere, a history of thorough engagement with the companies we own, and the deep sector and company expertise to isolate and analyse the key issues. 
Invest in your future
We are a global investment manager delivering innovative investment solutions across public and private markets worldwide
Stay up to date with my latest views. Hit the FOLLOW button below to be notified by email as soon as I publish my next wire.
(1) Source: MSCI, Morgan Stanley Investment Management, as at 31 December 2019.
---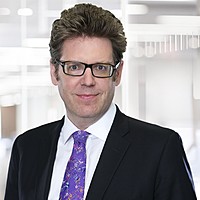 Portfolio Manager
Morgan Stanley IM
Bruno is a portfolio manager for Morgan Stanley Investment Management's London-based International Equity team. Prior to that, Bruno worked for Sanford Bernstein, where he was a Senior Analyst covering the financial sector for eight years.
Expertise