It's time to decarbonise your portfolio
---
Climate change has rapidly become a key focus for investors and the financial industry at large. More than US$100 billion of sustainable bonds were issued globally in the first half of 2020 alone. Some of the key indicators of this are:
The launch of the first climate-focused hedge funds;
institutional and private clients are now demanding fossil-fuel-free portfolios; and
a vibrant, climate-focused venture capital sector has emerged, funding innovations from solar and wind to nuclear fusion and new battery technologies. 
Investors now recognise they need to ensure their portfolios are "transition ready".

So why should investors care about climate change?
There are significant risks – as well as investment opportunities – relating to the disruption that comes with transitioning to a low-carbon economy.
Global regulators – at national, state and local levels – are introducing green power policies, pro-climate transport strategies, carbon-pricing regimes and mandates around low-emission industrial processes. These policies will tip the balance in many industries in favour of companies aligned with a low-carbon future.
There are risks associated with technological disruption; entire industries could be up-ended by climate-friendly innovations, as we are already witnessing with electric vehicles and plant-based meat. And of course, there are business risks associated with the impacts of climate change itself, such as damage to facilities from extreme weather events.
One of the most salient risks for investors is holding "stranded assets"; assets whose productive life is cut short due to climate transition. 
An example is the yet-to-be-extracted reserves of oil on the balance sheets of fossil fuel companies that – if we stay within a 2 degrees Celsius warming scenario – could never be burned. These assets are therefore vulnerable to rapid depreciation as the economy aligns with that scenario.
On the opportunity side, there will be many winners. Industries well-placed to benefit from a low-carbon future include:
green energy and related infrastructure, smart cities and the built environment;
mobility, and not just electric vehicles, but also innovations such as green hydrogen for shipping and trucking, and carbon-neutral aviation fuels; 
food and agriculture; and 
industries addressing water scarcity and ocean health. 
There will also be important opportunities in climate adaptation, such as flood defences and better housing in developing countries that can withstand extreme weather.
Investing in the climate transition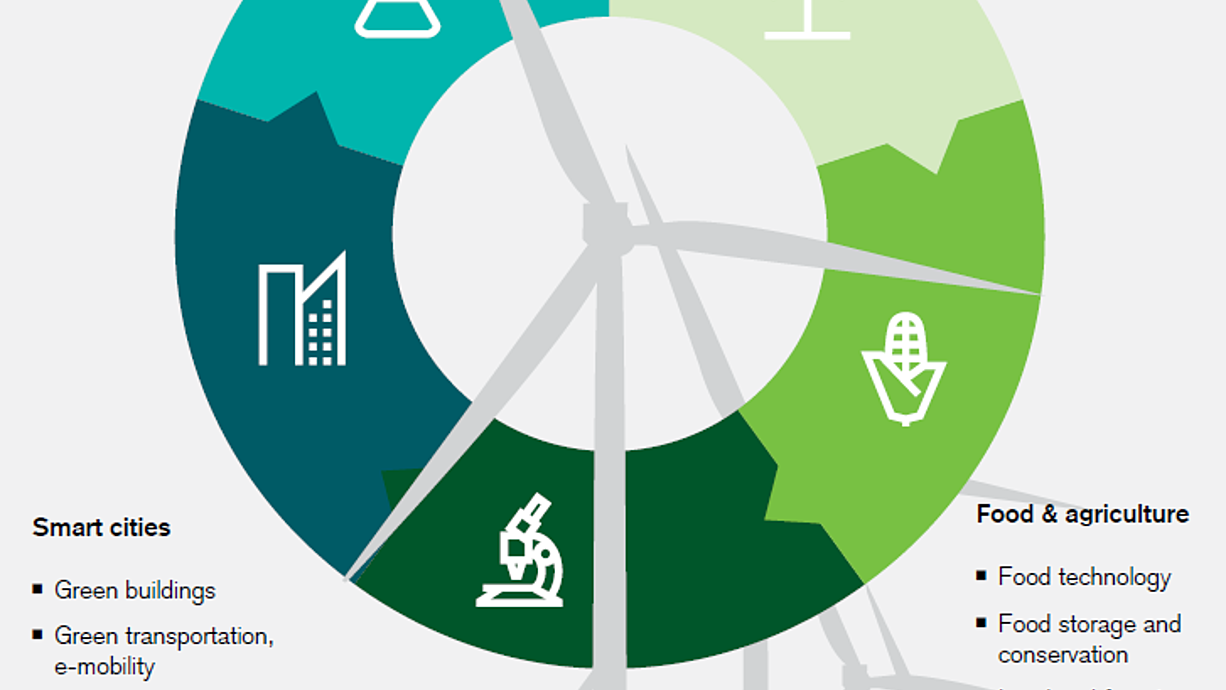 Source: Credit Suisse
How to de-risk and de-carbonise your portfolio
Investors should assess the carbon exposure of their portfolio by identifying those companies with business models unprepared for a low-carbon future. The most common tool used today is "carbon footprinting", which gives investors a rough overview of which companies are emitting more or less carbon.
Yet while this can help identify historically-heavy emitters, it does not tell the whole story. Some companies (for example, wind turbine manufacturers) may have high emissions but are well-placed to benefit from a low-carbon future. Investors should also use a range of forward-looking "climate-preparedness" metrics in order to assess the alignment of companies with an economy where warming is constrained to 2ºC.
Investors can then reduce their portfolio's carbon intensity and increase its climate-preparedness by swapping out high emitters for more climate-aligned companies. There are many investment funds that offer similar risk/return profiles but with dramatically lower carbon exposure.
Climate change needs to be integrated throughout the investment process. 
Given the likely scale of the climate transition and the disruption that will come, value may be at risk in many different parts of a portfolio, including companies that may not be heavy emitters themselves, but whose business model will be disrupted. Clients should assess fund managers on how they are integrating climate considerations into fundamental analysis, and how they could outperform, based on material risk and opportunity.
Finally, investors should proactively shift into companies providing climate solutions. Moving out of high emitters into climate-aligned companies alone doesn't directly help to address the climate challenge. Investors need to direct capital toward solutions as well. There are now countless opportunities to invest in climate solutions, with many fund managers offering clients exposure to the latest climate technologies and innovations, as well as clean energy and other necessary infrastructure investments.
A climate-ready portfolio can be constructed using institutional-quality strategies across almost all asset classes and investment approaches, with both liquid and illiquid investments. Such a portfolio should be able to deliver comparable and potentially superior risk-adjusted returns to a traditional portfolio over the long term.
Investors can also play a role in helping to drive this transition to net-zero. Their capital can speed up the transformation of industries and sectors, and support regulatory and consumer trends. In order to do this, investors need to – at least for part of their portfolios – focus on impact. This is achieved primarily through financing companies and projects in private markets, and, in particular, in venture capital. A portfolio approach that takes into account all of these considerations should not only be able to reduce its own exposure to carbon risk, but also help to drive the carbon transition.
Learn more
Credit Suisse Private Banking specialises in asset diversification, holistic wealth planning, next-generation training, succession planning, trust and estate advisory, philanthropy. Stay up to date with our latest insights by hitting the follow button below.
........
Data Sources Credit Suisse, unless otherwise specified. Disclaimer The information and opinion expressed in this report were produced by Credit Suisse as of the date of writing and are subject to change without notice. This document has been prepared for and is provided only to permitted recipients in Australia who qualify as wholesale clients as that term is defined by section 761G(7) of the Australian Corporations Act 2001 (Cth.) (the "Act") and as sophisticated or professional investors as defined by sections 708(8) and (11) (respectively) of the Act, in respect of which an offer would not require disclosure under Chapter 6D or Part 7.9 of the Act. The report is published solely for information purposes and does not constitute an offer or an invitation by, or on behalf of, Credit Suisse to buy or sell any securities or related financial instruments or to participate in any particular trading strategy in any jurisdiction. Information pertaining to price, weighting, etc. of particular securities is subject to change at any time. While Credit Suisse has made every effort to ensure that the information contained in this document is correct as at the time of publication, Credit Suisse can make no representation or warranty (including liability to third parties) either expressly or by implication as to the accuracy, reliability or completeness of the said information. Credit Suisse shall not be liable under any circumstances for any direct, indirect, contingent, special or consequential loss or damage suffered as a result of the use of or reliance on this information or in connection therewith or by reason of the risks inherent in financial markets. Nothing in this report constitutes investment, legal, accounting or tax advice, or a representation that any investment or strategy is suitable or appropriate to individual circumstances, or otherwise constitute a personal recommendation to any specific investor. Any reference to past performance is not indicative of future results. Credit Suisse recommends that investors independently assess, with a professional financial advisor, the specific financial risks as well as legal, credit, tax and accounting consequences. The attached report is distributed in Australia by Credit Suisse AG, Sydney Branch ("Credit Suisse") (ABN 17 061 700 712 AFSL 226896), Credit Suisse does not guarantee the performance of, nor makes any assurances with respect to the performance of any financial product referred herein. Neither this document nor any copy thereof may be sent to or taken into the United States or distributed in the United States or to a US person. In certain other jurisdictions, the distribution may be restricted by local law or regulation. The entire content of this document is subject to copyright (all rights reserved). This document or any part thereof may not be reproduced, transmitted (electronically or otherwise), altered or used for public or commercial purposes, without the prior written permission of Credit Suisse. © 2021, Credit Suisse Group AG and/or its affiliates. All rights reserved.
---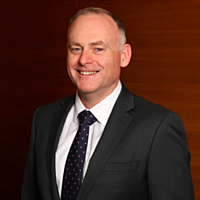 Chief Investment Officer
Credit Suisse
Andrew McAuley is a Managing Director of Credit Suisse Wealth Management Australia. As Chief Investment Officer, he is responsible for developing discretionary and advisory investment strategies across multi asset class portfolios for clients in...
Expertise