It's time to invest in the most tech-obsessed country in the world
---
The global leader with more start–ups and R&D than anywhere else.
---
We are well and truly progressed in the momentum of a prolonged technological revolution.
Investing in select technology companies has created huge wealth for investors over the last 20+ years – and this experience is likely to be repeated over the coming decades.

No country in the world is more attuned to this opportunity than Israel – a genuine world leader in technological innovation and entrepreneurship.
For many reasons, and by all accounts, Israel should not be an obvious investment focus: a small country, a small population, very little by the way of natural resources, and still in its relative infancy as far as countries go; at only 70 years of age.
But it is abundantly rich in one key resource and that makes it a worthy investment focus, particularly as the cadence of global adoption in technological innovation rapidly increases.
Perhaps it's surprising that a country with only 9 million people has the third-largest number of companies listed on the NASDAQ, after only the US and China.
That one key resource is human capital – Israel comprises a population with a great education, high intellect, and unbending will to succeed without the fear of failure, evidenced in its status on the world stage.
For one, it has the highest percentage of GDP spend on research and development in the world. It also has the most research and development centers; some 300 global firms – the largest number of any country.
We've given it the moniker "startup central". After all, Israel boasts the greatest number of startups per capita, globally.
Over the last few decades, Israel has had some incredible success stories in hi-tech, and low-tech, industries, with many of these stories revolutionising the world whilst generating huge returns for investors.
The world's first USB, online messenger service, and firewall against malware were developed in Israel. Waze –A GPS system that Google acquired, car AI that is used in over 15 million vehicles today, as well as a breathalyser that detects cancerous tumours, Parkinson's disease, dementia, multiple sclerosis and many more diseases to an 86% – 93% degree of accuracy… These are just some of Israel's innovations that have shaped the world.
In our view, over the next few decades, the opportunity that arises from investing in Israeli companies will dwarf that of the last two decades. Especially in the realms of semiconductors, cybersecurity, cleantech, aerospace, automotive, and fintech.
Underpinning this, despite its relative youth and the small size of this nation, Israel has a strong, well-regulated, business-friendly, and resilient economy.
Only recently the Tel Aviv Stock Exchange became a listed entity in its own right, and in turn, has become an increasingly more commercial platform. There is an ongoing program to get more companies to list in Israel, rather than raising capital privately or listing on the Nasdaq (or other listed markets). This creates an opportunity to invest in smaller companies with market caps of USD$150-400 million( too small for NASDAQ), which often have better growth engines than their larger counterparts.
This is why we have partnered with a brilliant Israeli tech fund based in Israel to offer Australian investors access to this fascinating and future-focussed sector.
In our view, Alpha is the preeminent boutique Israeli fund manager. Alpha's skill is clearly evident when looking at the returns generated since the inception of the Australian unit trust (the Pengana Israel Alpha Fund). During this period, the fund generated compounded returns in excess of 12.5%p.a.1, double that of the Tel Aviv Stock Exchange 125 index.
Investing in technology has historically been an excellent choice for most investors, but the experience of investors is not uniform.
The top quartile of investments dwarf the rest of the market – and those investors that didn't identify the winners may end up getting burned along the way.
The lesson here is that in order to make excellent returns whilst at the same time managing risk, investors need to entrust their capital to a fund manager who has a combination of skills, networks, and experience.
They need:
an exceptional understanding of technology businesses;
access to management and deal flow;
and very importantly, an understanding of how to manage risk.
Recognising the importance of these three factors, we chose Alpha LTI as their partner to bring the Israeli investment opportunity to Australian investors.
As local investors in technology-oriented companies with long-term growth potential, as well as a strategic large shareholding in Israel's leading underwriter "Poalim IBI", the investment team is perfectly poised to take advantage of these opportunities as they present themselves.
Established in 2005, Alpha manages circa $500m, with a highly experienced team specialising in listed and pre-IPO investing. It has an exceptional long-term track record of delivering risk-adjusted returns.
---
Read more about Pengana's ALPHA Israel Fund, or join us for an upcoming webinar on the demand for tech innovation and disruption HERE
........
Pengana Capital Limited (ABN 30 103 800 568, AFSL 226566) ("Pengana") is the issuer of units in the Pengana Alpha Israel Fund (the "Fund"). An information memorandum for the Fund is available and can be obtained from our distribution team. A person should consider the information memorandum carefully and consult with their financial adviser before deciding whether to acquire, or to continue to hold, or making any other decision in respect of, the units in the Fund. This information has been prepared for Wholesale Clients only. This information does not contain any investment recommendation or investment advice and has been prepared without taking account of any person's objectives, financial situation or needs. Therefore, before acting on this information a person should consider the appropriateness of the information, having regard to their objectives, financial situation and needs.
---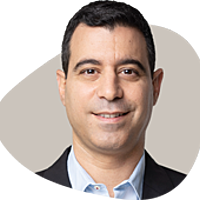 Founder & CEO & Portfolio Manager
Pengana Capital Group
20 years of experience in investment management in the Israeli capital market. Managing Partner. Co founded Alpha LTI in 2005. Prior experience includes: head of investor relations and portfolio manager at Tamir Fishman Asset Management; Advisor...
Expertise