Kingston writing new chapter for PNG's once-great Misima gold mine
---
With a resource of 2.8Moz and a bumper gold price, Kingston Resources' plan to rejuvenate the legendary Misima gold mine is starting to look like a case of perfect timing. Plus, $4m Tanga Resources dangles visible copper with assays pending.
The Misima gold mine on its namesake island in PNG was one of the world's great gold mines in its day.
Between 1989 and 2004, its average annual production was 230,000oz at an average life of mine cost of $US218 an oz.
The closure decision by the previous owner, Canada's since-taken over Placer Dome, was made at a time of sub-$US300 an oz gold prices, would you believe.
To keep going, a big cutback of the open pit was required and given the lack of help from the gold price, it was something that the Canadians weren't prepared to do, even if they knew they were leaving behind a lot of gold.
Fast forward to more recent times and Misima – the island is a friendly place and is free of the law and order issues that dog the PNG mainland – is now holed up in the ASX-listed junior Kingston Resources (KSN).
More to the point is that since acquiring its initial 49% stake in a merger deal in late 2017 with a Canadian junior that was looking for a copper porphyry, Kingston (now at 77% with the remainder held by Japanese groups Nippon and Mitsui) has returned the focus to Misima's big-time gold potential.
And big time it is given a November 2017 stock exchange-compliant resource estimate put the resource at 2.8Moz of gold (82.3mt grading 1.1g/t gold compared with 1.5g/t under Placer Dome, with a silver count as well).
That's kind of interesting for a company trading at 1.6c for a market cap of $25m, or less than $A10 an oz in-the-ground for stuff currently selling for $A2057 an oz. Our most successful gold miners in WA struggle to find their new resource ounces at anything below $A30 an oz.
So in a market where there is serious momentum around the gold price in both US dollars and in the local currency, there is a strong case for Kingston to get cracking on building a case for returning Misima to production.
As Kingston's current market value reflects, there is lots of work to do. Useful infrastructure like ports and power were left behind by Placer but it also rehabilitated the pit and removed the treatment plant just like the good corporate citizen it was.
Kingston sees the existing 2.8Moz resource as a "solid backbone" for any new long-life development. But it is also out to sweeten things by seeking out nearby shallow open pit targets which would generate early cashflow.
It has a rig drilling away on regional exploration targets at the moment and it is aiming to bring in a second rig at some point on the most advanced of them to start putting together a resource base to frontload year 1-3 of a new Misima.
All things being equal, it is likely that Kingston could be in the mining study stage by the middle of next year for a long-life operation that others have taken a stab at suggesting suggested could result in annual production of 150,000 oz-plus at $US800 an oz.
Nippon and Mistui, which were originally involved in the hunt for Misima's copper potential, as was 7% shareholder Sandfire (SFR), are not contributing at this stage to the work program, which is how Kingston's stake has continued to grow.
The Japanese can resume contributing and might well do so at some point, particularly if a future mining study confirms that Misima's second leg could be as good as its first given the help of current gold prices and new near-by discoveries.
They are just the type of project partners that a junior could hope for at this stage of Kingston's planning for Misima's return.
The locals are said to be cheering Kingston on. Gold mining has been a feature on the island since 1889 and it has a big FIFO contingent that work at PNG's other island mines, or on the mainland. Much of the skill set from the Placer years is also in place.
While it gets cracking at Misima, Kingston is allowing itself a bit of a diversion with a drilling program about to start at its 75%-owned Livingstone gold project in WA's Bryah Basin.
Livingstone has a 50,000oz resource on it but it was last year's discovery of a near-surface zone of mineralisation over a strike length of more than 800m at the Kingsley prospect that got people's interest up.
Best results from the 2018 drilling included 4m at 76.2g/t from 88m and a likely more representative 28m at 2.26g/t from surface. The drilling campaign should lead to a resource estimate for Kingsley later this year. The program will also test for primary mineralisation, so the potential is there for Livingstone to become a valuable asset in its own right.
Tanga Resources (ASX:TRL):
If you're up nice and early in Kalgoorlie on Monday for the start of Diggers & Dealers, pay a visit to the Hospitality Inn where you will no doubt find John Jones at the bain marie getting his fair share of sausages.
Jones is a non-executive director of Tanga which is trading at all of 0.3c for a market cap of $4m. Having a chat to him about the Namibian explorer could be well worth it as it has made what looks to be some decent hits at its Hagenhof copper-cobalt project.
It is said "looks like" because there are no assays just yet. But decent copper mineralisation was as clear as day in pictures of some of the drill core from the first four holes included in Tanga's drilling update to the ASX.
"Visual observations indicate the presence of copper sulphides associated with strong pyrrhotite and pyrite mineralisation with down-hole thicknesses of between 10m to 25m in all four holes," Tanga said.
"This is consistent with historical diamond drilling (1972-73) which was reported to have intersected significant copper-cobalt mineralisation at Hagenhof,'' it added.
The historical drilling was by the long-gone US copper group Phelps Dodge. While Tanga cannot refer to them now, it was able to do so in August last year when it acquired the project. The best result was 18m at 0.9% copper from 93m, including 12m at 1.08% copper from 96m.
There was also cobalt values. Phelps Dodge being copper-centric, did not assay for gold.
Drilling continues and will take in several other targets, including a prominent magnetic feature at Main Gossan (where the latest and historical drilling was undertaken).
Hagenhof is part of a bigger footprint Tanga has secured on the Damaran belt – an extension of copper rich Katanga belt - which is home to some big deposits of various descriptions. Early days at Hagenhof, but encouraging stuff for a $4m market cap company.
---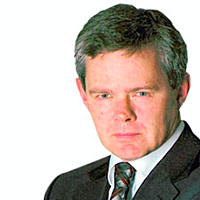 Principal
Independent Journalist
One of Australia's leading business journalists, Barry FitzGerald, highlights the issues, opportunities and challenges for small and mid-cap resources stocks, and most recently penned his column for The Australian newspaper.
Expertise