Kirkland's imminent reserve update puts spotlight on its leveraged neighbours
---
The promise of a big reserve increase at the rich Fosterville mine has investors salivating. Little wonder, given its grade of ~20gpt and costs of around US250/oz. And now the anticipation is spilling into nearby juniors such as Chalice, which is among those set to drill for the next Fosterville.        
Barring an outbreak of some serious merger and acquisition activity, the biggest news in coming months for the ASX-listed gold space is likely to be a resource and reserve upgrade for the Fosterville gold mine near Bendigo.
That will be tough to take for the WA-centric industry, which has long thought of Victoria as a bit of a joke when it comes to modern-day exploration potential, notwithstanding its rich gold rush history.
In recent years, Fosterville, owned by Canada's Kirkland Lake, which is also listed on the ASX (KLA), has made Victoria something of a global exploration hotspot. That kind of happens when exploration at depth below clapped out open-cut operations yields a discovery like the Swan zone.
Its mining reserve currently stands at 1.16Moz grading 61.2g/t gold, or near enough to two ounces a tonne. It has recently been accessed and will underpin a surge in Fosterville's annual production from 275,000oz this year to 400,000oz by 2020.
The rich grade of the operation (about 20g/t currently) delivers cash costs of production that WA miners can only dream about. Forecast cash costs for this year have been estimated at $US250/oz.
Kirkland has made loud and clear that it expects to see a "substantial" increase in reserves at Fosterville when it gets around to releasing an updated mine resource and reserve position as of December 31 this year.
Results of a pugnacious drilling program at Fosterville during the year suggest there will indeed be a substantial increase in the upcoming reserves/resource update (the 2017 update was released in February this year).
The drilling results point to a high conversion to reserves of existing indicated resources (171,000oz at a spectacular 116g/t), and inferred resources (671,000oz at 36g/t).
Then there is upside from the extensional drilling, with Kirkland announcing in September a high-grade intercept in the Swan zone some 200m down plunge from the current reserve. It was a none-too-shabby 83g/t over a true width of 6.8m.
As mentioned, Kirkland is listed on the ASX. Along with the other producers (the exception being Northern Star) it has come off heavily since early August in response to the weaker gold price. Its CDI's were last quoted at $27.65.
All that is a pre-amble to today's real interest – the ASX-listed juniors that have exposure to the thematic that Fosterville's looming reserve upgrade can only heighten global investor interest in who might find the "next" Fosterville.
Chalice Gold
Most of the active Victorian players have been mentioned here previously - Catalyst Metals (CYL) in its own right, and in joint ventures with Gina Rinehart and Navarre (NML), also in its own right. Nagambie (NAG) is another.
So it is time to have a look at the newest player in the Victorian hunt, the cashed-up Chalice Gold (CHN).
It's cashed up all right. At the end of June it was holding $36m in cash, a result of some astute trading out of advanced gold projects in Eritrea and Canada a while back. Treat liquid investments of $2.6m as cash, and Chalice has a cash backing of 14.5c a share.
That is kind of interesting for a stock trading at 15c. It is more or less saying that Chalice's exploration projects have zero value. Kind of embarrassing really. But it is clearly not the case.
Chalice knows that, which is why it recently announced a proposed capital return of 4c per share ($10.7m) in December and a  refocussing of its efforts on to the potentially high-impact exploration projects in its portfolio.
The company's East Cadillac gold project in Quebec is one of those and will be worth following given its location on the prolific Abitibi greenstone belt.
The other is its recently assembled Pyramid Hill gold project to the north-west of Bendigo, to the north-east of Fosterville, and to the west of Catalyst's Four Eagles joint venture.
Chalice's ground position covers some 3000sqkm and includes three major regional faults which host known goldfields (including Bendigo). Like others, it is looking for gold positions beneath the region's extensive Murray Basin sediments cover.
Chalice's hunt for Victoria's next golden elephant is about to heat up with an 8,500m RC/aircore drilling program due to kick off later this month.
It's early-stage stuff, but as Chalice CEO Alex Dorsch has reminded shareholders, it gives them a "great opportunity to be part of the continued rejuvenation of one of Australia's premier" gold regions.
Seven wide-spaced drill traverses are to be drilled in area that stretches 20-50km north-west of Bendigo (an historic producer of 22Moz of gold).
Chalice has said that four of the seven traverses will test the two largest gold-in-soil anomalies identified to date (the West and East Anomalies), each of which extend over a 12km strike length, with drilling prioritised over gravity highs which are interpreted as 'buried hills' beneath Murray Basin cover, meaning bedrock should be closer to surface.
The two southern-most drill lines are to test a large-scale gravity anomaly associated with the Muckleford fault in the same area from which anomalous gold values were returned in historic drill holes.
"All planned drill traverses are at least 3.2km apart, reflecting the district-scale approach to the company's initial drill testing. Any anomalous results will provide an immediate target for follow- up drill testing," Chalice said.
---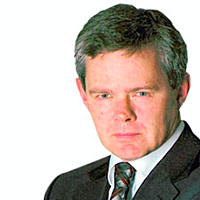 Principal
Independent Journalist
One of Australia's leading business journalists, Barry FitzGerald, highlights the issues, opportunities and challenges for small and mid-cap resources stocks, and most recently penned his column for The Australian newspaper.
Expertise