Lepidico lures investors into a new galaxy where lithium is free
---
A world where lithium is produced for free sounds too good to be true. But lithium producer Galaxy doesn't think so. It has just taken a 12% stake in lithium technology developer Lepidico. Is this a marriage made in Heaven? Plus, our predictions of Echo's re-rating are now reverberating.
No one much cared earlier this year when there was a particularly nasty takeover battle between Lithium Australia (LIT) as the suitor and Lepidico (LPD) as the target.
The pair are looking to disrupt the lithium market, built as it is on hard-rock spodumene concentrates and subsurface brines, with their separately developed hydrometallurgical processes that have lithium-bearing micas as the starting point.
Lepidico saw off the hostile scrip-bid from LIT in fine fashion, with the bruised LIT since selling down its 17% Lepidico shareholding to less than 7%. Still no one really cared.
But that all changed on October 10 when the $1.45 billion lithium hard-rock producer and brine developer Galaxy Resources (GXY) gave a ringing endorsement of Lepidico's breakthrough hydromet process known as L-Max.
The endorsement came in the form of Galaxy taking up a $2.9m placement of Lepidico shares at 1c each, giving it a 12% stake and ranking it just behind the developer of the L-Max process, Strategic Metallurgy, which has 14.3%.
Galaxy is also a sub-underwriter to Lepidico's current one-for-six rights issue at 1c to raise $4.05m and theoretically it could get to a 16.4% stake. But Lepidico has raced off to 3.1c a share since the Galaxy placement, so the sub-underwriting is unlikely to be called on.
On a fully diluted basis, Lepidico is going to have some 2.97 billion bits of paper out there. So while the share price suggests we're talking about small beer here, Lepidico has become a $92m company.
And it is little wonder too given the disruptive potential of its L-Max process to produce zero cash cost lithium carbonate for the world's booming lithium-ion battery makers, all from a new source rock.
The basis of the L-Max process is the leaching of lithium-bearing mica ores like lepidolite with hot sulphuric acid at atmospheric conditions.
It involves a series of crystallisation and precipitation steps in which lithium is separated from the leach liquor impurities.
After removing the impurities the leach liquor contains mostly lithium sulphate. The desired product, lithium carbonate, is precipitated using sodium carbonate. But there is a whole bunch of other high-value saleable products precipitated off during the process – sulphate of potash, sodium silicate, caesium and tantalite.
The valuable suite of by-products is how L-Max can produce the zero cash cost lithium carbonate mentioned earlier.
Galaxy clearly thinks Lepidico is on to something with L-Max, which still needs to be proved at a commercial scale.
Galaxy boss Anthony Tse said that apart from the financial support of Lepdico's L-Max plans, his company would also be offering up Galaxy's technical capabilities, industry contacts and market expertise.
"Our alliance with Lepidico will provide us with the capability to also potentially evaluate significant mica feedstocks in future," Tse said. "L-Max is an exciting technology and we look forward to leveraging it to unlock value, to capitalize on the ongoing growth opportunities in the lithium sector.
It was all that a company like Lepidico, looking to break into an industry with a new processing technology based on a previously over-looked feedstock, could have wished for. It also means that with gross proceeds of $7 million coming its way from the placement and rights issue, Lepidico can get cracking on its definitive feasibility study.
Earlier scoping study and preliminary feasibility studies gave a flavour of what to expect in the DFS, and as expected with a new processing technology, the plan is for a staged development so that the process and costs can be proven before stepping up to become a serious producer of lithium carbonate.
For capex of $US40-$45m, the studies point to a 290,000 tonne-a-year L-Max plant being able to produce 3,000tpa of battery grade lithium carbonate equivalent (LCE) at an average cash cost of nil to negative after by-products.
Average costs after amortisation of development capital were put at $US1,000-$US2,000 a tonne of LCE which is pretty interesting given most forecasters are assuming a long-run price for the stuff of $US10,000-plus (spot is $US19,500 a tonne).
Feeding into the low cost of production of the LCE is the revenue to come from the suite of by-products. They are 3,000 to 4,000tpa of sulphate of phosphate ($US600 a tonne), 40,000-50,000tpa of sodium silicate ($US690 a tonne), 10-100tpa of caesium ($15,000 a tonne) and 20-25tpa of tantalite ($US120,000 a tonne).
Lepidolite supplies are to be drawn from a range of sources, including an established producer for the ceramics industry in Portugal. Because of the 1:1 ratio of sulphuric acid used in the process, the plant is to be built in Ontario where the big nickel-copper smelters there produce more of the stuff than they know what to do with.
The strategy of sourcing the lepidolite feedstock (4.5% lithium concentrates compared with the 6% standard the spodumene producers ship to downstream processors who make the LCE ) from multiple sources, including third-party suppliers, is a bit different.
But this is not a mining story. It's a story about a breakthrough low-cost processing technology which has the potential to produce zero cash cost LCE. Success in stage one by Lepidico would lead to work on cranking things up to 20,000tpa of LCE at a rough cost of $US100m.
And it is that sort of potential that has captured the interest of Galaxy.
Re-rating of Echo underway, more to come
It was mentioned here back in early August that Yandal gold developer Echo Resources (EAR) was overdue a re-rating on its near-term production potential.
Echo was 17.5c at the time and it has since moved up to 24c. So the re-rating is underway. But there is still some way to go.
Canaccord for one reckons that Echo is headed off to 40c. It has just initiated coverage of the $94m company and reckons that with a maiden reserve estimate pending, Echo can be expected to rapidly move through a feasibility study and into development within six months.
As mentioned previously, Echo has done the right thing by ensuring it has a supporting reserve base before turning the idled Bronzewing processing plant back on.
Canaccord believes Echo will be pretty much there after the maiden reserve is released for its Orelia deposit, 10km south-west of the hungry Bronzewing.
It is assuming about 480,000oz based on a 50% conversion of the indicated resource. Add in the Julius deposit, and Echo's restart should be good for an initial 5-years at an annual rate of 100,000ozs from late 2018, after a refurbishment of Bronzewing costing an estimated $20m.
That would be the starting point, with Canaccord saying the exploration potential is genuinely exciting.
---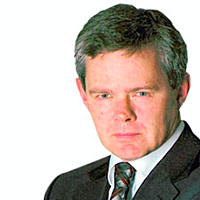 Principal
Independent Journalist
One of Australia's leading business journalists, Barry FitzGerald, highlights the issues, opportunities and challenges for small and mid-cap resources stocks, and most recently penned his column for The Australian newspaper.
Expertise