Lithium developers... Brace yourself for the recovery
---
Geologist, James Cooper, offers his take on why developers could be entering a Goldilocks period as the lithium sector braces for a recovery
Since our new resource publication was launched in November 2022 we've steered clear of the lithium sector.
Despite the flood of investment headlines late last year jumping on the lithium bull market, in my mind the market for this commodity was far too overheated.
Late last year, I wrote to my readers highlighting the risks and justification for avoiding the sector…
Most market commentators have stated future demand for EV batteries will continue to drive a boom in lithium prices.
But that's the typical mainstream sentiment; I believe much of the excitement has already been priced in. In my opinion, I see much stronger opportunities presenting in other areas of the commodity sector.
You can read the full article here.
Indeed, by November 2022 the lithium hype had been 'fully priced in.'
Lithium carbonate reached its highest-ever recorded price of around 600,000 Chinese Yuan on 15 November.
From there it fell a staggering 70% into April 2023.
See for yourself below…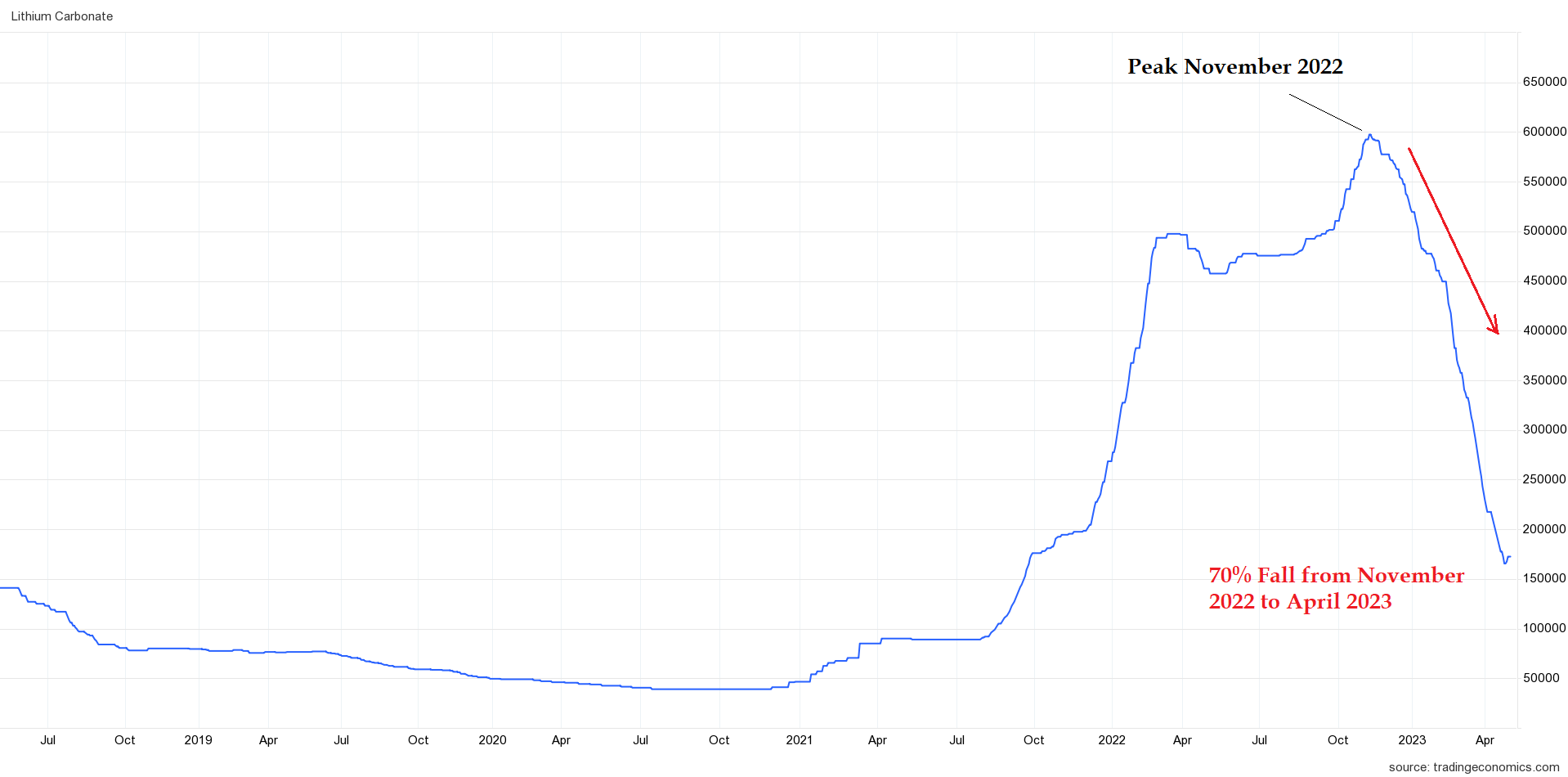 Avoiding certain markets is just as important as picking the right areas for investment.
As an investor that places you in a MUCH stronger position to capitalise on lower prices… Both financially and mentally!
So, with the correction well and truly underway, does the recent sell-off offer an opportunity for investors looking to dabble in last year's hottest commodity?
RUMBLINGS OF A RECOVERY ARE EMERGING...
Opportunistic bids from majors in the industry offer investors clues that the lithium market is preparing to stage a comeback.
It started in March when US chemical giant Albemarle made a $3.7 billion bid for West Australian lithium developer Liontown (ASX: LTR). 
That sent LTR's share price soaring more than 60% in a single trading session.
The company is now trading above its all-time highs…. Despite the underlying commodity still languishing well below its November peak.
But in many ways Liontown stood out…
In terms of scale, Liontown's enormous Kathleen deposit in Western Australia will be competing with Pilbara Minerals' (ASX: PLS) Pilgangoora Project.
As you might remember, PLS was the darling of 2022's lithium surge…. Rocketing around 150% through the second half of last year.
But if you believe lithium has made a last final blow-off and are ready to add exposure what characteristics should you look for in a company?
EARLY PRODUCERS SET TO CAPTALISE 
As I've highlighted to my readers, early production is the ideal investment phase in the mining lifecycle… This is perhaps even more critical when looking at the lithium sector.
At this stage of development, the company holds a proven and economically viable deposit…
Resource drilling and the geological and metallurgical due diligence has been completed.
That eliminates the biggest risk of all… Geology.
You see, construction and finances are all controllable factors.
Engineers can tweak processing facilities to optimise output.
CFO's can pursue different avenues for sourcing funds… Capital raisings, joint ventures, and offtake agreements.
The geology on the other cannot be changed, fixed, or altered…
Economic deposits are a freak of nature that sit under managements feet as an unknown beast that can only be tamed through extensive drilling and geological interpretation.
But there's another reason to favour the early producers…
Cash is king in the resource game… Production means revenue… An opportunity to pay down debt and test new exploration targets.
It simultaneously strengthens a company's balance sheet while offering these producers a chance to add value through new discovery.
But why focus on EARLY producers?
Mines are a depleting asset… Declining output is the thorn that sits in the backside of every established mining firm.
The young mid-cap producers have the advantage of YOUTH… There is no immediate need to explore for replacement reserves or overpay for acquisitions to maintain output.
Years of production lay ahead.
It's for this reason I tend to focus on companies operating in the early production life cycle.
But there's one more critical factor to consider…
The price of the underlying commodity.
While we can't always get the timing right…. The Goldilocks scenario is to own a company entering maidan production on the back of rising prices.
This is the sweetest spot of all for an early producer.
But when the stars align value can be hard to find…
WHICH IS WHY LITHIUM OFFERS A RARE OPPORTUNITY
With several late stage developers looking to enter production over the next 12 to 18 months there's good reason to believe certain lithium stocks could be entering one of these rare 'Goldilocks' scenarios.
But as investor its likely you'll be competing with the majors in the months ahead.
The world's largest mining firms have been unanimous in their push to grow their exposure to critical metals.
But when it comes to the race for critical metals deposits each mining conglomerate has their own specific shopping list of commodities…
The world's biggest miner, BHP (ASX: BHP) has been squarely focussed on nickel and copper acquisitions as it looks to boost its output of future facing metals.
While Australia's richest person, Gina Reinhart, made a surprise move on a REE developer based in the Northern Territory… Arafura Rare Earths (ASX: ARU), absorbing around 10% of its stock after pumping $60 million into the company late last year.
While Twiggy's Wyloo Metals looks to be zeroing in on PGE's, REEs and nickel… He's latest bid was for a stock in our portfolio… Mincor Resources (ASX: MCR). 
But so far, none of these big players have expressed any interest in lithium.
Except for two notable exceptions…
One of those is Glencore (LON: GLEN).
This Swiss-based miner holds various coal, copper, and nickel assets in Australia and overseas and has expressed a strong desire to build a portfolio of lithium assets.
But despite voicing its intentions to break-into this niche market Glencore has failed to make its first move…. Perhaps waiting for a drop in the market after lithium's 2022 blockbuster year?
But lithium has now had its 'come-back-to-earth' moment…
Meaning several majors could be about to embark on their long-awaited move into the sector.
As I highlighted earlier in the piece we recently witnessed a bid from US-based Albemarle for Australia's Liontown Resources.
Liontown holds a large shovel-ready deposit that's slated for maidan production as early as 2024.
But there's another mining conglomerate pushing its way into the lithium sector… Rio Tinto (ASX: RIO).
Early last year the company snapped up the Rincon lithium project in Argentina for $825 million.
Rincon is a large lithium brine project holding a PROVEN resource that is also knocking on the door to maidan production.
TIMING IS RIPE FOR MORE M&A ACTIVITY
As an investor, you should be trying to work ahead of the M&A activity…. That's why we've steadily added lithium stocks to our portfolio over the last two months.
The majors have shown they move on opportunities when the market turns down.
We saw that last year with Gina Rinehart's move on Arafura Rare Earths…. We also saw it amongst BHP exec's winning a bid on copper producer Oz Minerals.
Andrew Forest also lit a match under the M&A mining space with his bid for the nickel play, Mincor Resources in March 2023.
That's why, IF the majors are prepared to make a serious commitment to lithium then NOW is the time to make their move.
While acquisitions shouldn't be your main focus as an investment opportunity it adds an interesting flavour to your portfolio… A chance to capitalise on some short-term gains if the deal stacks up favourably.
Given that several lithium stocks are well off their all-time highs from last year there's perhaps a short window of opportunity available to add exposure to this sector while prices remain depressed.
So what opportunities could you look at?
In terms of late stage developers or early producers that haven't already moved substantially off their lows you could look at the Australian based hard rock miner Core Lithium (ASX: CXO) which has just begun production in the Northern Territory.
Otherwise, you could look at Galan Lithium (ASX: GLN) or Argosy Minerals (ASX: AGY) two companies developing lithium brine projects in the famed 'lithium triangle' of South America.
Consider this too… Argosy Minerals sits right next door to Rio Tinto's Rincon Valley operation, perhaps one of the world's hottest areas for lithium development.  
If you're interested in staying up-to-date on the latest developments in the Australian Commodities space, click this link now to get insights from James Cooper in his publication Diggers and Drillers.

Never miss an update
Enjoy this wire? Hit the 'like' button to let us know. Stay up to date with my current content by
following me
below and you'll be notified every time I post a wire
Welcome to Livewire, Australia's most trusted source of investment insights and analysis.
---
To continue reading this wire and get unlimited access to Livewire, join for free now and become a more informed and confident investor.
James is a former exploration geologist, turned mining analyst with postgraduate qualifications and has extensive operational and financial experience in the mining industry. He's worked for major and junior companies throughout Australia and Africa, including Barrick Gold, Equinox Minerals, Crosslands Resources, and Northern Star and has been involved with all phases of exploration across a host of different commodities. Now the resident commodities analyst at Fat Tail Investment Research and editor for the Diggers & Drillers Publication, he brings he's past experiences to the table offering investors an insiders take into the coming resurgence in mining stocks.
........
All advice is general in nature and has not taken into account your personal circumstances. Please seek independent financial advice regarding your own situation, or if in doubt about the suitability of an investment. Any actual or potential gains in these reports may not include taxes, brokerage commissions, or associated fees.
---

Never miss an update
Get the latest insights from me in your inbox when they're published.
---
---
James is a former exploration geologist, turned mining analyst with postgraduate qualifications and has extensive operational and financial experience in the mining industry. He's worked for major and junior companies throughout Australia and...
Expertise
James is a former exploration geologist, turned mining analyst with postgraduate qualifications and has extensive operational and financial experience in the mining industry. He's worked for major and junior companies throughout Australia and...
Expertise