Little Avalon aims to repeat SolGold's $1b success in Ecuador
---
Look for where the world's exploration hotspots are and it is hard to go past Ecuador. Just ask Newcrest and BHP Billiton. They had a shoot-out of sorts last year over Nick Mather's Brisbane-based but London AIM listed SolGold. SolGold is the one-time junior now worth more than $US800 million on the strength of its Cascabel copper-gold discovery in northern Ecuador.
Drilling results such as 1088m grading 1.48 per cent copper equivalent – in a country that has only recently rewritten its mining laws with the help of industry consultant Wood Mackenzie to attract foreign investment – got the pulses racing at Newcrest and BHP. BHP made a $US275m pitch to SolGold for a 10 per cent stake in the company and earn-in rights to a 70 per cent interest in SolGold's 85 per cent Cascabel stake.
It was a case of thanks but no thanks from SolGold which preferred a less invasive offer from Newcrest for a 10 per cent share placement worth $US23m at the time.
Clearly then, BHP and Newcrest have given Ecuador the tick of approval on where the world's next big porphyry copper/gold deposits are going to be found and just as importantly, they have demonstrated their confidence that the South American nation has got its act together when it comes to encouraging foreign investment in the minerals sector.
The same can be said about the attitude of Gina Rinehart's Hancock Prospecting and Andrew Forrest's Fortescue. They too are stomping around in Ecuador looking for exploration opportunities.
Today we can save them, and the disappointed BHP, some trouble. Take a look at little old Avalon Minerals (ASX:AVI) which has been busy in recent times putting some pizzazz into its story by adding the Bramaderos gold-copper project in southern Ecuador (it's a likely porphyry with an over-lying epithermal system) to its portfolio.
Avalon's reason for existing up until the inclusion of Bramaderos was to get its Viscaria copper project near the century-old iron ore mining town of Kiruna (think of it as Sweden's Pilbara in the snow) into production.
A nice project it is too, the value of which more than covers Avalon's mean market capitalisation of $11m (1.8c a share). Viscaria was discovered in the 1970s, 4km from the state-owned LKAB's iron ore operations and was a copper producer for 15 years until 1997.
Avalon is working on bringing it back as a 20,000-25,000 tonne a year copper producer from a $US135m development that would be capable of throwing off some $US50m in annual EBITA at $US3 a pound copper.
The capex is tiny because of the infrastructure support at Kiruna. But with copper south of $US3 a pound, the capex is probably a bridge too far for little Avalon. So there would be no surprise if Avalon seeks out a partner with deeper pockets at Viscaria.
And besides, success with drilling programs at Bramaderos – the first is likely to kick off before year end – could make it the company's focus in a hurry.
Bramaderos is no bush whacking exercise. It has got a pedigree. One arm of its lineage is traced to SolGold, with Avalon's chief executive Malcolm Norris having been CEO of SolGold when it moved into Cascabel courtesy of deal with Canada's Cornerstone Capital.
Avalon's deal on Bramaderos is with Cornerstone.
The project area was also the subject of two drilling programs (30 holes) in the past by other groups which demonstrated the presence of a mineralised system thanks to ore-grade intercepts in some of the drill holes and ore-grade intercepts in some of the surface sampling.
It means that Avalon can get cracking with a drilling program targeted at resource definition early on.
Mind you, the first holes are likely to be on two areas away from the central area that was the subject of the previous drilling.
The reason why is simple enough. Surface sampling in the new areas returned 1.8 per cent copper and 3 grams of gold a tonne-type hits. Worth following up you would think.
White Rock's Alaskan zinc game-changer
Talking about adding some pizzazz, Ballarat-based White Rock Minerals (ASX:WRM) has done just that with the release of an impressive maiden resource estimate for its Red Mountain zinc-silver project in Trump-loving Alaska.
Like Avalon, the lightly capitalised White Rock ($13m at 1.5c a share) has been working away at getting its long-time mainstay project to the starting stalls. In White Rock's case, it is the Mt Carrington gold-silver project in NSW.
It too is a nice looking project for a company with White Rock's market cap, against which it is holding $4m in cash, making for an enterprise value of $9m.
The company is working towards obtaining a development consent next year.
The project has the potential to throw off $100m in cash at the project level over its initial seven years. And unusually, financing is secured with a pre-paid gold facility subject to the completion of a definitive feasibility study.
Take into account the cost of the facility and Mt Carrington looks to be good for $6-$8m annually in cash over its initial seven years (there is exploration upside). That is all well and good and makes White Rock at 1.5c a share an interesting proposition on its own.
But now there is a second leg to the White Rock story thanks to Red Mountain. Extensively drilled in the 1990s and then put in to deep freeze by private interests, the property recently found its way to White Rock by word of mouth.
The company then spent $60,000 on the property to arrive at a maiden resource estimate that is compliant with both Canadian and Australian reporting requirements, based on the 127 holes drilled in the past.
It has come up trumps, with a high-grade inferred mineral resource across two orebodies put at 9.1 m tonnes at 12.9 per cent zinc equivalent (after counting the lead, silver, copper and gold) for 1.2m tonnes of contained zinc equivalent at a 3 per zinc cut-off.
About 40 per cent of the $US3 billion in-situ metal value is zinc and about 30 per cent is covered by the silver.
The estimate places Red Mountain in the top quartile of undeveloped high-grade volcanogenic massive sulphide deposits globally and gives White Rock's more highly-valued zinc peers on the ASX something to worry about.
Being of the VMS type, there is a likelihood of more deposits in the region, with an additional 30 targets already indentified by geochemical and geophysical work
White Rock needs to get the message out that Red Mountain is better than average.
To that end, chief executive Matt Gill has been introducing the project to interested types in the US in recent days. It hasn't rubbed off on the share price yet but give it time. Good projects have a habit of doing that.
---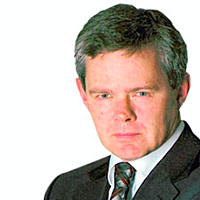 Principal
Independent Journalist
One of Australia's leading business journalists, Barry FitzGerald, highlights the issues, opportunities and challenges for small and mid-cap resources stocks, and most recently penned his column for The Australian newspaper.
Expertise