Local Insights into India's Car Market
---
India produces around 3.8m passenger vehicles (PV) a year making them the 5th largest manufacturer in the world. Currently they are behind Japan and Germany who are number 3 and 4 respectively. By 2020, India could potentially overtake both of them. How? India is becoming a global hub for small car manufacturing with Suzuki, Nissan, Hyundai manufacturing there to cater for both the local market and other markets around the world.
Locally, the penetration of motor vehicles in India is very low at 18 per 1000 people which compares to China's 80 per every 1000 and Indonesia's 60 per 1000. With rising disposable incomes, fast growing taxi fleet operators like India's Ola and Uber, new product launches, a shrinking replacement cycle  and improving road infrastructure and urbanisation, penetration levels are expected to grow to 110 per 1000 people by 2030.  Taking population growth into account, that equates to over 140 million more cars on the road in 2030!
Source: India Avenue, Society of Indian Auto Manufacturers (SIAM)
Passenger Vehicle Market Share
As we have mentioned in previous wires, Maruti Suzuki is the number one player in the PV market with over 50% of market share. They have been in India for over 3 decades and understand the Indian consumer perhaps better than any other carmaker. They also can produce at scale, producing more than 150,000 vehicles in India every month. Some critics argue that Suzuki have been late to the electric vehicle (EV) space. Whilst this is true, with others much ahead globally, they are certainly aware of the competition but won't sink too much money into it until they see more clarity. Having said that, they have recently partnered with Toyota to leverage off their expertise in this area and are building their first lithium-ion battery manufacturing plant in Hansalpur in the state of Gujarat. This is expected to be completed in 2020.
The second player in the PV market is Hyundai with around 17% market share. Hyundai has not partnered with anyone locally in India as they entered the market after the government allowed 100% FDI into the auto sector. They have the second largest sales and service network in India after Maruti Suzuki and export 60% of what it manufactures locally in India. Mahindra & Mahindra, Tata Motors, Honda and Toyota are the other major players in PV space.
India's Plan for Electric Vehicles
The Indian government has a grand plan that by 2030, India will be fully green when it comes to PV's. This would be a monumental achievement given the high levels of pollution in India. However, EV's are in their very nascent stage and given the cost involved, it is unlikely it will become mass market in the near future, particularly given how cost-conscious locals are.  To put the costs into perspective, most EV batteries now have a minimum of 60kw and the cost to build this today is $200 per kw. For a small battery that is $12k to make and just alone will comprise over 50% of an EV's total cost. For example, Mahindra and Mahindra have had a full EV car for some time now but only manage to sell around 1000 vehicles every year. In fact, one of our colleagues in our Mumbai office looked at one for himself but felt the price was too expensive!
The other hindrance is the infrastructure is not readily available and the concept of swapping electric batteries are currently not practical given they can only go around 100km and at slow speeds. Hence a complete dump of internal combustion engines, and a move to EVs is unlikely in the immediate future. It would be remiss of us to not follow this space closely given it is rapidly evolving. Cost reductions, advancements in technology and significant government support are the major catalysts for change. Hence it pays to be close to the action in India and our on the ground team and local network gives us this grass roots connectivity.
---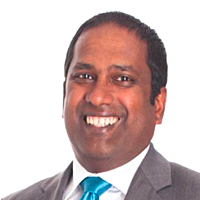 Managing Director
India Avenue
Mugunthan Siva is Managing Director of India Avenue, an Australian based boutique asset management company with offices in Sydney and Mumbai. He has over 25 years experience in Australia and is lead portfolio manager for the India Avenue Equity Fund.
Expertise