Looming copper supply hole set to be filled by low-grade monsters
---
Sunstone Metals hoping imminent drilling program in Ecuador will reveal such a beast. And Bellevue Gold dangles juicy carrot with bumper drilling results which point to increased production. But will a peer pounce before then?
Glencore's not-so-retiring retiring CEO Ivan Glasenberg has added his voice to the call that $US6.80/lb ($US15,000t) copper prices are required to incentivise the new production needed to meet the wave of demand coming for the electrification of everything.
His call followed an earlier one by Goldman Sachs which was more specific in that copper would peak at Glasenberg's $US6.80/b – it is currently $US4.19/lb compared with its 2020CY average of $US2.72/lb – as soon as 2025.
Goldman said that a combination of surging demand and sticky supply sets the scene for large and open-ended supply deficits from mid-decade, so there will some ups and downs before the supply gap begins to yawn in a meaningful way.
More to the point is Goldman reckons a long-term supply gap of 8.2Mt will emerge by 2030. Doesn't sound like much when said quickly but the reality is that such a supply gap represents eight mines the size of Escondida, the world's biggest copper mine in Chile.
Somewhat remarkably against that background, the market seems to have gone cold on junior ASX copper stocks looking for the next big copper mine where there is always often a trade-off between grades and tonnage.
Thick but lowish grade copper grade drill results from porphyry-style prospects with big tonnage attributes, and a gold kicker, just aren't getting the enthusiastic response they once were. But maybe it is time for a rethink given the red metal's rosy fundamentals and the coming supply gap.
The major mining groups are leading the way on the need for a rethink. Rio Tinto is an example. It recently completed a $C25.6 million strategic investment in the Toronto-listed junior Western Copper and Gold (TSX:WRN, trading at $C2.54).
WRN owns the Casino project in the Yukon and it has just released a preliminary economic assessment into a project requiring an initial capital investment of $US3.25 billion. What's of interest here is that Casino's grade is all of 0.31% copper and 0.36g/t gold.
But there is billions of tonnes of the stuff, with a negative cash cost of copper in the offing because of by-products. And to underline the earlier point, no less than Rio Tinto has positioned itself to be involved in the multi-decade project notwithstanding the low grade.
It comes down to what type of projects will fill the coming supply gap, and it seems that low grade-bulk tonnage projects like Casino are the answer, particularly in a $US4-lb plus market (the PEA was based on $US3.25/lb).
SUNSTONE METALS (STM):
Given the market has yet to follow the lead of the likes of Rio when it comes to the metal's bulk tonnage-low grade supply future, it was no surprise that the latest drill results from ASX junior Sunstone Metals (STM) failed to fuel interest in the stock.
Assays from the Brama prosect within its broader Bramaderos gold/copper porphyry system in northern Ecuador returned best results of 0.8g/t gold and 0.11% copper, with a follow up hole said to contain visible veined porphyry mineralisation (assays pending).
Sunstone reckons Brama has the potential to be a large scale porphyry discovery, with the aim of ongoing drilling being to confirm the continuity of the higher-grade zones within the outer envelope of lower grade mineralisation.
That is interesting enough in itself for a company trading at 1.4c for a $30m market cap, remembering it has $12m in cash and shares in Sweden's Copperstone Resources worth another $12m, having recently tipped out some of its holding to top up its cash kitty.
Importantly, the group's cash position means that Sunstone has been able to work away at Bramaderos while also taking on other opportunities in Ecuador which give it an additional shot at the big time.
That is just about to happen at the highly-rated El Palmar project in northern Ecuador, not far from where BHP and Newcrest have put their foot on SolGold's world-scale (and low-grade) Cascabel copper-gold project by taking up equity positions in the London-listed company.
Drilling at El Palmar is due to start next month and follows on from some drill holes 10 years ago by Chile's copper king Codelco which pointed to the presence of a porphyry system. The Codelco drilling was based on rudimentary geological mapping.
Sunstone has taken things to the next level by doing some geophysics which has suggested a better place to drill is off to the west of the Codelco holes. That's what the drilling program starting next month will put to the test.
It goes without saying that with an enterprise value of less than $20m (it is spending the cash on exploration), the company's leverage to exploration success at El Palmar is as extreme as it comes across junior copper explorers on the ASX.
BELLEVUE GOLD (BGL):
It was mentioned here back in February that the market had over-reacted to the downside to Bellevue's (BGL) release of a "stage one" feasibility study into the development of its high-grade namesake gold project in WA.
Bellevue's shares plunged 22% to 75.5c on the day in response to selling by those who had made an "is that all there is" assessment of the study.
They forgot, for reasons best known to themselves, that it was very much a "stage one" study, with a stage two to follow in quick order.
Bellevue stock has since risen some 26% to 95c in what has been a tough time for the gold stocks in response to gold's retreat below $US1800/oz.
The buying that has seen the stock swim against the tide – including that by fund heavyweights BlackRock and CI Investments – in anticipation of a "stage two" update.
It came earlier this week and did not disappoint. It wasn't the full-blown updated feasibility study that Bellevue had originally said would be the case come mid-year.
But there was good reason for that, and there was enough suggestions in what was said that when Bellevue gets into production, it will be a bigger and better operation than what was outlined in the February.
The stage two study has been pushed back to the looming September quarter so that a blitz of impressive step-out drilling results can be incorporated.
There is a clear expectation that there will be a further increase in resources and reserves underpinning the project from the current 2.7Moz at 9.9g/t in resources, including 1.2Moz at 11g/t in the indicated category, and the 690,000oz at 8g/t in the reserves category.
Such is the company's confidence, it flagged that the stage two update will look at the option of expanding the treatment plant by 33% from 750,000tpa to 1Mtpa.
So what was outlined as a 150,000oz-a-year producer back in February now shapes up as 200,000oz producer, with mine life at the higher rate likely to be maintained by ongoing exploration success.
It means that the capex intensity concern the sellers in February might have had is no longer an issue.
Canaccord estimates "modest" $15m in additional capex to expand the plant capacity to 1Mtpa. It has increased its price target on the stock to $1.40 a share. Macquarie maintained its price target at $1.30.
Neither broker touched on the potential for Bellevue to become a takeover target (it is trading at an industry low EBITDA multiple of 3X come 2024).
As noted previously, Bellevue is in the same part of the goldfields as Northern Star's Jundee/Bronzewing, Gold Field's Agnew operation and St Barbara's Gwalia.
Time will tell if there is any action on that score. The February stage one study didn't prove to be a trigger.
But the looming stage two could do the trick. There just isn't many 200,000ozpa operations with $A1,000/oz costs or thereabouts available out there. And because of its high-grade, Bellevue dirt is very truckable. 
---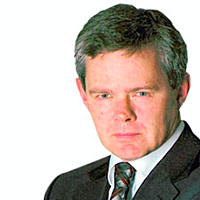 Principal
Independent Journalist
One of Australia's leading business journalists, Barry FitzGerald, highlights the issues, opportunities and challenges for small and mid-cap resources stocks, and most recently penned his column for The Australian newspaper.
Expertise