Man credited with Cadia find declares: RareX 'could be another Northparkes'
---
The hunt for the next big NSW porphyry is hotting up, with the highly regarded team leading the RareX-Kincora campaign saying it's the "hottest porphyry prospect" after Alkane. Plus, rising share prices reflect the buzz building around mineral sands group Strandline and Sovereign.
Alkane (ASX:ALK) has just about doubled to 99c since its crazy March low of 50c when many thought the world as we knew it was all over because of COVID-19.
It has lots of things on the go but the main driver since its March low has been renewed enthusiasm for last year's Boda discovery in NSW's central-west to shape up as a tier-one gold-copper porphyry project.
On results to date, Boda is clearly the most significant discovery in the region since Newcrest uncovered its Cadia gold-copper riches in the 1990s.
Another Cadia (3 billion tonnes grading 0.36g/t gold and 0.26% copper, with a cost of production of $US171oz in the 2019FY after copper credits) is what everyone wants to find.
Boda looks different to Cadia but that it is what big porphyry systems do, they all look a bit different. Suffice to say at this stage, the Boda discovery has probably added $350m-$400m to Alkane's market cap.
The question that can be asked from all that is, if Boda is the most significant porphyry discovery in NSW since Cadia, what is the second most significant one out there?
The next best thing actually got a mention here back on May 21 in coverage of RareX (ASX:REE) and its Trundle exploration joint venture in NSW's Lachlan Fold Belt (LFB) with the TSX Venture Exchange-listed Kincora (TSXV:KCC).
It was mentioned that the first drill hole at the Trundle Park prospect within the broader Trundle project area (65% Kincora, 35% free-carried RareX) had returned several mineralised skarn zones which could be linked to a porphyry target.
Both RareX and Kincora have posted strong prices gains since. RareX at Thursday's 6.5c is up 75% on its May 21 price while Kincora is up by 60% to C16c.
But their combined Aussie dollar market of about $46m at the higher share price levels is hardly representative of Trundle being the second most significant find in the LFB of recent times to Alkane's Boda.
Watch out for that to change as the market(s) digest results from the Mordialloc prospect, the second prospect to be drilled by the partners at Trundle. There was an ASX statement on the "significant" results on Wednesday.
But to get a really good feel on why Mordialloc has upgraded Trundle in to something to watch, it is best to listen in to a Resources Rising Stars-hosted webinar (https://tinyurl.com/y7xxnzd3) at which geoscientist John Holliday, a Kincora director and chair of its technical committee, pulls it all together.
As mentioned back in May, Holliday knows a bit about NSW porphyries as he was a lead co-discoverer of Cadia.
Holliday, who could be heard but not seen due to some technical glitch, offered up the insight that results from the first two holes of an initial 6-hole program suggest Trundle is the "hottest porphyry prospect going in the LFB apart from Alkane's one (Boda)".
He said it was a fairly safe interpretation that the Trundle area is the rifted off western portion of the Northparkes volcanic complex. "It has been known for a long time to have sigfnicant near surface mineralisation of the type that is linked to porphyries," he said.
But previous drilling - including that by Newcrest back in the 1990s when Holliday was on the payroll – was not deep enough.
"So I got pretty excited when the opportunity came along ... here was a great opportunity to really test this area properly," Holliday said.
He said the drilling results indicate the joint venture was close to the part of a system in which a deposit could be found. "I can't guarantee there will be one but all the right things are happening and there's a big area there to test," Holliday said.
There are no assay results just yet from the Trundle Park and Mordialloc prospects, the latter 8.5km to the north. So Holliday urged caution, particularly on the subject of any gold being associated with the pyrite mineralisation.
Asked if Trundle could be a Cadia Mark II, Holliday said that he didn't think anything that the partners find will "necessarily be another Cadia".
But he went on: "It could be another Northparkes (the copper gold-gold porphyry to the east of Trundle which Rio Tinto told to China's CMOC for $US820m in 2013), it could be another Cowal (acquired from Barrick by Evolution in 2015 for $US550m).''
Strandline (STA) & Sovereign Metals (SVM)
Things continue to stir for mineral sands developers with zircon-rich projects in the expectation that the long forecast structural supply gap is starting to make the need for new projects increasingly urgent.
Two examples are Strandline (ASX:STA) and Sovereign Metals (ASX:SVM).
Strandline was an 11.5c stock when it was mentioned here back in the pre-COVID days of mid-January. It has since skipped higher to 19.5c, while Sovereign has come up from 10.5c to 19.5c (as well) in the same timeframe.
Strandline's cause has been helped by the release of its updated DFS for its Coburn mineral sands project in WA, which followed on from a bunch of news around all-important offtake agreements, a precursor to securing financing, potentially of the concessional type.
The updated DFS came with an increase in the NPV estimate from $551m to $705m and an increase in forecast average annual EBITDA to $104m, up from $86m. About $300m is required to get going, with Coburn's robust economics at industry-expert forecast prices likely to support 60-70% debt funding.
The project's long life (initially 22.5 years) and scale (5% of global zircon) means the equity side of equation could involve a strategic partner investing in the project and/or the company, so the need for a big rights issue might not be the given some suspect.
Shaw and Partners increased its price target on Strandline from 32c to 42c in response to the DFS. It said its valuation would be 78c if it used the price deck in the DFS rather than its own more conservative numbers. Foster Stockbroking increased its target from 33c to 36c.
Sovereign's price run up reflects growing interest in its work in central Malawi where it says it has identified a potentially globally significant rutile province with much of the required infrastructure already in place.
There is a bit of a buzz around the stock ahead of an expected maiden resource estimate in the September quarter. 
Get investment ideas from industry insiders
Liked this wire? Hit the follow button below to get notified every time I post a wire. Not a Livewire Member? Sign up for free today to get inside access to investment ideas and strategies from Australia's leading investors.
---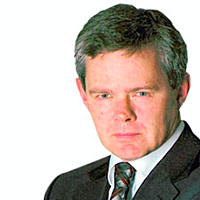 Principal
Independent Journalist
One of Australia's leading business journalists, Barry FitzGerald, highlights the issues, opportunities and challenges for small and mid-cap resources stocks, and most recently penned his column for The Australian newspaper.
Expertise