Mark Landau - Absolute returns throughout the cycle
---
Mark Landau joins David to discuss his career and as well as the origins of L1 Capital that he founded in 2007 alongside Raphael (Rafi) Lamm. Since starting L1's flagship long short fund, Mark and the L1 team have generated strong outperformance over the index, with the fund returning 26.7% over the past 12 months to May 2022 alone, against the ASX/S&P 200's 4.8%. Over a longer 7 year period to May 2022, L1's Long Short Fund has returned 23.5% p.a. against the ASX/S&P 200's 7.6% p.a.
Mark is a Joint Managing Director & Chief Investment Officer of L1 Capital. Since co-founding L1 Capital in 2007, Mark has jointly managed L1 Capital's Australian equities strategies including the flagship L1 Capital Long Short Strategy.
Launched in 2014, the Long Short Strategy has delivered net returns of greater than 25% in 6 out of the 7 calendar years it has been running and is the best performing long short fund in Australia since inception (FE Fund Info database).
Not already a Livewire member?
Sign up today to get free access to investment ideas and strategies from Australia's leading investors.
More podcasts
If you're enjoying Inside the Rope and don't want to miss a future episode, click 'follow' below to get notified when a new episode is released.
........
This research note has been prepared without consideration of any client's investment objectives, financial situation or needs. Before acting on any advice in this document, Koda Capital Pty Ltd recommends that you consider whether this is appropriate for your circumstances. While this document is based on the information from sources which are considered reliable, Koda Capital Pty Ltd, its directors, employees and consultants do not represent, warrant or guarantee, expressly or impliedly, that the information contained in this document is complete or accurate. Koda does not accept any responsibility to inform you of any matter that subsequently comes to its notice, which may affect any of the information contained in this document. © Copyright Koda Capital 2020 | AFSL: 452 581 | ABN: 65 166 491 961 | www.kodacapital.com
---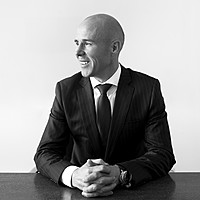 Adviser & Partner
Koda Capital
David Clark is an Adviser & Partner at Koda Capital. In his podcast 'Inside the Rope', David interviews some of the leading minds in wealth management.
Expertise