The goldilocks run Global Equities has enjoyed since the start of the calendar year finished during May, as renewed fears about global growth weighed on sentiment. For the month, Global Equities returned -4.3% (in AUD terms) including a 1.5% benefit from a weaker A$.
Weighing on equities markets was the decision by the US government to increase tariffs on the bulk of Chinese imports from 10% to 25%. China immediately responded and vowed to implement the 'necessary countermeasures'. In the background, the Chinese economy and international trade are slowing.
Bond markets took note, with the yield on the US 10-year treasury falling from 2.5% to 2.1% over the course of the month – an ominous sign of where bond investors think the US economy and US interest rates are likely headed. According to Bloomberg, the probability of the Federal Reserve cutting the Fed Funds rate at its July meeting has increased from 0% at the start of this year to 68% today. Similarly, the probability of a cut at the September meeting is now estimated at 96%. Quite a change from late last year, where the trajectory was one of continuing rises.
Such an environment is typically favourable for the relative performance of asset classes with more reliable income streams and lower operating leverage – such as real estate. Consequently, the Global Real Estate index outperformed Global Equities by +5.6% (in AUD terms), and our fund did a little better than that. This relative outperformance doesn't come as a complete surprise, and is something we wrote about late last year.
Australian Equities performed much better, returning +1.7%, encouraged by the Liberal/National Party coalition election victory. This is despite what seemed a plethora of bad news about the Australian economy. The RBA revised down their forecast of 2019 GDP growth from 2.5% to 1.75%. March retail sales were released pointing to weak consumer spending, and building approvals showed a year-on-year decline of 27.3%. Consequently, the AUD continued its slow grind down against most major currencies, except the GBP.
---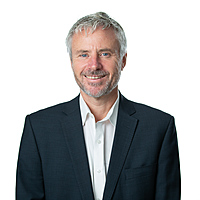 Principal and Portfolio Manager
Quay Global Investors
Chris has nearly 30 years of experience working as a real estate specialist, with a background in investment banking and equities research. Prior to co-founding Quay, he worked in real estate investment banking at Credit Suisse and Deutsche Bank.