Minnow AusQuest embarks on multi-pronged campaign as South 32's exploration eyes and ears
---
Plus, JP Morgan highlights upside for Chalice and Sunstone says its Alba gold-copper discovery has scale as well as high grades.
It doesn't take much for a junior exploration company to have a $50 million market cap nowadays.
All it needs to say is that it is looking for lithium or one of the other "green" metals like copper or nickel somewhere in WA, and it's pretty much there.
That observation leads into today's main interest, AusQuest (ASX-AQD). It is trading at 1.9c for a market cap of $15.6 million, or $12 million at the enterprise level after counting its cash.
Despite its lowly market cap, AusQuest is a quality explorer of long-standing and it needs a game-changing discovery as much as the next explorer.
Under a long-standing arrangement under which it is the exploration eyes and ears of the $22 billion South32 (ASX-S32), its chances of success have to be better than most of the junior explorers out there.
AusQuest struck a strategic exploration alliance with South32 in September 2017 and back in November last year, it was extended for another two years until December 2023.
Under the alliance, AusQuest works up exploration opportunities to the drill-ready stage at which point South32 can elect to earn a 70% interest in each of the projects brought forward for total expenditure of $US4.5 million (including pre-drill costs).
The drilling prospects brought forward naturally enough have to be of a potential scale to interest a company of South32's size. It gets to choose the prospects it wants to go forward with, so there is a double technical dive into the opportunity by boffins at both companies.
If there is a criticism about the alliance it is that AusQuest is "giving away" 70% of the upside from a discovery being made (80% on any project being moved into the preliminary feasibility study stage).
But given the focus is for big discoveries that could have a meaningful impact on South32, being left with 30% is not an issue.
A good example of why not is the London-listed Greatland Gold (LSE:GGP). It discovered the Havieron gold-copper deposit in the Paterson region in 2018 and later signed up Newcrest (ASX:NCM) to a big-spending farm-in deal under which Newcrest could earn a 70% interest.
Greatland, with its 30% stake, is now a $A1.05 billion company.
The focus of the AusQuest-South32 exploration alliance is copper, zinc and nickel in Australia and Peru. And as announced this week by AusQuest, multiple large-scale exploration targets are to be drilled tested over the next 6-9 months.
It remains to be seen if 2022 is the year the alliance notches up a major success. But given its modest market cap, the 2022 campaign with its accompanying strong newsflow, means interesting times are ahead for AusQuest.
First up is a drill program at the Balladonia copper-nickel project in the Fraser Range of WA, home to IGO's (ASX:IGO) Nova-Bollinger nickel-copper mine, but with AusQuest working up a case that there are analogies to make with the Cloncurry copper belt in north-west Queensland.
May-June will see the alliance drilling at a Julimar-type nickel-copper play at the Morrisey prospect on the north-west margin of the Yilgarn craton, about 500km north of Perth.
Over in north-west Queensland, early April will see the start to drilling at the Hamilton copper project , 120km south of South32's silver-rich lead-zinc Cannington mine, and 70km south of the Osborne copper mine.
Peru does not miss out. Six potentially large porphyry copper and/or manto copper targets are to be tested.
CHALICE (ASX:CHN):
Chalice (ASX:CHN) has already made the sort of Tier-1 discovery the AusQuest/South32 exploration alliance is after.
Its market cap says as much. It has soared from $50 million at the time of its Julimar PGE-nickel-copper-cobalt discovery hole in March 2020 to the $2.43 billion market cap it was sporting in Thursday's market ($7.07 a share).
The recent maiden resource estimate for the Gonneville deposit – it covers 2km of strike length at the southern end of the prospective 27km Julimar intrusive complex – confirmed palladium and nickel were the key metals.
So it can be thought of as a 17 million-ounce equivalent palladium deposit, or a 1.9 million tonne nickel equivalent deposit. A resource upgrade is in the works and more Gonnevilles are likely along the intrusive.
Palladium and nickel have become more critical than they already were in the wake of Russia's invasion of Ukraine.
Russia supplies about 40% of the world's palladium and about 17% of the battery grade nickel needed for the electric vehicle revolution.
The invasion raises the need for the world to do what it can to wean itself off Russian supplies, for the long-term.
It is against that backdrop that pricing of palladium and nickel are in something of a twilight zone. The prices of both took off after the start of the invasion, with nickel in particular soaring to unprecedented levels in a short-squeeze that forced the intervention of the London Metal Exchange.
So there is going to be price volatility in both metals for some time yet, making the short-term pricing of Chalice trickier than it was. Best then to look at the long-term picture.
The analysts at J.P.Morgan have done just that in a way by using a long-term price for palladium of $US1,500/oz, and $US8/lb for nickel, in initiating coverage of Chalice.
Palladium is currently $US2,466/oz. As for nickel, it's anyone's guess until the LME sorts out the short-squeeze mess. But a pre-invasion price in early February of about $US10.50/lb seems fair enough.
Using its (lower) long-term prices, J.P.Morgan set a price target for Chalice of $9 a share, 27% higher than the current market price.
On a nickel equivalent basis, the broker reckons Gonneville could be in production in FY2029 at an annual rate of 38,000 tonnes. It estimated an $875 million development cost, with Gonneville good for at least 21 years of production (using less than half of the current resource).
"With a cash-generative project at Gonneville, any exploration success will provide significant upside, although key risks remain around permitting to mine in the State forest (the Julimar intrusive heads off from Gonneville into the forest).''
SUNSTONE (ASX-STM):
On the subject of big discoveries, Sunstone (ASX:STM) managing director Malcolm Norris reckons the company could have two on its hands in Ecuador.
They are the high-grade Alba gold-copper porphyry discovery in the south and part of the broader Bramaderos system, and the El Palmar porphyry system in the north.
Norris would have a fair idea too as in his pre-Sunstone days, and after 23 years with WMC (now part of BHP), he was intimately involved in the discovery of the monster Tujuh Bukit porphyry in Indonesia (now owned by Merdeka Copper), and SolGold's monster Cascabel porphyry in north Ecuador.
Trading at 7.6c for a market cap of $167 million, the company is starting its move towards making maiden resource estimates for the projects, with Alba's potential in particular coming into sharp focus in recent times.
Last year's high-grade hits (in gold-copper porphyry terms) at Alba have just been followed up with geophysical work that indicates it continues from surface outcrops to a depth of more than 1km.
"We already knew that Alba contains gold-cooper grades equal to or better than many of the world's gold-copper porphyries. And now this geophysical survey indicates it also has substantial scale, putting us on track to confirm it is a very significant discovery," Norris said.
Little wonder then that drilling is being stepped up at Alba.
---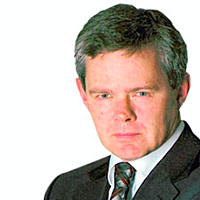 Principal
Independent Journalist
One of Australia's leading business journalists, Barry FitzGerald, highlights the issues, opportunities and challenges for small and mid-cap resources stocks, and most recently penned his column for The Australian newspaper.
Expertise