More to come from fast-growing Bellevue as resource upgrade looms
---
Plus, Matador builds a following ahead of scoping study on Newfoundland gold project and Rio chief J-S Jacques still keeping mumm on a maiden resource at its Winu copper-gold find.
It was mentioned here back in May 2017 that a little thing called Draig Resources was out to emulate the success of others in reviving old high-grade WA gold fields by finding new resources at depth or in adjacent locations.
Draig had picked up the Bellevue mine to the north-west of Leinster the year before. Discovered in the 1890s, Bellevue came with a production history of 800,000oz at a grade of 15g/t but it produced its last gold in 1998 and was left to slumber until Draig came along.
Steve Parsons, Bellevue's MD and previously the managing director of the African gold explorer Gryphon Minerals, which was acquired for $100m, and bustling mining investor Tolga Kumova, got behind the story in 2017 when Draig was a $13m company.
Roll forward to this week and the renamed Draig is Bellevue Gold (BGL), and its market cap has grown to more than $350m at its 62c share price, all with very good reason as it now sports a (growing) resource base of 6.1mt at 11.3g/t for 2.2Moz.
As Parsons commented this week when announcing the recent discovery of another high-grade lode (Deacon, 410,000oz at 12.3g/t) near the original Bellevue workings, Bellevue now has genuine scale.
"It is in the backyard of WA, it is growing rapidly and it is open in every direction," Parsons said. It is the sort of high-grade project this and the North American market loves to hear in a $A2,500-an-oz gold price environment.
Given the growing scale of the high-grade resource and its near-term development potential at a time when established producers in the region are hungry for growth and could become predators, it can be argued that Bellevue's market cap remains underdone, notwithstanding the stellar growth since 2017.
Canaccord is one to think so. In a research note on Monday's announcement on the Deacon maiden resource estimate, it maintained its $1.10 target price on the stock, noting in the process that if the current gold price and exchange rate was plugged in, its valuation/TP would increase to $1.25.
It assumes capex to build a 160,000oz/pa mine with AISC of about $A1,000/oz at a very unchallenging $110m. "With first production assumed by mid-2022, Bellevue could emerge as one of the highest margin producers in Australia," Canaccord said.
Some others are waiting for Bellevue's maiden indicated resource estimate, expected to be released next quarter, before having that sort of enthusiasm, which is why Bellevue is trading where it is.
Canaccord reckons a maiden indicated estimate of 350,000-500 at 8-11g/t is possible, growing to more than 1m oz in less than 12 months. That would underpin economic development work to get Bellevue into production by the suggested mid-2022.
MATADOR MINING (ASX:MZZ)
One of the big themes to emerge in the past 16 months has been the $3 billion-plus plunge by leading ASX gold producers into the North American gold market, specifically Canada and Alaska.
It was Toronto's focus on crypto currencies, marijuana and tech stocks and the re-rating of the Aussies with their superior margins and returns, that created the window of opportunity for the plunge.
Northern Star (NST) was an early mover with its acquisition in Alaska of the high-grade Pogo gold mine for a knock-down price of $US260m, completed in October 2018.
Since then, Newcrest (NCM) has picked up Red Chris in British Columbia for $US806m, St Barbara (SBM) has paid $US540m for Atlantic Gold in Nova Scotia and Evolution (EVN) has picked up Red Lake in Ontario for $US375m.
First-entry status though goes to the Perth-based junior Matador Mining (MZZ) with its cash/scrip move into the Cape Ray gold project in south-western Newfoundland, 25km from the town of Channel-Port aux Basques.
Fast-forward to earlier this month and the 1970s discovery by Rio Tinto has grown to become a 1.2Moz gold and 3.9Moz silver resource (55% is in the indicated category), with plenty of exploration upside along the Cape Ray shear zone.
Fresh from raising $5.1m from a placement of shares at 20c each, Matador is due to complete a scoping study next month into the potential for an open pit mining operation.
Given 55% of the resource is in the indicated category, the hope is that the ASX will allow the scoping study to find its way on to the announcements platform.
Ahead of that, followers of the stock reckon annual production of 90,000-100,000oz in the first three years (when impressive open-cut grades of 2.5-3g/t grades could be mined) will be followed by 75,000-80,000 oz in following years.
Assuming confirmation of that sort of production profile – and the rapid payback of capital costs because of the sweet early grades – Matador is starting to garner a bit of a following. It last traded at 20c for a market cap of $25m.
Part of the thinking is that if it was good enough for St Barbara to pay $US540m for 100,000 oz of annual production from lower grade but still very low-cost pit operations down in Nova Scotia, then Matador in the more mining-friendly Newfoundland is well worth having a look at.
RIO TINTO/WINU
On the subject of the ASX and its insistence that scoping studies are based on the higher levels of resources confidence, it was interesting to see that due its sheer scale, Rio Tinto got to talk on Wednesday night about first production at its Winu copper/gold discovery starting in 2023.
It was interesting because Rio has yet to announce a resource, let alone a measured and indicated one.
But there was Rio's ever-ebullient CEO J-S Jacques on Wednesday night saying the aim was to deliver first production from the late-2017 discovery in 2023, subject to regulatory approvals and consents of course.
J-S was asked on the media call for Rio's annual profit release why a resource estimate was not being shared with shareholders, given it would be impossible to plan a 2023 start without a great deal of knowledge on the subject of a resource base.
In addition to that, how government regulatory and traditional owner consents could be secured without them being inside the tent on just how big Winu might be is anyone's guess.
The WA exploration industry likes a good dose of discovery news every now and then to keep the blood coursing. That's why after 140km of drilling at the remote site, it has been hoping Rio would finally break cover and put some scale on the Winu by issuing a maiden resource estimate with the profit report.
No such luck from Rio on Wednesday night. But the wait might be over soon.
"We are not far off," J-S said.
"In a few months we should be able to provide more detail. We are not hiding anything, especially under the ASX rules, and will be able to disclose more in coming months as and when we finish the process," a somewhat defensive J-S told the media.
---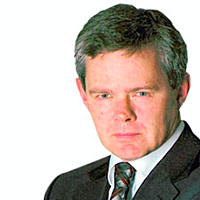 Principal
Independent Journalist
One of Australia's leading business journalists, Barry FitzGerald, highlights the issues, opportunities and challenges for small and mid-cap resources stocks, and most recently penned his column for The Australian newspaper.
Expertise