Novo chief sets tongues wagging about Pilbara M&A
---
The Pilbara's conglomerate gold was hot and now it's not. But Novo Resources' closely-watched chairman Quinton Hennigh has put it back on the radar by noting that he will have "some very, very interesting" things to say in six months. Some think he may be planning a conglomerate-hard rock-gold marriage.
The East Pilbara is staking a claim to become a modern era gold province of scale thanks to the work of companies like Millennium (MOY) and Calidus (CAI).
Millennium is on its way to establishing a higher annual production base of 100,000oz from 80,000oz previously at its Nullagine operation, while Calidus looks set to be adding to the resource base of its Warrawoona gold project (currently 712,000ozs at 2.12g/t) thanks to some impressive results from drilling of the nearby St George shear zone.
No mention there of conglomerate gold, even if the East Pilbara is where Canada's Novo Resources first went looking for the stuff at Beatons Creek near Nullagine before switching its focus to the Purdys Reward/Comet Well conglomerate beds, 300km or so to the north-west and to the south of Karratha on the coast.
Novo once talked about getting Beatons Creek into production but with all the fanfare around the south-of-Karratha push, it barely rates a mention nowadays.
Back at Purdys Reward/Comet Well, the market has been asked to be patient, with Novo chairman Quinton Hennigh saying at Diggers & Dealers that there was no way he could make a resource estimate right now.
No surprise in that, even if Novo's $C640m market cap would have you think otherwise. Hennigh went on to add that within six months, he would be able to talk about "some other very, very interesting things".
So was he talking about the Karratha play, or Beatons Creek? It wasn't really clear. What is more certain is that with its big market cap, Novo would be able to garner the wherewithal to make a big splash on the M&A front if it so desired.
That has got people thinking about the East Pilbara where Novo could match up the uncertainties of its conglomerate gold play with the certainty that comes from mining hard-rock gold. It's just a thought.
CHILLAX ON GOLD PRICE UNCERTAINTY
No surprise in there being a lot of discussion during the current annual profit presentations on gold's next move.
It's anyone's guess. But at least there were some words of comfort yesterday from Sandeep Biswas, chief executive of Australia's biggest producer Newcrest. But even Biswas admits it is "difficult to try and predict this stuff".
"Gold has been trading in the range of $US1,150 to $US1,350 for the last four or five years. And that's a healthy range in my view," Biswas said.
"Where it goes in the long term is difficult to say because it is both a commodity and a currency. But gold is getting harder to find  .  . . so that should bode well for the gold price."
Investors can also draw comfort from a neat bit of work by Deutsche which stress-tested the sector on gold moving towards - dare we say it - $US1,000/oz.
Deutsche said the sector was well positioned to weather lower pricing for a couple of good reasons.
"The last time gold moved towards US$1,000/oz was at the end of 2015 and the sector was stressed with a combined net debt of $2.5bn and an average AISC of $A1,290/oz (4Q15)," Deutsche said.
"Over the last three years, costs have been cut ($A1,033/oz in 2Q18), balance sheets strengthened (combined net debt A$745m), and portfolios optimized and mining an additional 100koz per quarter," Deutsche said.
"While margins are healthy at current prices, we have run a scenario of $US1,000/oz gold (and $3/lb Cu) as a stress test. The sector still makes money at $US,1000/oz gold, but weak points start to show."
With its AISC of $US835/oz for the June year, Newcrest would not have much to worry about should gold in fact approach $US1,000/oz, though there would be concerns around its high-cost former flagship, the Telfer mine in WA.
But Newcrest has specific hedging for Telfer covering 995,000oz at an average $A price of $1,826/oz compared with the spot price of $1,631/oz. Others in the industry with high-cost operations should have done the same when they had the chance.  
ENCOUNTER
Encounter (ENR) has drifted back to 5.8c for a market cap of $14m for no good reason other than its news flow has been a bit thin.
But that is about to change with drilling underway at two projects near Telfer to its own account and work on a detailed exploration program across five joint ventures in the Tanami and West Arunta regions in WA, with Newcrest expected to lead on-ground action in 2019.
At the East Thomson's Dome, all of 5km from Telfer (32Moz of gold and 1Mt of copper), drilling is underway to follow up last month's high-grade near surface gold hit on the N31 Reef (3m at 39g/t from 9m).
It is in a similar geological setting to the high-grade reefs which once made Telfer a great mine and is open along strike and down dip.
The latest drilling will only take a couple of weeks so it won't be long before we know if the July hit was a one hit wonder or the start of something special.
At the Telfer West prospect, 25km north-west of Telfer, two diamond holes will test the theory that a surface geochemical anomaly detected in one hole, and an IP anomaly located below another, might represent a single, steep north-plunging high-grade shoot.
Either drilling program could give the lightly capitalised Encounter a bit of a buzz ahead of the highly anticipated Tanami/West Arunta joint venture with Newcrest, initially on a 50:50 basis with Newcrest the manager.
Encounter gets an option on whether it wants to fund its 50% share or let Newcrest fund the lot to the point at which it finds more than 1Moz, when Newcrest moves to an 80% interest.
As mentioned earlier, the joint venture is working on an exploration program so no details just yet. But what's the bet that Hutch's Find in the Tanami will get hit hard first up.
Historic drilling along a 5km gold/arsenic anomaly returned 19m at 2.3g/t gold from 98m, 10m at 5.4g/t from 123m, and 0.5m at 17.2g/t from 164m.
---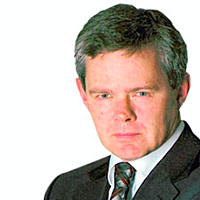 Principal
Independent Journalist
One of Australia's leading business journalists, Barry FitzGerald, highlights the issues, opportunities and challenges for small and mid-cap resources stocks, and most recently penned his column for The Australian newspaper.
Expertise