One stock pick for a post-COVID world
---
Amid the media and market frenzy surrounding well known growth stocks such as Amazon and Tesla, one of the many values of an active fund manager lies in its ability to find good opportunities for investors that diversify their holdings and aren't overly expensive – which is often the case only if they remain under the radar and out of the headlines.
One of our largest holdings is French multi-services company Sodexo. Their services encompass Catering and Facilities Management, while also providing Benefits and Rewards via 412,000 employees across 56 countries.
Its historical track record of steady growth and earnings reliability was interrupted by lockdowns which affected multiple parts of their business. This resulted in a significant derating alongside lower earnings thus allowing us the opportunity to acquire its shares at very attractive prices.
A recent strong set of FY21 results exceeded both earnings and cash flow guidance and alleviated many of these concerns.
The combination of these cash flows and strong P/L momentum means the leverage ratios are quickly improving, with Sodexo already moving on the capital management front.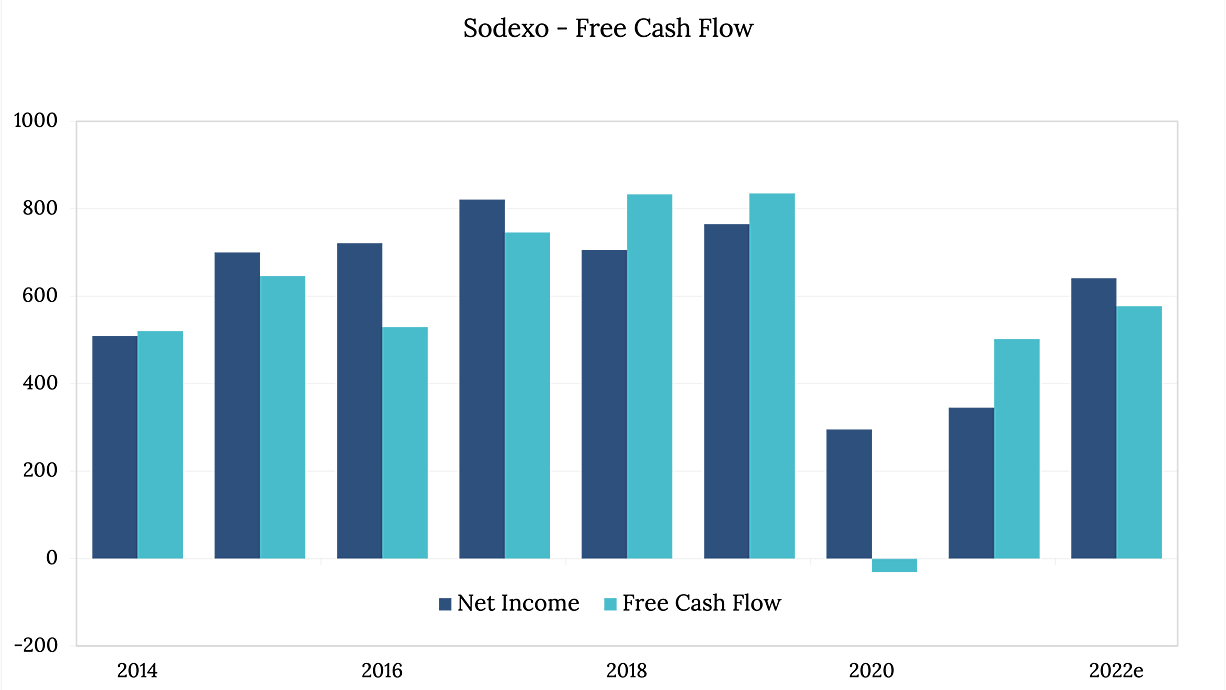 Source: Talaria, Company Reports
For example, as part of the FY21 results, Sodexo announced a €1.20 final dividend and €0.80 special dividend from asset sale proceeds. This was also above consensus who were expecting < €1.00 DPS.
The company also provided reassuring FY22 EBIT guidance of ~€1bn and re-iterated longer-term sales/margin targets.  
If we investigate this and assume FY22 guidance is achieved:
And thereafter sales grow at a conservative 3-4% (versus long term growth rates of ~5% since 2006);
Along with margins improving to just below 6% which is above FY19 levels, but below pre-COVID peaks of >6% achieved a few years ago;
Then mid-high single digit EPS growth over the period looks achievable, allowing Sodexo to justify current multiples of ~15x EBIT (i.e. 18x P/E and EV/Sales ~0.8).
Under this scenario, share price outcomes around €100 look likely versus current price of <€80.
As such, with meaningful tailwinds behind them as global cities re-open, and the controlling family looking to accelerate growth, Sodexo - one of the world's largest catering and facilities companies - remains one of our largest holdings. 
........
The information in this article is general information only and is not based on the objectives, financial situation or needs of any particular investor. In deciding whether to acquire, hold or dispose of the product you should obtain a copy of the current Product Disclosure Statement (PDS) for the Fund and consider whether the product is appropriate for you. Wholesale Units in the Talaria Global Equity Fund (the Fund) are issued by Australian Unity Funds Management Limited ABN 60 071 497 115, AFS Licence No. 234454. Talaria Asset Management Pty Ltd ABN 67 130 534 342, AFS Licence No, 333732 is the investment manager and distributor of the Fund. References to "we" means Talaria Asset Management Pty Ltd, the investment manager. A copy of the PDS is available at australianunity.com.au/wealth or by calling Australian Unity Wealth Investor Services team on 13 29 39. Investment decisions should not be made upon the basis of the Fund's past performance or distribution rate, or any ratings given by a rating agency, since each of these can vary. In addition, ratings need to be understood in the context of the full report issued by the rating agency itself. The information provided in the document is current at the time of publication.
---
Co-Chief Investment Officer
Talaria Asset Management
Chad is the Co-Chief Investment Officer and co-founder of Talaria Asset Management. He has more than 20 years' experience in the financial services industry in the UK, South Africa and Australia. Talaria's investment strategy seeks to increase the...
Expertise