Orion rises from the ashes; and a warm reception for First AU float
---
Orion Minerals' counter-cyclical gamble on the abandoned Prieska zinc-copper mine in South Africa's remote Northern Cape province back in 2015 has come up trumps on three fronts – a new resource confirmation, bumper metal prices, and dare we say it, the rise to power of a more mining friendly president in Cyril Ramaphosa.
Prieska successfully mined more than 47m tonnes of zinc-copper mineralisation from 1971 to 1991 when it was owned by the long-gone AngloVaal. It could have gone on with things if conditions were right to push beyond the original 45 million-tonne mine plan.
But metal prices weren't conducive at the time and apartheid was just starting to come to an end. Prieska was essentially abandoned, even if it had a first-class supporting infrastructure base which pretty much remains intact today in a part of Africa that is well away from population centres.
Fast forward to 2015 and Orion, a hopeful Victorian and Queensland gold explorer at the time, secured an option over the then without-a-resource base Prieska when neither metal prices or SA African mining politics seemed to make it a smart thing to do.
Prieska was picked up at a low point for zinc – it averaged US87c/lb in 2015 – while copper was not all that great at its 2015 average of $US2.50/lb. It was also the early days of an amended SA Mining Charter which is still being nutted out.
That Orion elected to exercise the option in March last year tells us that it wasn't such a dumb move after all. Metal prices have swung Orion's way, with zinc improving from that 2015 average of US87c to $US1.45, and copper moving up from to $US2.50 to $US3.15.
Just as important has been the recent detente between the SA mining industry and the government on the more contentious aspects of the black empowerment Mining Charter. President Ramaphosa, who has worked as both a union rep and owner in the industry, has called in the warring parties for negotiations on a peaceful settlement for which, it seems, there is some real hope.
Better metal prices and a more palatable mining charter are nice. But without confirming a new resource base at Prieska, Orion was going nowhere.
It recently killed off any doubt on that score. An aggressive drilling program enabled Orion to report a maiden resource estimate in February this year of 24.2mt containing 870,000t of zinc and 297,000t of copper.
Orion followed that up 10 days ago with the addition of a maiden resource estimate for the southern extension of the orebody in to the recently acquired Vardocube prospecting right. It carried the resource to 29.4mt grading 3.8% zinc and 1.2% copper for 1.1m tonnes of zinc and 365,000 tonnes of copper (contained).
Pre-mined Prieska now ranks as one of the top six volcanogenic massive sulphide orebodies in the world, something that has implications for regional exploration as VMS deposits tend to occur in clusters, with a big one surrounded by smaller ones.
Is Prieska the big one, or the small one? It is a legitimate question to ask as there hasn't been any modern day exploration in the broader region for decades.
Having said that, the new 29.4mt resource is already big enough for Orion to contemplate becoming a long-term zinc and copper producer in the Northern Cape, home to the manganese operations of South32 and the re-floated Jupiter Mines.
In that score, Orion was actually ahead of the curve. A bankable feasibility study was kicked off in July 2017 with a 1.2mtpa mining and processing operation in mind. That sort of rate would make Orion an annual producer of about 40,000t of zinc and 12,000t of copper.
The growth in the resource base suggests it might be time to start thinking about a bigger operation, say 2mtpa. As it is, the approvals process to get into production is underway with Orion recently applying for a mining right at Prieska.
It kicks off a 300-day process in SA which should see the mining right granted by July next year.
Assuming its BFS is completed in November this year, Orion would have 7-8 months to get project financing in place so it can break ground in August next year, followed by 12 months of construction. So potentially at least, it could achieve first production at Prieska in the middle of 2020.
It's the sort of profile that stacks up well compared with some of the more fancied ASX-listed zinc explorers/developers, even if Orion's 4.1c share price gives it one of the lowest market values versus its resource base in the sector of $53m.
That presumably reflects a discount for Prieska's SA address. There is a growing body of opinion that the discount is overdone. Euroz initiated coverage of Orion on March 1 – ahead of the latest resource upgrade – with a price target of 9c a share.
And following the resource upgrade, London's Hannam & Partners set a December price target of 9.5c.
FIRST AU float
With all the excitement in the base metals space from US sanctions on Russia's "malign" metal supplies, it's been easy to overlook the renewed strength in the local gold price.
At $A1,730/oz, and on average Aussie costs of $A1,000-$A1,200/oz, the margin to be had is phenomenal stuff.
There should be no surprise then that the bumper prices are flushing out a raft of new exploration floats and backdoor listings.
On that basis that experience counts – and that proximity to Kalgoorlie helps – it can be said the $7.5m backdoor listing of First Au is one of the new crop receiving a good reception.
First Au comes to the market via Public Holdings (PHA) and is collaboration between well-known prospector Denis O'Meara and Bryan Frost's Peregrine Corporate. Both have been active in the junior mining space for decades.
PHA becomes First Au on acquiring two gold and gold-copper projects from O'Meara interests and an interest in a gold and base metals joint venture with the soon-to-be taken over Atlas Iron – jointly founded by O'Meara way back when.
As part of the transaction, PHA is raising up to $7.5m through the allotment of up to 187.5m new shares (a decent 64% of the company post the raising) at an issue price of 4c each, with 1-for-1 free attached options expiring 30 months from the date of quotation at an exercise price of 6c each.
At the allotment price of 4c a share, First Au will have a maximum of 292.8m shares on issue and a market cap of $11.7m, with about $7m cash in the bank. 
That's kind of interesting as First Au's flagship asset is the Gimlet gold project, a 15-minute drive from Kalgoorlie and along strike from and to the north-west of the Teal gold mine and project area of the $50m Intermin Resources (IRC).
Intermin has generated interest of late thanks to some decent exploration hits on its side of the fence, including this week's reporting of an 8m hit grading 10.3g/t from 123m at one prospect, and 37m at 2.16g/t from 90m in another.
Gimlet has been the subject of drilling by O'Meara/Peregrine eons ago. But it never got past the supergene zone. Intermin's success across the boundary fence has shown the way forward with First Au planning to hit Gimlet with the drill bit shortly after relisting.
---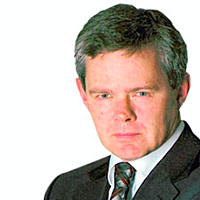 Principal
Independent Journalist
One of Australia's leading business journalists, Barry FitzGerald, highlights the issues, opportunities and challenges for small and mid-cap resources stocks, and most recently penned his column for The Australian newspaper.
Expertise