Private debt in a rising rate environment
---
Adrian again joins the podcast to discuss the current economic environment and in particular, how it is impacting private debt and Merricks' Partners Fund. Adrian is the CEO and CIO of Merricks Capital, responsible for the overall running of the business, acting as a group director and Chairman of the Investment Committee. Merricks has an impressive track record and has solidified itself as a leader in the private debt space in Australia.
During the episode, Adrian discusses the current impact on and outlook for the private debt market in an environment of inflation, higher interest rates and a potential recession. He highlights the current valuation issue that exists in Australia, whilst explaining why there is not a simultaneous supply issue. Adrian and David also compare the private debt market in Australia to markets overseas and discuss the advantages that private debt lenders possess in relation to banks. Adrian then gives his outlook for the current development and building industry and how it is likely to play out given rising costs, fixed contracts and a consequent difficulty to deliver profits.
Not already a Livewire member?
Sign up today to get free access to investment ideas and strategies from Australia's leading investors.
More podcasts
If you're enjoying Inside the Rope and don't want to miss a future episode, click 'follow' below to get notified when a new episode is released.
........
This research note has been prepared without consideration of any client's investment objectives, financial situation or needs. Before acting on any advice in this document, Koda Capital Pty Ltd recommends that you consider whether this is appropriate for your circumstances. While this document is based on the information from sources which are considered reliable, Koda Capital Pty Ltd, its directors, employees and consultants do not represent, warrant or guarantee, expressly or impliedly, that the information contained in this document is complete or accurate. Koda does not accept any responsibility to inform you of any matter that subsequently comes to its notice, which may affect any of the information contained in this document. © Copyright Koda Capital 2020 | AFSL: 452 581 | ABN: 65 166 491 961 | www.kodacapital.com
---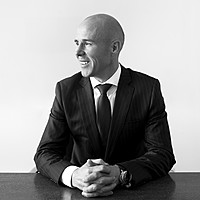 Adviser & Partner
Koda Capital
David Clark is an Adviser & Partner at Koda Capital. In his podcast 'Inside the Rope', David interviews some of the leading minds in wealth management.
Expertise