Promises of a happy new year for base metals
---
Advanced explorers and emerging producers such as Aeon Metals and Todd River well positioned to benefit from the upturn.
The year all but complete will go down as a golden one for the junior resources sector.
Annoyingly though, gold is now going through a correction that has knocked close to $200/oz off the local price and more importantly, short-term sentiment around the US dollar price.
While gold goes through its correction to recover on the other side – ABN Amro is tipping $US1600/oz by the fourth quarter of next year – there has been a notable improvement around sentiment towards the base metals, led by Dr Copper.
As good as 2019 has been for the gold price, it has been a bad one for the base metals.
That has naturally enough washed through to the junior base metal explorers where investor interest levels have been close to zip.
But with Federal Reserve testimony that the US economy is line "sustained expansion of economic activity," and with rising expectations for a resolution of the US-China trade war, the new year approaches full of promise for base metals.
The beauty in all that is that the ASX-listed junior base metal stocks look to be in line for greater investor interest in 2020 and subsequent re-ratings, particularly those that have been beavering away in the quiet times to establish maiden resource estimates on their way to something bigger, or those where the base case for a development has already been established.
Todd River Resources (TRT) is the former category and Aeon Metals (AML) is in the latter.
TODD RIVER:
The Northern Territory focussed Todd is trading at 3.1c for a market cap of $7.6m which is not a lot for a company sporting a 2.6mt maiden resource grading 10.5% zinc equivalent at its Hendrix deposit, part of its broader Mt Hardy project some 300km north-west of Alice Springs.
The maiden resource represents 175,000t of zinc, 22,500t of copper and 40,000t of lead.
In itself, that makes Todd's current market cap look on the mean side of things, particularly when it's compared with a whole bunch of gold explorers out there which have much bigger market caps but no resource, and no hope of one.
Having said that though, Todd would be the first to admit that it needs to get the resource at Mt Hardy up to 6mt-7mt to achieve the critical mass needed to underpin a future development.
To that end, the recent focus has been on drilling nearby targets rather than immediately trying to chase the pipe-like mineralisation at depth at Hendrix.
It is all about achieving more bang for its buck. A single deep diamond hole at Hendrix would cost about $200,000.
In comparison, the recent regional reconnaissance program cost about $350,000 for 38 holes.
The program has been a real success too, intersecting thick zones of base metal mineralisation at all of the prospects tested. Not all the assays are in yet but significant results reported so far include those from Gilly and Gilly North.
Assays from Laver are imminent and the hope is that they too will point to Mt Hardy shaping up as a mineral field with multiple centres of mineralisation.
(For those interested in these things, the naming of the prospects takes it cue from famous left-handers, be they guitarists, cricketers or some other leading light. It comes from the realisation at the exploration camp one night that of the eight people there, seven were lefties).
While the nearby prospects offer the potential for a quick scaling up of the Mt Hardy resource base, the deeper potential for massive sulphide positions at Hendrix and elsewhere will be followed up once electromagnetic conductors are identified from down-hole survey work, due to be completed before the end of the year.
It was EM survey work that led to 2012 discovery of the Nova nickel-copper deposit by Mark Bennett's Sirius Resources in WA's Fraser Range, with Sirius later taken over by Independence Group (IGO) for $1.8 billion and Bennett setting out for a repeat performance at his new exploration vehicle, S2 Resources (S2R).
All that is a preamble to noting that S2 has become a 30.6% shareholder in Todd after Bennett was impressed by the drill core Todd had on display at Diggers & Dealers in 2018.
Adding to the argument that Todd's current market cap is on the mean side of things is the presence of a couple of highly-rated prospects away from Mt Hardy in the company's portfolio – Petermann Range (gold and base metals in the central Musgrave region of the NT), and Nanutarra (magmatic nickel in WA's Gascoyne).
Petermann Range is on aboriginal ground and has been off limits for decades. But Todd is in the throes of reaching an agreement for an exploration program, due in part to the engagement expertise of its chairman, Eddie Fry.
It is known that other companies with deeper pockets have been wishing Todd all the best in securing an access agreement, such is the region's prospectivity rating. Presumably then, they will come calling when access is secured.
Nanutarra is a roll of the dice to see if an under-explored ultramafic intrusive complex has sulphide mineralisation potential. It is worth the shot because it alone could be a game-changer for a company with a sub-$8m market cap.
Aeon Metals (AML):
Talk about being on the mean side of things, Aeon Metals (AML) has just established a base case for the development of its Walford Creek copper-cobalt project in north-west Queensland but has been left to trade at 11c for a market cap of $80m.
The base case envisages the mining of the Vardy and Marley deposits (with the earlier stage Amy resource providing upside) over an initial 11-year mine life at an average annual production rate of 42,500t of copper equivalent.
The study estimated an average all-in-sustaining-cost of $US1.56/lb copper equivalent and pre-production capex of $323m – with financing the key factor in the market holding back on re-rating of the stock.
Walford Creek has now moved in to the pre-feasibility study stage which is due for completion in the June quarter next year. So it is big and robust, and entering in to the financing stage at a time when projects of its scale are something of a rarity.
The EV flavour of the project from its cobalt component is not going to hurt as end users step up their efforts to source non-DRC supplies of the battery material.
Bell Potter's David Coates has just upped his valuation of the stock from 57c to 60c in light of the scoping study release.
"The scoping study presents as a detailed and high quality piece of work which demonstrates an economically attractive base case for the exploitation of the Walford Creek project,'' Coates said.
"Applying our own pricing assumptions, we estimate an NPV (8% real, post-tax) of $474.5m and IRR of 47% represent attractive investment metrics for a project offering excellent exposure to copper and cobalt.''
---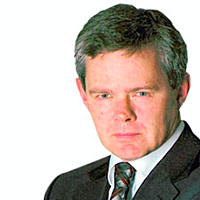 Principal
Independent Journalist
One of Australia's leading business journalists, Barry FitzGerald, highlights the issues, opportunities and challenges for small and mid-cap resources stocks, and most recently penned his column for The Australian newspaper.
Expertise