PureProfile Ltd (PPL) Cheap turnaround story? (+152% at $0.22)
---
When I last wrote about PPL (then 12.5c, high today 23c, close 16.5c), I discussed possible corporate appeal given the attempted removal of the chairman by parties involved with Cohort, a troubled acquisition, and the connection to Unlockd, an unlisted market darling with interesting shareholder connections. Given the Cohort spill has been resolved, and Unlockd is in administration after being "locked out" of its market by Google, this is now less about the corporate appeal and more about earnings turnaround. This mornings announcement (Here), announced fixed costs rebased down $5m to $20m, gross margin improving (44% to 49%), improvement in EBITDA, and new signings around the corner.
This business is highly sensitive to any improvement in the revenue line, thus the positive move today.

See prior note when $0.125 - Pureprofile (PPL.ASX) - cheap turnaround + possible takeover play evolving?
 
To refresh - what do the numbers look like? From my previous note in italics, and updated comments in bold.

 
If PPL's revenue stands still for the next year, the numbers might look something like this.
Annualised revenues of ~$60M and a gross margin of 44%+ (~$26M gross profit). Rebased cost line of ~$20M. Leaving a healthy ~$6M EBITDA opportunity. (As announced this morning, cost line achieved, gross margins improving from 44% to 49%)
D&A ~$4m (mainly A, which is non-cash) (same)
$1m in Interest (CBA facility is $10m @ 10% and has no earnings-based covenants, no exit fees - scope to look for a better deal on that facility. (this has been refinanced, similar in terms of rate)
Net Debt is $5.6M (might be slightly higher at $7m)
No Tax due to tax losses (same)
Small NPAT of ~$1m ($0.0083 per share) ( FY19- I expect this could be more now, given today's update, working on numbers)

More news to come!
From the announcement, today - "Progressed to sign-off stages of new domestic and international partnership opportunities that I look forward to updating the market on shortly"
 
Who with and how big in terms of $'s, is what we need to see next. 

Given this reset in the business, incremental contract wins will now be significant for PPL. Back of the envelope, another $10m in Revenue could flow through to an additional $4-5m in EBITDA. Revenue is already >$60m. And they have crimped the Capex on tech spend, so it should flow through. 
Keep on the watch list for more.
---
Disclosure - The author of this desk note owns shares in PPL.ASX


Important Note - This note is not a recommendation or advice to buy or sell PPL.ASX shares mentioned. PPL.ASX shares should be considered very speculative, high-risk, and volatile. There are significant risks inherent in investing in all companies, particularly early stage, micro-cap companies, that are not discussed in this note. You should always seek professional advice before considering any share purchase or sale. Please read the disclaimer in full below. This is a desk trading note, and not a research document, and the view of the authors only.
---
This communication has been issued by Wentworth Global Securities Pty Ltd ("WGS") (ABN: 96 155 409 653) (AFSL: 422 477). WGS is a wholly owned by Wentworth Global Capital Partners Pty Ltd ACN 155 398 333("WGCP").
Not research: This communication has been prepared by the at Sales and Trading team within the "Securities Division" of Wentworth Global Capital Partners (WGCP). It is not a research report and is not intended as such. This publication is intended solely for information purposes of WGCP's Wholesale, Sophisticated and Professional Investors as defined by the Corporations Act 2001 (Cth) or the equivalent in each respective Jurisdiction.
Because this document has been prepared without consideration of any specific clients investment objectives, financial situation or needs, your financial advisor should be consulted before any investment decision is made.
Wentworth Securities does not accept any responsibility to inform you of any matter that subsequently comes to its notice, which may affect any of the information contained in this document. This communication is not intended for US recipients and you should not forward this material into the United States or to any U.S. Persons. Although we believe that the information which this document contains is accurate and reliable as at the date of publishing, Wentworth Global Securities Pty Limited have not independently verified information contained in this document which is derived from publicly available sources.
---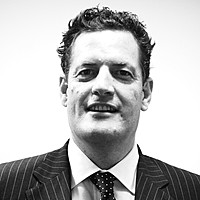 Director and Head of Wealth Management
Wentworth Securities
Tom is a Founder and Head of Wealth Management. For the past 10 years, he has been running the Wentworth Model Portfolios, focusing on macroeconomics and tactical equity positioning. These portfolios were initially created as a solution for "core...