RBA and Treasury Roll-Out QE Bazookas!
---
Cutting its target cash rate to 0.25 per cent to encourage banks to further drop borrowing rates for businesses and households, which they will do (watch out for very cheap fixed-rate loans);
Commencing purchases of Australian government bonds to maintain a 3 year government bond yield of only 0.25 per cent, and to also support the liquidity of that market, which Governor Lowe said has become "impaired". This will reduce the cost of longer-term, fixed-rate (as opposed to floating-rate) business and household loans that partly price off the 3 year government bond yield;
Offering banks a longer-term funding facility of at least $90 billion on a 3 year basis at an ultra-cheap cost of just 0.25 per cent, which will enable all banks to provide very cheap finance to individuals and companies. This is a terrific idea that emulates the Bank of England's approach;
Working with the AOFM to launch an AOFM-managed $15 billion direct investment program in residential mortgage-backed securities (RMBS) and asset-backed securities (ABS). I have suggested at least $50 billion. This will further reduce the cost of borrowing for small business, households, and individuals via the AOFM funding highly rated and securitised pools of these assets at a cost, or spread, that is normalised. That is, not at current costs, which are enormously distorted by the virus-induced volatility. (I designed a similar $15 billion program for the government in 2008, and also the current $2bn program the AOFM is running to invest in securitised SME loans); and
Continue to offer very cheap secured term funding to banks of up to 6 months or more at a cost of about 30 basis points (or 0.3 per cent) above the cash rate via the RBA's existing repurchase (or repo) arrangements.
Following the RBA's announcement, APRA also announced that banks can drop below their unquestionably strong capital ratios, and lever up their balance-sheets further, to drive greater credit creation.
APRA also indicated the banks don't have to fuss about raising much more expensive hybrid or Tier 2 capital any time soon, which is trading on record credit spreads that would otherwise hurt bank returns.
So this new QE package from the RBA, APRA and the AOFM is unprecedented and very multi-faceted.
As a starting point, it is perfectly designed and a huge congratulations must go to APRA's Wayne Byres, the RBA's Phil Lowe and Guy Debelle, and Treasurer Josh Frydenberg and Prime Minister Scott Morrison.
They have acted with speed and clarity to seek to thwart the unprecedented risks the nation faces, and embraced all the ideas I have previously outlined. What will be the impact? In short:
Small business borrowing costs will decline by a large margin (I expect some major banks to drop SME rates by as much as 100bps);
Medium and large sized business borrowing costs will drop sharply;
Home loan repayment costs will fall;
Personal loan and credit card costs will decline;
Bigger banks will not have their net interest margins crushed by record-high wholesale funding costs;
Smaller banks will be able to tap as much cheap money as they need, removing a key financial stability risk;
Non-banks will be able to harness the RMBS/ABS markets for funding, saving their bacon and keeping pressure on the big banks;
Overall bank and non-bank funding costs should fall markedly.
We now await the government's fiscal package, which should be released on the weekend. This will likely involve huge cash stimulus direct to workers, those on the dole, and myriad other forms of compensation to create an income, funding and liquidity bridge between now and when the virus dissipates once anti-viral drugs are available and an eventual vaccine emerges.
I would also expect to see a special low or no cost lending scheme made available via the banks to businesses that want to tap emergency funding for a period of time, and then repay it over a number of years.
A huge win for Team Australia, led by the PM, Treasurer, APRA, the RBA and AOFM. And the banks deserve a pat on their increasingly skinny behinds for doing their bit too!
........
Disclaimer: This information has been prepared by Smarter Money Investments Pty Ltd. It is general information only and is not intended to provide you with financial advice. You should not rely on any information herein in making any investment decisions. To the extent permitted by law, no liability is accepted for any loss or damage as a result of any reliance on this information. Past performance is not an indicator of nor assures any future returns or risks. Smarter Money Investments Pty Limited (ACN 153 555 867) is authorised representative #000414337 of Coolabah Capital Institutional Investments Pty Ltd, which holds Australian Financial Services Licence No. 482238 and authorised representative #001277030 of EQT Responsible Entity Services Ltd that holds Australian Financial Services Licence No. 223271.
---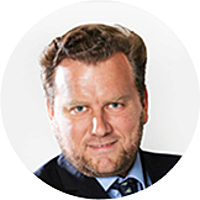 Portfolio Manager & Chief Investment Officer
Coolabah Capital
Chris co-founded Coolabah in 2011, which today runs over $8 billion with a team of 26 executives focussed on generating credit alpha from mispricings across fixed-income markets. In 2019, Chris was selected as one of FE fundinfo's Top 10 "Alpha...