Red 5 eyes huge game-changer at WA gold project
---
The WA gold miner has embarked on a drilling program which it believes could "significantly transform" the inventory at its King of the Hills project. It follows spectacular intersections of up to 330m at ~2gpt from surface which have raised the potential to switch from narrow to bulk mining.
Tired Western Australian gold projects have a habit of surprising to the upside as much as they do to the downside.
Fortunately for Red 5 (RED), there is a bit of buzz that its King of the Hills (KOTH) project in WA's prolific Leonora-Leinster district is in the former category.
Red picked up KOTH in October last year from Saracen and at the same time, it acquired the Darlot mine and treatment plant 80km to the north from South Africa's Gold Fields in deals worth a combined $34.5m in cash and scrip.
The push into the Eastern Goldfields was a bold pivot by Red from the trials and tribulations of being a gold miner in the Philippines, a country which is not sure if wants a mining industry.
The parked-up Siana mine in the Philippines, with its 500,000oz resource, might one day get back into production, either under Red's ownership or someone else's.
But as last October's KOTH and Darlot acquisitions demonstrated, it is WA where Red now wants to be.
Red's transformation to WA gold producer status has taken time to come together, as was reflected in its September quarter production coming in weaker than expected at 21,600oz at $A1,829 an oz.
But the quarter was also a turning point for the mines under Red's ownership, with the completion of underground development work at KOTH and Darlot gaining access to the new high-grade Oval West orebody.
It was why Red was able to maintain FY19 guidance at 100,000-115,000oz at $A1,350-$A1,550/oz, suggesting things all come together in the remaining three quarters to put the combined operations on a solid footing, particularly with Aussie gold knocking around $A1,680/oz.
If that – and the option value of something happening at Siana – was all there was to the Red story, its 6.1c share price for a market cap of $75m would seem about right.
But a potential game-changer for Red is in the works at KOTH.
It involves the potential for KOTH to swing from being based on the selective mining of narrow and high-grade veins to a bulk underground mining operation, with big implications for the scale of the resource base as part of the bargain.
Red has set out to unlock the opportunity by kicking off a 30,000m drilling program which will test the bulk potential of a previously identified corridor of gold-bearing tension veins and stockworks along the granite/ultramafic contact.
The bulk mining potential of the broad stockwork network within the "damage zone" along the 4,000m (interpreted) eastern margin of the granite/ultramafic contact was first announced to the market in September.
It followed a decision to re-orient drilling sub-parallel to the contact which delivered some impressive composite assay results from within the zone. Best results from surface and to end of hole included 330m at 1.7g/t, 234m at 2g/t, and 127m at 1.9g/t gold.
Red said that as the contact at the eastern margin has a strike extent of an estimated 4,000m and a vertical extent of at least 500m, with a projected similar extent on the western margin, it all adds up to a "major new growth opportunity".
"The nature of vein densities and gold tenure offers two potential scenarios for underground development, with the narrow high-grade zones amenable to narrow vein stoping methods and wider zones offering the potential for long-hole stoping or other such larger-tonnage stoping methods," Red said.
It reckons success in the drilling program has the potential to "significantly transform the current resource and reserve base at King of the Hills and considerably extend mine life."'
It is little wonder then that Red managing director Mark Williams said the KOTH opportunity would be pursued with vigour.
Geopacific Resources (GPR)
Exploration upside is also increasingly being talked about when it comes to PNG gold developer Geopacific (GPR).
That might seem a little strange given the company has just released a definitive feasibility study into its proposed 100,000oz a year Woodlark gold project on its namesake island in PNG.
As expected, the DFS results pointed to a robust project, certainly as robust as anything on offer with an Australian address.
Based on a 1.03Moz reserve grading 1.12g/t (the resource is 1.57m oz), Woodlark's all-in sustaining cost in the first five years came in at an impressive $A866 an oz, and $A1,033 an oz over the 13 year life of the mine.
The low cost is a result of the wide and near surface zones allowing for very low strip ratios.
The Woodlark island location means the capital cost at $A198m is not the lowest around for the projected production. But it does include $A17.8m for a mining fleet and a $A13.8m contingency.
More to the point is that the DFS is very much a base case. The project has been around for years but it has taken the arrival of Geopacific, with its board and management experience in developing projects elsewhere, to knock it in to a development proposition.
A big part of that was confirming and infill drilling to arrive at the 1.1m oz mining reserve. That meant the exploration upside was pretty much ignored.
It is why Geopacific tapped the market in April for $10m to fund an exploration program, announcing an "aspirational'' resource target of 5m oz at the same time.
It is nice to have aspirations. But the reality is Geopacific need only capture a fraction of the 5Moz target for there to be a major impact on what is already a robust project.
---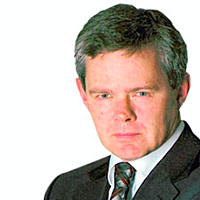 Principal
Independent Journalist
One of Australia's leading business journalists, Barry FitzGerald, highlights the issues, opportunities and challenges for small and mid-cap resources stocks, and most recently penned his column for The Australian newspaper.
Expertise