Rhipe's share price rallied over 9% today on a cracking result. Rhipe (RHP), a leader in cloud and service provider software licensing, was able to upgrade its operating profit guidance to A$11.5-12m which was c8% ahead of guidance provided at the AGM in November and ahead of consensus expectations. We think that this result really demonstrates to the market RHP's ever-increasing value proposition to its partners like Microsoft, Citrix and VMWare.
If we look at RHP's result in more detail, the group delivered revenue growth of 22% on the pcp but more impressively 8% growth on 2H18. We also saw operating profit up 117% on the pcp to $5.6m and Asia is now making money. RHP's balance sheet remains robust with $23.2m of net cash or to put its cash holding into perspective its c10% of RHP's market cap, post undertaking a buyback and acquisition this half.
If we get into the guts of the result and turn to Cloud Solutions Providers (CSP), RHP was appointed to Microsoft's Cloud Partner Program in 2015 and become one of its twelve global managed partners (out of 500 indirect resellers) in 2017. Within three and half years RHP has signed +430k seats. This figure is up c100% YoY. More importantly, RHP is adding 20k seats per months which is well up from the 10k seats per months 12 months ago and ahead of our expectations heading into this result. Turning to Microsoft Azure, RHP delivered annual recurring revenue (ARR) of A$14.9m which was up 39% in 2Q19 and 112% in the 1H on 2H18.  If we look at CSP and Azure's combined ARR, RHP now has well in excess of A$62m which is up 100% on the pcp.
Rhipe will benefit from Microsoft's attack on Amazon's AWS
Microsoft is a long way behind the more established public cloud service provided by Amazon's AWS but it is catching up quickly. We can see how Microsoft will continue to attack AWS's market-leading position given it has a clear path to market with its product upgrade cycle. It is obvious that the two pillars of most importance to Microsoft are Azure and CSP with the group investing heavily in its data centre footprint to take on AWS. 
Given this fact, RHP is front and centre of Microsoft's attack on AWS it is therefore exceptionally well positioned to continue to deliver strong double-digit growth.
Looking forward we believe Microsoft will not only grow its market share but grow its revenue per seat by moving clients "up the stack". What this means is Microsoft is selling CSP seats at the lower end of the stack or what Microsoft calls E1 (think Microsoft Office). We are of the view that as the market matures Microsoft should be able to start transitioning clients and move new clients to products that offer more features (what Microsoft calls E3 and E5) which is obviously at much higher price points. Consequently, when RHP starts selling more and more higher value CSP seat, the operating leverage in this business will be well and truly evident. 
Scope for further share price growth
RHP is operating in an ever-expanding market as demand for public cloud continues to evolve. Its position with Microsoft as one of its twelve global managed partners means that its future growth is almost guaranteed as long as Microsoft continues to take market share.
Over the last year, RHP's share price has rallied strongly on the back of ever bettering results. So far this calendar year, RHP's share price is up 35% or 42% for the financial year. Despite this share price rally, we believe there is more growth ahead for RHP. Over time we believe RHP will deliver widening JAWS while leveraging its preferred partner status. 
Looking at the numbers, based on our analysis RHP should give +40% EBITDA growth on a 3-year CAGR versus the ASX Small Ords of 17% over the same period.
This means that RHP is adding more growth per multiple than the ASX Small Ords, which justifies our 3 years price target of $2.41 ($1.65 at the time of writing).
Never miss an update
Stay up to date with the latest news from Ellerston Capital by hitting the 'follow' button below and you'll be notified every time I post a wire.
Want to learn more about microcap investing? Hit the 'contact' button to get in touch with us or visit our website for further infomation.
---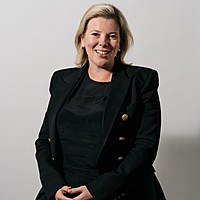 Co-Portfolio Manager, Ellerston Australian Micro Cap
Ellerston Capital
Alexandra joined Ellerston Capital as a Senior Analyst in 2017 and has 11 years of financial market experience. She has extensive knowledge of the industrials sector, ranging from large to micro-cap equities, as well as IPO and pre-IPO markets.
Expertise