Riding America's connectivity wave
---
"We don't go online anymore. We exist there". This is a phrase used by Jay Brown, CEO of Crown Castle America's largest provider of communications infrastructure. With a unique combination of towers, small cells and fibre technologies, the company's expansion has been remarkable. Jay Brown's history with Crown Castle began 22 years ago - long before the advent of today's 4G and 5G data networks. In this interview, Jay discusses the rise of the business, the risks and opportunities that have come with new communications technology, and Crown Castle's unique business model which has proved a winner with partners, customers and shareholders.

Never miss an episode of In The Know
New episodes of our podcast will be published on the last Tuesday of each month. Click follow to be the first to receive our latest insights.
---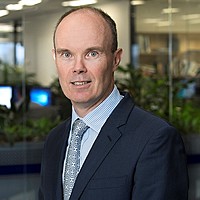 Chairman, CIO and Lead Portfolio Manager
Magellan
Hamish Douglass is Co-Founder, Chairman and Chief Investment Officer of Magellan Financial Group, and Lead Portfolio Manager of Magellan's Global Equity strategies.
Expertise