Rio's hush-hush copper find in WA shaping up as a big 'un
---
There is mounting evidence that Rio is onto a major copper discovery in WA. It is yet to whisper a word, but satellite images reveal it has drilled ~10 holes and is building a camp. So which juniors are set to cash-in on the nearology?  Sipa, Antipa and Red Metal.
Satellites don't miss much nowadays when it comes to monitoring fresh land disturbance, particularly where cloaking vegetation is sparse.
It is something that Rio Tinto is finding out, no doubt much to its annoyance, at its yet-to-be formally confirmed copper discovery (reported here first on April 6) in the northern reaches of Western Australia's remote Paterson province.
While Rio is yet to confirm the discovery in what is Lawrence of Arabia-type country, latest satellite imagery suggests it is indeed on to something that just might shape up as special, rewarding Rio for its efforts, and giving a bunch of exploration juniors looking to make it big in the Paterson a leg up.
Every time it punches in another drill hole, we'll all know about it thanks to the satellite imagery being captured over the discovery every five or six days. It's a satellite driven continuous disclosure regime outside of Rio's control, and the ASX for that matter.
Latest public domain satellite imagery shows that amongst the sand dunes of the Paterson and some 120km north-north-west of Newcrest's once Tier 1 Telfer gold-copper deposit, Rio has drilled at least 10 holes at 200m spacings with selected 100m infill holes. More to the point is that the satellite imagery recently picked up nearby site preparation work for what is said to be a 40-man camp.
Building a camp in sand dunes is most unusual. Rio obviously wants to be up nice and close to what it has found and not spend a couple of hours each day trundling over the dunes to get there. 
Back on planet earth, the scuttlebutt is that after mapping a subtle IP granite-related anomaly, drilling by Rio hit primary copper at a depth of 40m and then visible primary mineralisation down to depths of 180m in two holes 200m apart just before what was the 2017 drilling program came to an end.
Its early days for sure. But intersections of 140m of visible mineralisation in spaced holes is something to get excited about, even for a company the size of Rio. And it did get excited, launching itself in to a massive pegging campaign to lock up the regional upside in December last year.
It pegged all the way north-west to 80 Mile Beach between Port Hedland and Broome on the coast, taking its land holding in the Paterson to a massive 9,000sqkm. Now that it has "locked'' up the discovery, the great hope for the rest of the industry is that Rio formally confirms the find and gives a feel for its potential, even though it doesn't have to under ASX disclosure rules because of its monster market cap.
But it's probably way too early for that. The industry will nevertheless be watching – or should that snooping – as the forward drilling program at the discovery evolves, and activity levels in and around the camp set amongst the sand dunes picks up, albeit it from space.
Other players:
The bottom line of the Rio discovery is that that the north Paterson region has emerged as a hot spot for copper exploration in Australia. And despite Rio's pegging frenzy, there are a number of other of established and newbie players active in the hunt for the next big one.
The established players are Sipa (SRI), trading at all of 1c, and Antipa, trading at 1.3c. The newbies are Fortescue (FMG), which needs no introduction, and another junior, the neatly named Red Metal (RDM), trading at 11.5c.
SIPA:
The Rio camp-in-the-dunes looks to be about 8km from Sipa's south-west tenement boundary.
More than that though is that Sipa's 2018 field season in the north Paterson is about to get underway (funnily enough Rio recently signed a potentially big-spending farm-in agreement on Sipa's Akelikongo nickel-cobalt project in northern Uganda).
The program will drill test Sipa's Obelisk discovery (anomalous copper over 100m in previous holes) and the Andromeda target (nickel, copper and PGE's from a RC hole drilled by previous explorers). In addition, Sipa has worked up a bunch of new targets (Asseli, Aranea and Jordanus) which will be further refined with geophysics ahead of a reconnaissance drilling program to start soon.
ANTIPA:
Antipa has the biggest ground position in the broader Paterson behind Rio, some which is the subject of potentially big spending farm-in agreements with Rio on its Citadel project area, due east of the Rio discovery and home to the Calibre deposit (1.3m ozs of gold and 70,000t of copper and open in most directions)  and the Magnum deposit (339,000 ozs of gold and 58,000t of copper and open in most directions).
But the real action for Antipa in coming months is on its wholly owned ground covering deposits and prospects within 40kms north of Telfer – Minyari Dome (a near-term development opportunity from the Minyari-WACA resource base which comes with upside), Tim's Dome (a high-grade gold opportunity 12kms from Telfer), and Chicken Ranch (a near surface high-grade gold prospect 15kms from Telfer).
For the record, Telfer has produced 14Moz of gold and 340,000t of copper since its discovery in 1972.
Antipa's field season starts this month and could involve up to 50,000m of drilling. Strong newsflow is likely. It is finishing off a $7.5m capital raising (placement and rights issue) in support of its big push this year in the Paterson.
RED METAL:
Red Metal has been travelling nicely on the strength of its base metals projects in Queensland. But it recently joined the fray in the north Paterson, picking up a tenement position immediately to the north of the Rio discovery.
Like many others, Red Metal would have been aware of Rio's pegging frenzy and was luck would have it, it was able to pick up what it now calls its Yarrie copper-cobalt project. Rio then immediately picked up the ground to the north of Yarrie.
Burt Red Metal's move had more to do with the release of government data in February which Red Metal read as pointing to the potential for the Yarrie ground to host "giant'' sedimentary-hosted copper-cobalt deposits akin to the Mount Isa or Zambian styles, with the Paterson already having known smaller versions (Nifty and Maroochydore).
Red Metal is planning some deep penetrating EM surveying to map and rank the dome shaped structures for drill testing.
FORTESCUE:
Andrew Forrest's iron ore producer has pegged a sizeable ground position to the north of Rio's 100% owned ground and that of Sipa. It is a big company so doesn't need to talk about what it's up to. But the satellite snoopers out there will keep an eye on any activity by the group which is getting serious about diversifying its mining interests now that the discount on its sub 60% iron ore has become structural and not a passing phase.
---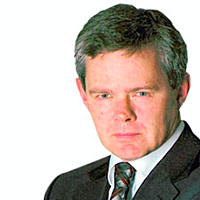 Principal
Independent Journalist
One of Australia's leading business journalists, Barry FitzGerald, highlights the issues, opportunities and challenges for small and mid-cap resources stocks, and most recently penned his column for The Australian newspaper.
Expertise