Rising inflation not just a blip, warns Costello
---
Plus, Chalice prepares to drill for repeats of its rich Gonneville deposit, De Grey Chairman Simon Lill leads float of new WA nickel explorer Nimy and Breaker says maiden lithium resource not far off.
Those with long memories were squirming in their seats when former Federal treasurer Peter Costello beamed in a 45-minute opening address to the first day of the "The Boom in the Room" resources conference.
Costello – he is now chairman of Nine and chairman of the board of guardians at the $130 billion Future Fund – had wanted to present in person but lamented he did not have a WA passport to make the trip across to Perth from lockdown Melbourne.
Back to the squirming at day one of the two-day conference, hosted by Resources Rising Stars and Miningnews.net at the RAC Perth Arena, with a 1000 investor types either listening in or rocking up in person.
Costello was of course treasurer when the Reserve Bank sold two thirds or 167 tonnes (5.4 million ounces) of its gold reserves in July 1997 for an average of $US350 an ounce. It's now $US1,787/oz, some 24 years later.
The RBA added insult to injury for the industry at the time by saying that while there was a case to hold some gold as a contingency against unforeseen events, keeping a fifth of its international reserves in gold was "no longer justified".
Not one to be outdone, Costello passed the comment at the time that "gold no longer plays a significant role in the international financial system".
Jeez, no wonder the crowd was uneasy at the conference. What was Costello going to say about gold to a room full of mining investors, most of which have a special liking for gold?
Fear not. Costello told them what they wanted to hear, without recounting the shock and horror of the 1997 sale by the RBA. Not in his address mind you. It took a question at the very end.
"There are plenty of theories about gold and its role in a time of inflation. The general view is that gold should hold its value in times of inflation," he said.
"I can take you back to periods of history where it didn't. But that is the general view – gold is a hedge against inflation."
Nothing new in that. But it had a calming effect because of what Costello said earlier about inflation.
"In the United States, their target (inflation) rate is 2%. The headline inflation rate is 5.3% - well outside their target," he said.
"(But) the US Federal Reserve has decided this is temporary inflation i.e. don't worry about 5.3% it is going to go down. It's temporary because there are bottlenecks in the economy caused by COVID.
"There are others of us – and I am in this camp – who think that is wishful thinking, but not necessarily correct thinking."
So he thinks the inflation genie is out of the bottle, which is good for gold. He might be invited back next year, notwithstanding the events of 1997.
Chalice (CHN):
Chalice's (CHN) Alex Dorsch kicked off the company presentations at the conference with a sense of ease that might be expected from a company boasting a total shareholder return of more than 4000% in the past 18 months.
It could also be attributed to the strong newsflow coming for the $2.26 billion company from its breakthrough Julimar intrusion-related PGE-nickel-copper-cobalt discovery on the doorstep of Perth, and on the previously over-looked western margin of the Yilgarn Craton.
Dorsch confirmed that a maiden resource estimate for the Gonneville intrusion on the southern end of the 26km long Julimar complex is due to be released in about a month. A scoping study is due in the first half of next year.
Gonneville has tier one credentials in its own right but the real excitement around Julimar is that there are more Goonevilles to be discovered along the complex where it heads off into a state forest.
Dorsch said that drilling the lookalike targets to the north like one named Hartog could start within weeks, which assumes the all clear to do so from the authorities. Stand back if the good stuff is hit at Hartog and other targets further north still.
Drilling in the state forest (like the drilling and mining in other WA state forests, notably the bauxite industry) will be of the sensitive kind. A dozen holes per site at Hartog is the plan, with no disturbance of vegetation.
Nimy Resources:
Chalice's $2.26b market cap says all that can be said about what can happen when a company backs its geological thinking and moves into under-explored areas. Make a breakthrough discovery and the rewards can be exceptional.
Simon Lill, the non-executive chairman of De Grey (DEG) knows that well. Lill experienced years in the wilderness for De Grey when its Pilbara gold story was about a couple of million ounces of shear-hosted gold.
But then De Grey found the intrusion-related Hemi discovery, now ranked as a (fast growing) 6.8m ounce discovery, with a swathe of the Mallina Basin to be explored for the next Hemi. It is why De Grey is now a $1.6b company.
Lill is now looking to achieve a measure of De Grey's success in nickel with the $6-$7.5m million float of Nimy Resources. It too is chasing a concept that could pay off – does the poorly explored northern end of the Forrestania nickel belt host big time nickel deposits?
Nimy is going to give it a shot at its Mons project, 140km north of Southern Cross. Mons hosts an 80km stretch of the Forrestania nickel belt which is known to host the same komatiite structures important to the established nickel camps of both Forrestania and the parallel Kambalda.
Raven Corporate is acting as lead manager for the IPO. The nickel remains nice and strong at $US8.80/lb so expect lots of appetite.
Breaker (BRB):
Lithium prices have been going ballistic, with prices for lithium carbonate and hydroxide up by 55% and 33% respectively from already elevated prices in the last month alone.
The boom pricing for the battery materials has also put a rocket under the lithium ore spodumene, giving both WA producers and explorers an almighty lift as the year unfolds.
No wonder that everyman and his dog is out there shouting about their lithium credentials. All except Breaker (BRB) that is.
As mentioned here on August 12 when it was 16.5c stock, Breaker's market cap was probably underdone on the strength of its Lake Roe gold project near Kalgoorlie, where it has a growing 1.4Moz gold resource.
But the interest here at the time was its mention of its Manna lithium project, 15km from its main Bombora gold deposit at Lake Roe. Breaker is now a 28.5c stock and there is little doubt Manna is behind the rise.
It was a little puzzling then that there was not much of a focus on Manna in Breaker's presentation to the Boom in the Room conference. It got one slide at the back of the pack.
But Breaker managing director Tom Sanders did confirm a drilling program had been completed and an initial resource estimate was not far off.
As previously reported, work at Manna back in 2018 – just before the lithium market tanked – had identified outcropping spodumene (750m x130m) as part of a 5km x 1.5km system.
Breaker has also said previously that there appeared to be scope to "establish a significant JORC resource" at the property.
The company's Slide 20 treatment of Manna in the conference presentation obviously reflects a desire for the market not to take its eye off the Lake Roe discovery and its unfolding upside.
The market being the greedy beast that it is, wants both the gold and the lithium. Being able to judge just how significant the Manna lithium leg is going to be to the Breaker story is not far off with the pending resource estimate.
---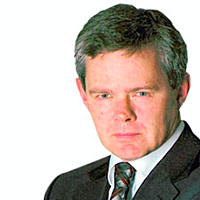 Principal
Independent Journalist
One of Australia's leading business journalists, Barry FitzGerald, highlights the issues, opportunities and challenges for small and mid-cap resources stocks, and most recently penned his column for The Australian newspaper.
Expertise