Rumours about Aruma's 'large-scale gold system' gain credence
---
Those in the know are whispering about little-known Aruma Resources and its recent gold discovery near Kalgoorlie. The first round of drilling hit two 500m-long shoots, albeit low grade, and the next round is imminent. Plus, Victorian gold specialist Navarre looks cheap against its peers with drilling results pending.
There is a bit of a buzz surrounding a little thing called Aruma Resources (AAJ), a hardy gold explorer with a technical bent.
Its doggedness in looking for sediment-hosted gold to the east of Kalgoorlie – based on some high technology work involving the sample of gases from black shales and analogy comparisons with Gold Fields' 2Moz-plus Invincible discovery at Kambalda – has piqued interest in its Slate Dam project.
Aruma has not found another Invincible, as its modest $11m market cap (2.1c a share) tells you. But recent drilling has given the explorer its long sought-after "wow" moment.
The company's maiden drilling program at Slate Dam, 40km east of Kalgoorlie, defined what the company itself has described as a "large scale gold system."
The drilling defined two 500m-long gold shoots (20m thick and extending from surface to about 200m deep and dipping at 30 degrees) which are split down the middle by a fault. When historic drill results are overlaid with results from Aruma's work, all the boxes for its sediment-hosted theory are ticked.
That's been good enough for some smart money, mainly out of Melbourne, to kick in $1m at 2c a share in a placement so Aruma can get aggressive with further drilling.
That the share price has not exactly taken off reflects the low-grade of the two shoots of about 1g/tonne gold. But there are plenty of examples out there of companies making good money from shallow dipping orebodies of similar grade and many of them aren't on Kalgoorlie's doorstep either.
It's early days at Slate Dam but a push to outline an initial resource of 15mt grading 1/tonne for close to 500,000 ozs now seems likely. That would be enough for a standalone 3mtpa plant producing close to 100,000oz at a cash cost in that part of the world of say $A1,100/oz.
At current spot prices of $A1,700/oz, there is plenty of incentive for Aruma to get cracking. And it is, with funds from the placement and an equity-for-drilling deal giving it the wherewithal to hit its Slate Dam ground hard in the next six months.
Aruma reckons it is on the cusp of something quite special out east of Kalgoorlie, and possibly elsewhere in the Eastern goldfields, given the sheer extent of the shales in region. (The gold is ultra- fine so was invisible to the oldtimers, even if they could smell it).
Back at Slate Dam itself, the upcoming drilling will focus on finding strike extensions of the lode gold and infill drilling of the near-surface to build a resource as quickly as possible. Importantly, the drilling will also move out to the east where the hope is for higher grade material as the drilling gets closer to the suspected granite source of the gold.
Drilling is also planned at the company's Beowulf prospect, about 30km west of Saracen's Carosue Dam gold mine.
It is the gold-in-sediments model again. While there was no recorded gold in the immediate area, that changed recently when a father and son prospector combination from England of all places volunteered they have been plucking good sized nuggets from the ground – up to 14oz –  for 12 years from conglomerate material.
Aruma wants to check out the underlying shales next to the nugget patch, hopefully finding another lode system in a region it pretty much controls.
NAVARRE MINERALS (ASX:NML):
The discovery by Canada's ASX-listed Kirkland Lake (KLA) of the 1.16moz Swan Zone at a whopping grade of 2oz a tonne at its Fosterville gold mine, east of Bendigo in Victoria, has naturally enough raised interest in exploration efforts generally in the state.
The punters want more. Long-time Victorian gold specialist Navarre Minerals (NML) – 10% owned by Kirkland – is giving them what they want with its exposure to 25,000m of drilling over the next six months across five properties, both advanced and first-pass assessment targets.
Given its modest market cap of $24m (8.5c a share), it goes without saying that its leverage to success in the latest drilling program is extreme. Compare Navarre to other active explorers in the state, and it clearly comes across as being undervalued ahead of results from the program being known.
Navarre's market cap compared with the $80m market cap of the Gina Rinehart and St Barbara (SBM) backed Catalyst Metals (CYL) demonstrates the point. The Four Eagles project is Catalyst's flagship and its joint venture under which it can earn a 51% interest in Navarre's adjoining Tandarra project ranks second.
Assume that $60m of Catalyst's value lies with Four Eagles, there is a good $20m there for its ability to earn 51% of Tandarra. Yet Navarre sits there with a $24m market cap, with a full suite of wholly owned gold projects under its belt.
Still, as Navarre's aggressive six month drilling program demonstrates, is not sitting on its uppers waiting for a market re-rating off the back of what Catalyst commands.
Its 100%-owned Irvine project, targeting Stawell-style gold mineralisation on the east flank of the Irvine basalt Dome, is its flagship. It is to be hit with 8,000m of drilling to expand the 1.6km long Resolution Lode discovery at depth below the base of oxidation.
The 1.6km strike length has particular meaning given that at the nearby Stawell mine, 4Moz was mined over time from 800m of strike at the surface. Previous drilling at Resolution returned good thickness and grade (including a best of 18.7m at 7.1 g/tonne gold).
It's worth pointing out here that Resolution is all of 15km south of the Stawell mine which was recently sold by Kirkland to Hugh Morgan's Arete Capital Partners in a deal involving the Smorgon family (the family is a 6% shareholder in Navarre).
Morgan is now drilling underground to find 500,000oz on which to restart the operation. Resolution might just held him get there a lot quicker.
Navarre's other targets are neatly listed in company announcements. But given the euphoria around the Swan Lode at Fosterville, it has to be mentioned that one of them – the St Arnaud project – has the potential for "Fosterville-style high-grade mineralisation in four targets".
---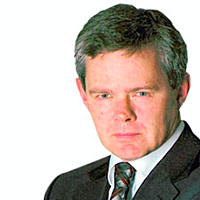 Principal
Independent Journalist
One of Australia's leading business journalists, Barry FitzGerald, highlights the issues, opportunities and challenges for small and mid-cap resources stocks, and most recently penned his column for The Australian newspaper.
Expertise