SAS soldier-pysch who helps hedge funds win
---
Today I write about the growing proliferation of hedge funds using psychologists to help their traders get an edge, and the former SAS solider and psychologist who has parlayed his lessons from numerous combat tours in Afghanistan, Iraq and East Timor into a role mentoring some of Australia's best investment minds (click on that link to read or AFR subs can click here). Excerpt only:
Showtime's hit TV series Billions does a brilliant job sketching the rich spectrum of personalities that gravitate to the fast-paced, ruthless and high-stakes world of hedge funds. If there is one constant across the best investors I know, it is idiosyncrasy: it requires a special fusion of analysis, intuition, conviction, and belligerence to bet against the collective might of markets and consistently prevail over the long-run.
As much as I'm personally fond of many of them, the fact is that there are some weird units amongst the ranks of Australia's best investors. And if they are not outright odd-bods, then they definitely possess an insatiable curiosity, dogged tenacity, and relentless faith that sets them apart. Here I am thinking of macro maven David Hains, rates trader Richard Farleigh, private equity pioneer Tim Sims, former prop trader Shane Finemore, and equities junkies like Rob Luciano, his partner, Doug "Baby-Face Tynan, Roger Montgomery, my Bondi neighbour, John "The Spectrum" Hempton, and the troika of Abouds: master waterboarder, Russell; his Yasser Arafat look-like-alike brother, Stephen (aka "Sheikh"); and younger cousin, Anthony (aka "Spud"), to name a few.
The challenge for any hedge fund founder with bona-fide "edge" is to institutionalise their alpha, which given its origins in the capricious human condition is inherently difficult. One way to try to do this is by building a team of talent around you that empowers, perpetuates and amplifies that alpha.
Managing exceptionally gifted individuals is, however, no easy task, akin to herding cats. Most of the folks in my own team of 12 portfolio managers and analysts are wonky with backgrounds in engineering, mathematics, statistics, economics, and astro-physics. Walk into our little abode and it resembles a scene from Revenge of the Nerds. No fancy suits or big-wig trader egos—just a very quiet, Church-like search for the truth.
When it comes to managing quants, I have learned that all roads lead to personalities. It is easy to recruit academically exceptional staff. It is harder to identify those who can seamlessly subordinate their egos to the team's mission, render consistently actionable insights, and positively contribute to the welfare of their colleagues.
Billions is based on the trials and tribulations of its main character, "Bobby" Axelrod, who was modelled on the infamous tape-reading "hedgie", Stevie Cohen. In a recent interview Cohen quipped, "This is a seven day a week job". I could not agree more. But with all the focus on "work-life balance" and the sense of entitlement millennials carry, few are prepared to make the sacrifices required to win on a global stage.
To better exploit their human capital, US hedgies have started harnessing in-house psychologists. In Billions these shrinks are portrayed via two striking characters, the silky-smooth Wendy Rhoades and the samurai-warrior Dr Gus. "You need to sharpen your odachi and slice a hole in the universe between you and where you're going," Dr Gus implores one subject. "And if you don't cut down everyone and everything that gets in your way, then they will return, and they will cut you to shreds."
Australia has its own emerging hybrid of these characters in psychologist Harry Moffitt, a 20 year veteran of the Special Air Service Regiment (SASR), who founded the high-performance consultancy, Stotan Group, that helps businesses, hedge funds, and sporting teams "grow cultures".
........
Disclaimer: This information has been prepared by Smarter Money Investments Pty Ltd. It is general information only and is not intended to provide you with financial advice. You should not rely on any information herein in making any investment decisions. To the extent permitted by law, no liability is accepted for any loss or damage as a result of any reliance on this information. Past performance is not an indicator of nor assures any future returns or risks. Smarter Money Investments Pty Limited (ACN 153 555 867) is authorised representative #000414337 of Coolabah Capital Institutional Investments Pty Ltd, which holds Australian Financial Services Licence No. 482238 and authorised representative #001277030 of EQT Responsible Entity Services Ltd that holds Australian Financial Services Licence No. 223271.
---

Follow Christopher Joye's wires
---
---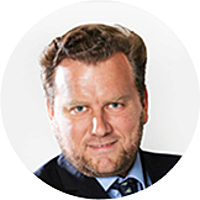 Portfolio Manager & Chief Investment Officer
Coolabah Capital
Chris co-founded Coolabah in 2011, which today runs $7 billion with a team of 33 executives focussed on generating credit alpha from mispricings across fixed-income markets. In 2019, Chris was selected as one of FE fundinfo's Top 10 "Alpha...