Satellite photo shows Independence's real deal with Creasy is still in the making
---
Independence Group's announcement this week of a $21m exploration agreement with prospector Mark Creasy only served to fuel talk they are working on a much bigger deal. And this satellite image shows why many believe there is much more to come. Plus, knocked-down  explorer Explaurum fights back with strong results.
Independence Group's (IGO) recasting of itself as a battery materials specialist following the recent sale of its second-rate zinc/copper assets for $120 million requires the establishment of a supporting multi-decade nickel, copper and cobalt resource base.
Its $1.8 billion acquisition of the Nova nickel-copper-cobalt project in 2015 by taking over Sirius Resources is the linchpin in the battery materials strategy, but IGO needs to find a couple more Novas to give the strategy any real meaning, or point of differentiation.
That's why IGO has a massive exploration effort underway elsewhere in Nova's backyard, the remote Fraser Range of WA. It has budgeted $30m this financial year on exploring across its 15,800sqkm footprint on a 425km stretch of the Fraser Range.
The footprint includes myriad IGO-managed joint ventures with juniors which along with IGO, all have the great hope that the 2012 discovery of Nova can be repeated.
All that is by way of background to Tuesday's announcement from IGO that it had struck a $21m shares and cash deal with prospector extraordinaire and IGO's biggest shareholder, Mark Creasy, to acquire a 70% interest in 1,100sqkms of tenements to the west and south-west of Nova.
It is a fancy price for the so-called Southern Hills tenements, which have a "number of targets'' that have not been drill tested.
Now readers of this space will remember that there is strong industry speculation that Creasy has made a nickel-copper discovery on his own account in an area about 25km north-east of Nova. Further, the speculation was that IGO was in talks to acquire the discovery from Creasy.
IGO would not comment on speculation last week, and Creasy would only say that he could not say "anything about it at the moment".
The rumoured Creasy discovery – said to be about one-third the size of Nova – is clearly not on the Southern Hills tenements, which contains only targets, albeit expensive ones. So we are all left to wonder if there is another deal to be done by IGO and Creasy on the rumoured discovery.
While the rumoured discovery remains just that, we thank Stuart McKinnon at The West Australian newspaper for extracting the following quote from Creasy on the subject in the wake of Tuesday's Southern Hills deal: "All I can say is that we are completing a drill-out and anything of public importance will come out in due course".
As mentioned last week, public domain satellite imagery does suggest Creasy is on to something 25km north-east of Nova. So we will call the discovery Sputnik. Today's images shows a 200m by 250m area which looks as if it has been the subject of carpet bomb drilling on 25m-spaced drill lines.
Earlier images suggested an early stage exploration project was underway. But the latest image suggests an ore delineation program could be underway i.e. a discovery has been made.
And finally for those who have asked, IGO does not have to subject the $21m acquisition of the Southern Hills tenements to any further scrutiny even though the deal is with Creasy, its 16% shareholder.
Some have asked why a shareholder vote or an independent expert's report is not needed. It seems those bothersome governance sort of things are not required in this case under the relevant ASX listing rules. Fair enough.
It will of course be a different matter if the two strike a deal on the Sputnik discovery.  
EXPLAURUM (EXU)
Gold developer Explaurum was put in the dog house at the end of May when its feasibility study on its Tampia gold project near the wheat belt town of Narembeen in WA disappointed on a number of fronts.
What was a happy-enough stock trading in a 10c-12c range got knocked down to below 8c in response to Tampia's gold resources being trimmed from the scoping study in November last year. In addition, there was an increase in the strip ratio, an increase in costs and an increase in capex and contingencies.
Having said all that, what did emerge from the feasibility study was nevertheless a robust project with upside.
Assuming no meltdown in the gold price from here on, there is every reason to think Tampia – originally discovered way back in 1987 by the long-gone BHP Gold – will become a producer late in the second half of next year as originally targeted.
And as is often the case after feasibility studies are released, upside can soon emerge to get the market thinking that the punishment it handed out for earlier disappointment was indeed overly harsh.
That is starting to happen in Explaurum, with the stock edging back up to 8.6c. The fight back in the stock came with this week's announcement that drilling at the Mace prospect to the west of the 675,000oz Tampia resource has confirmed the presence of an extensive supergene resource.
The near surface supergene mineralisation occurs in a 550m long and 50m wide zone and is found in the clay at the base of the creek system which drains the Tampia deposit area. The zone is 1-11m thick with an average uncut grade of 5.17 g/t gold and remains open to the east and the west.
Explaurum said the supergene gold mineralisation had exceeded initial expectations and could provide enough additional resources for the first year of production at Tampia.
"Any gold resource ounces defined at Mace are expected to be highly profitable due to the shallow depth of the mineralisation, high gold grades and high metallurgical recoveries," Explaurum said.
It added that it would have to be mined in the early years of the operation because the area is where the waste dumps for the initial 5.3-year mine life are planned to go.
Argonaut, which has a 21c price target on the stock, reckons the measurements of the zone released by Explaurum could be good for 60,000oz of gold. "The important point here is that the Tampia Pit economics may change materially with the inclusion of this new material which sits adjacent to the existing pit design," Argonaut said. Hartleys has a 15c price target on the stock.
As sweet as the supergene might prove to be, the real game changer for Explaurum will be to find another Tampia in the region.
It's why a drilling program at the (gravity and soil anomaly) A8 target following completion of the Mace program will be watched keenly. Size-wise, the anomaly is four times that of the Tampia foot print.
---

Follow Barry FitzGerald's wires
---
---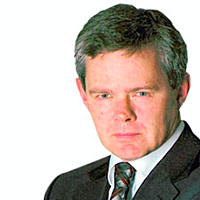 Principal
Independent Journalist
One of Australia's leading business journalists, Barry FitzGerald, highlights the issues, opportunities and challenges for small and mid-cap resources stocks, and most recently penned his column for The Australian newspaper.
Expertise