Show us the growth, investors tell gold miners
---
Gold stocks are under pressure as rising US rates take their toll on the metal's price. For many, things may get worse as shrinking inventories conflict with investor demands for growth. But Northern Star and Dacian are bucking the trend. Plus, more evidence Rio has a big WA copper find.
The gold producers were not quite the rock stars this week as they have been in previous years at the Diggers & Dealers bash in Kalgoorlie.
Some of them were beaten up share price-wise before they even got inside the big tent at the conference. And when they did not have a compelling growth story to tell as an offset to gold price weakness, it got ugly in some cases.
In previous years, the gold producers would stroll in without a care in the world. The Aussie dollar gold price remained at historical highs, cost deflation was doing its work and all investors wanted was steady-state production with no surprises.
A focus on the quality of the ounces and not the volume became the mantra.
It was a response to investor demands for capital restraint in the post mining boom world, and their preference for companies to avoid the risky merger and acquisitions space. It worked a treat too, with the ASX-listed gold stocks strong performers in the past couple of years.
But as the 15 per cent share price hits for some of the leading gold producers in the past month has shown, the game has changed. Forecast cost increases and flat-to-lower production was the common factor in the share price setbacks.
But a bigger thematic was at play- investors now want growth. The quality of the ounces remains a key concern. It's just that investors want to see more of them.
It has all come in to a sharper focus in the last month because of gold's price retreat to the low $US1200/oz levels, which is why some of the big names without clear growth strategies have seen their premium ratings being pulled back in a hurry.
It's their punishment for being caught flat-footed to the new mantra of quality ounces and more growth.
They have been harvesting cash, but much of it has gone into balance sheet repair rather than growth. Embedded future growth options are thin on the ground.
It is why there seems to be a bit of a panic setting in, judging by some of the nonsense that came out at Diggers & Dealers on the growth catch-up method of merger and acquisition activity in the North American market proposed by some.
There is no better way to scare off investors than to start talking about M&A and how you are going to pull it off this time around without the same value destruction of past escapades. As in any deep market, there are exceptions to the rule that growth is not apparent.
Northern Star's recent share price strength, while all others have wilted, shows its strategy of adding resources with the drill bit to grow production to a new and sustainably higher level, and then doing it all over again, is what the investors want. It's hard work, but it's not rocket science.
DACIAN GOLD
Dacian executive chairman Rohan Williams is going down the same path at Dacian's shiny new $200m gold operation at its Mt Morgans project near Laverton in Western Australia.
During the first visit by analysts and investors this week since first production four months ago, Williams made it known loud and clear that growth through exploration and development, and doing it all again to establish a sustainable higher rate of quality ounces, is what the punters want, and that's what they're going to get from Dacian.
Mt Morgans has not been declared commercial yet. That will come in the December quarter when the market will get its first look at costs. Williams nevertheless gave a clue on site that things were going well.
"With the unit rates invoiced to us so far, and if we were mining at feasibility tonnes and grades, our costs would be under $A1000/oz,'' he said.
That's good news for an operation on its way to 2019FY production of 180,000-210,000 oz.
But even before Mt Morgans has hit its straps, the market will have to start factoring in a 10% production lift thanks to the recent discovery of the Cameron Well oxide deposit which lies between the Westralia underground mine and the Jupiter pit at Mt Morgans.
Cameron Well's initial resource estimate was 245,000oz. It is only the start of the story as there is reason to get excited about the potential for primary gold lodes at depth. More to the point here though is that Dacian discovered Cameron Well during peak construction/development of the mainstay project, based as it was on Westralia and Jupiter.
It reflected the company's commitment to the securing the resource base for the next round of growth by making exploration a priority, even if its project life is already good for 10 years, if not more.
It's why Dacian, with its shareholder base cheering on, recently raised $48m in equity.
The raising underpins the plan to double mine and regional exploration from last year's $15m to $30m in 2019. Dacian could have waited until Mt Morgans was at full cashflow-generating capacity before hitting the pedal on exploration.
But Williams sees the benefit in doing it now, as do the shareholders, which over subscribed to the fund raising.
Now there would be no point if Dacian didn't think exploration effort was going to pay dividends. On that score, Williams did a bit of pondering: "It's a 200,000oz a field, but is it a 300,000oz field? Who knows? We've just got to work that out."
Rio Tinto
The big let-down at Diggers & Dealers was Rio Tinto's continued hush-hush stance on its copper (and gold?) discovery among the sand dunes of Western Australia's remote Paterson province.
A bunch of juniors active in the Paterson – including Antipa, Sipa, Encounter, Red Metals, Alloy and the London-listed Greatland Gold - have been hanging out for Rio to go public with the discovery, even if it is early days.
The discovery is the one that tech-savvy industry types have resorted to tracking by satellite after Rio went on one of the biggest land grabs in Aussie exploration history, increasing its Paterson footprint from 2,300sqkm in December last year to more than 10,000sqkm since.
Located about 120km north-north-west of Newcrest Mining's once Tier 1 gold-copper operation, the Rio discovery has also seen Fortescue go from no presence in December last year to 4,500sqkm in the northern reaches of the Paterson.
Whether Fortescue also heard the initial speculation that Rio had hit 140m intersections of visible mineralisation in two holes some 200m apart, we don't know. We do know that Fortescue is working hard at using copper/gold mineral exploration in lots of locations as a diversification tool from its reliance on its discounted iron ore.
Latest satellite imagery shows that Rio has now drilled up to 28 holes on a 1km square grid at the discovery, with some closer-spaced drilled holes suggesting a higher-grade zone may be present. Can't say any more than that because Rio is keeping mum.
It seems to amuse Rio CEO Jean-Sebastien Jacques too.
"We have some very interesting targets, but we never say too much about exploration," JS told Bloomberg's David Stringer recently.
"I don't want my peers to know what I'm doing, though they are looking very carefully,
and using even satellite images to try to see what we're doing."
Fair enough, but the last laugh was on JS at the conference. The tale being told around Kalgoorlie's watering holes was that the geology team behind the discovery had to pool their personal credit cards to pay the applications fees in the land grab that followed the discovery holes.
Rio's bureaucracy was just too slow in organising the payments. Speed was of the essence. Once word of the discovery got out, others would swoop on the vacant ground now prospective for another discovery. Thanks to its workers' credit cards, Rio got there in the end.
---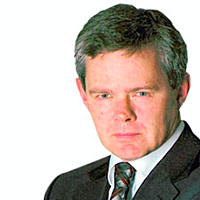 Principal
Independent Journalist
One of Australia's leading business journalists, Barry FitzGerald, highlights the issues, opportunities and challenges for small and mid-cap resources stocks, and most recently penned his column for The Australian newspaper.
Expertise