Sometimes You Just Need a Page
---
Imagine a company that's grown its revenue at 36% p.a. over the last 22 years simply selling underwear. What if I told you that the company has averaged a valuation of 46x since its listing back in March 2007, would you still invest in the stock? The company we are referring to is a A$5bn listed Indian consumer goods company called Page Industries and for those investors who believe in India's growth potential, they have made 56% p.a. or 80x their money over the last 10 years.
The point we are trying to make here is that using developed market valuation principles to value companies in emerging markets like India can miss the point of growth investing. It is important to compare apples with apples. Growth stocks exposed to positive structural thematics can't be compared with a rule of thumb 15-20x multiple applied to a developed market company. One needs to also incorporate the growth prospects where rapid volume growth is occurring through rising incomes. Thus, a company like Page industries selling underwear can always remain "expensive". We discuss why this can occur below.
Page Industries
Page Industries was established in India in 1995 as the exclusive licensee of JOCKEY International Inc. (USA) for manufacture, distribution and marketing of the JOCKEY brand in India. The company pioneered the premium innerwear segment in India by producing high quality products coupled with an organised and extensive network of distributors across India. To put this into context, the brand is distributed in over 1400 cities and towns from over 50,000 outlets spread across India. Distribution occurs through Exclusive Brand Outlets, Large Format Stores, Multi Brand Outlets, Traditional hosiery stores and Multi-purpose stores.
Opportunity
Page industries has managed to grow its top line revenue exponentially through the untapped innerwear market. In fact, they have created a paradigm shift in the way Indian consumers perceive innerwear from not just a basic necessity, but also shifting their preference from pure price sensitivity to brand consciousness.
Despite the already strong growth, the opportunity remains immense as the consumption spend on innerwear products is significantly lower than developed markets and even other Asian peers. This trend is visible with gaps of over 90% against countries like Thailand and China. Hence there remains significant prospects for growth driven by rising per capita, growing number of mid-high income households and rising urbanisation. India is coming from a very low base of sub US$2000 GDP per capita and this is expected to triple over the next decade.
Source: CLSA, Euro Monitor
Often companies that dominate certain market segments are at risk of disruption, as others are drawn to capture part of the lucrative profit pool. However, Page Industries has not been complacent with their success to date and have been venturing into new areas as described below.
Given India's demographics, there is an increasing population of fashion conscious and technologically savvy youths. This has resulted in significant changes is advancing online retail or e-tail of fashion products across the country. The current online retail only accounts to about 1.2% of the total retail market and is expected to grow from this low base. To take advantage of this, the company has started its own online store and has tied up with various leading online retailers.
Early Adopters & Exclusive Licensee for Global products
Page Industries is also the exclusive licensee for Speedo's. They aim to be the number one swimwear brand in the country in terms of both market share and profitability.  Although the swimwear market in the country is still at its nascent stage, it is nevertheless showing great potential. In fact, our team in Mumbai say that most parents and schools now recognise swimming as an important life skill and want their kids to learn swimming.
Page launched the Kidswear (boy's segment) in June 2017 and plans to launch girl's wear by Jan 2018. They have also seen very good penetration of Active Bra range for Women and a Sports Performance range for Men. We foresee sport and leisure in India to grow exponentially over the new decade.
India's Ecosystem: Ripe for Organic Growth
Page is just one example of a company experiencing high organic growth in India.  Given the 6000 listed stocks and favourable economic backdrop, there are several companies that are positioned to monetise the opportunity of new and rapidly growing segments. Whilst these stocks trade on high multiples (over 40x in some cases) applying relative value principles by comparing these companies to developed market multiples (as well as excluding growth) results in missed wealth creation opportunities from long term structural changes.
---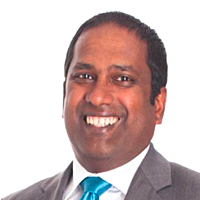 Managing Director
India Avenue
Mugunthan Siva is Managing Director of India Avenue, an Australian based boutique asset management company with offices in Sydney and Mumbai. He has over 25 years experience in Australia and is lead portfolio manager for the India Avenue Equity Fund.
Expertise