A market anomaly in a high yielding stock
---
Spark Infrastructure (SKI) is a regulated utility company with a market capitalisation of $3.8 billion.  Its current portfolio comprises interests in the following regulated assets:
CitiPower and Powercor in Victoria (49% ownership)
SA Power Networks in South Australia (49% ownership)
New South Wales electricity transmission business TransGrid (15% ownership)
To highlight the essential nature of the type of assets SKI owns: SA Power Networks operates the South Australian electricity distribution network covering 178,200 square kilometres.
It builds and maintains the poles, wires and substations that deliver power to more than half the population of South Australia, around 865,000 customers. 
The network consists of 89,161 km of lines, 745,000 poles, 75,700 distribution transformers and 422 zone substations.
SKI's asset base is an essential service to the economy, with extremely low-income volatility, and operated highly efficiently.
The market anomaly and opportunity

SKI announced to the market that they would likely become a tax paying entity.  Whilst they had eluded to this likelihood over the past 12 months, the announcement caused a severe market reaction.  SKI announced that future payments of tax would see their annual distributions fall from 16 cents to 15 cents.   The share price immediately fell 10%. 
What the market has completely ignored is that if SKI becomes a tax payer its distributions become partially franked.  This means the economic outcome for unitholders are almost unchanged.
To illustrate:  The 2019 the headline yield has dropped from 16 cents to 15 cents per share.  But if we include the value of franking credits, the grossed-up yield is 16.4 cents per share.  Clearly not a cut in economics for unitholders.
For 2020 the distribution is also 15 cents but grossed up is 17.8 cents.  This means there is an increase in the grossed-up dividend of 8%.  So, there is an increase in distributions when you take tax into consideration.
This means that SKI is generating a yield of 7.3% for 2019, and 7.9% for 2020.  We think this is a highly attractive income stream from a low risk regulated asset base.  With long term Australian interest rates hovering at the 2% level and in a market where income securities are expensive, SKI's distribution yield is highly attractive.  Once the market starts to account for the value of the franking credits, we expect at least a 5-7% recovery in the share price in the short term.
---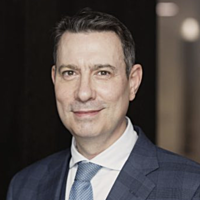 Managing Director
Conrad Capital Group
Tim has 25 years' experience in the investment and securities markets. Tim was a partner of Goldman Sachs and during his 16-year tenure at the firm had senior experience across all areas of equities investing.
Expertise