Spin-off starlets Ardea and Todd River unlocking hidden value
---
Unlocking the value of hidden assets by spinning them off into a separate and focused ASX listing is proving fertile ground for the junior mining sector. More often than not it has been structural shifts in supply/demand scenarios, and the resultant impact on the pricing of commodities, that has given rise to the spin-off opportunity.
What were previously considered secondary assets to the main focus of a junior all of a sudden get a shot at the limelight. Done properly in terms of properties, pricing, and management, the spin-offs can take on a life of their own and heaven forbid, the day could well come when they outshine the parent.
There are a couple of recent spin-off examples that reflect all that – Heron's (ASX:HRR) cobalt/nickel play Ardea (ARL) and TNG's (TNG) base metals play Todd River (TRT).
Ardea joined the lists in February, and its 20c shares now trade at 59c, such is the global interest in securing developed supplies of cobalt for lithium-ion batteries in preference to the near 60 percent reliance on cobalt supplies from one of the scariest places on earth, the Democratic Republic of Congo.
Ardea's flagship project is what Heron used to call the Kalgoorlie Nickel Project or KNP.
Cobalt's meteoric price rise means that if it were being named today, it would be the KCP.
Within the global resource (5.6 million tonnes of nickel and 386,000 tonnes of cobalt), put together after the expenditure of $50 million by Vale/Inco and Heron during the heydey of nickel laterite projects, there is a high-grade cobalt zone of 60,000 tonnes of contained cobalt that has got the market excited.
That is particularly so as the known cobalt (and nickel) resource makes for legitimate direct comparisons with Robert Friedland's Clean TeQ (ASX:CLQ) Syerston project in NSW.
Clean TeQ is about 16 months more advanced than Ardea in terms of development planning and financing. Clean TeQ's $510m market capitalisation says as much. Needless to say, the $38m Ardea (at 59c a share) is planning to close the gap.
Like Ardea, Todd River started listed life with the benefit of the hard yards its parent TNG put into building up and then advancing a portfolio of zinc and copper assets in the Northern Territory in earlier years.
Its 20c shares debuted yesterday and closed at 23c, reflecting the release of some of the overlooked value of the base metals portfolio for as long as it remained in the shadows of TNG's planning for an $850m development of its Mount Peake vanadium-titanium-iron project in the NT.
Now Todd River – owned 10 percent by TNG – is the voice for the base metals portfolio. And like the cobalt boom has done for Ardea, it has been zinc's surge to decade highs that has got interest up in Todd River.  
Back in the day, the Manbarrum zinc deposit - its lowish grade but one of the biggest undeveloped deposits of the galvanising material in Australia – was TNG's main go. Now it's over to Todd River to get cracking on a bankable feasibility study into its development in light of zinc's strong price and demand outlook.
Drilling programs at the high-grade Mount Hardy, Walabanba and McArthur River projects will also provide news flow on top of Manbarrum's advancement. Given the tight issued capital (65m shares for a market cap of $14.3m) it won't take much for the young Todd River to do its parent proud.
A commissioned report by Independent Investment Research had a stab at estimating a price target for the stock. It arrived at a short-term price range of 31c to 42c a share. It was based on the average enterprise value of the group's peers and was supported by a Kilburn valuation in the prospectus.
Little if any of that upside was being captured while the base metals assets were held by the Mount Peake-focussed TNG.
Heron's march to Woodlawn production
Having shone the light on the hidden value in the Kalgoorlie cobalt/nickel project with the spin-off of Ardea, it could be Heron's turn for the spotlight following some critical box ticking at its Woodlawn zinc-copper-lead project near Goulburn in NSW.
The receipt of an environmental licence from the NSW government and a site co-operation agreement with the rubbish dump operations of Veolia in the old Woodlawn open-cut means the task of financing the $160 million-or-so underground mine development and tailings retreatment operation can finally be pinned down.
Despite zinc marching to 10-year highs, Heron's share price has been sluggish pending completion of the financing package. Assuming concentrate offtake agreements are secured before long, there is an expectation that the likely debt and equity financing package could be wrapped up by mid-year.
Warren Edney at Baillieu Holst has run the numbers on Heron on that basis and reckons a 29c price target on the stock is warranted (on a fully diluted basis for an equity issue of $64m at 10c a share in support of the financing package.
His target price is kind of interesting given Heron has been trading at 9.9c.
Syrah's $1.3b poser
There is a strange stand-off in the market for graphite leader Syrah (ASX:SYR). Its current $2.65 a share market price is at odds with the much higher share price targets placed on the stock by a number of analysts - $5 at CanaccordGenuity, $6 at Deutsche, and an enthusiastic $7.80 a share at Credit Suisse.
The outlier is Morgan Stanley with its $2.75 price target, roughly where Syrah is sitting now. The big question from here is who has got it right? The difference between Morgan Stanley on the low side of things, and Credit Suisse on the high side is a not inconsequential $1.33 billion, would you believe.
It was this space that tipped back in February that Syrah was about to sign a co-operation agreement with a Chinese producer of battery anode material (BAM) for lithium-ion batteries.
That was duly confirmed in late March, although it has to be said the agreement with China's BTR New Energy was of the non-binding, memorandum of understanding type.
The MOU covered "sales and supply chain co-operation". Clearly, the shorts in Syrah will continue to hold sway in Syrah until the MOU becomes something concrete around an offtake agreement with Syrah's Balama mine in Mozambique, and co-operation on its own BAM ambitions.
But given that $1.33bn valuation gap mentioned earlier, they had better be careful. BTR is the world's biggest manufacturer of BAM for lithium-ion batteries. That the world's biggest and best graphite deposit (Balama) and the world's biggest BAM producer (BTR) would want to get into bed together is a no-brainer.
It can be said that Syrah's MOU announcement would have come after extensive testwork of Balama material by BTR. And given BTR's parentage, it would have had to run the gauntlet of approvals in China. So converting the MOU into a binding agreement of impact might not be the leap of faith Syrah's current share price suggests.
Back to that wide valuation difference for Syrah. Is it enough for Syrah to be considered vulnerable to a takeover by any number of groups looking to hitch themselves to the global energy storage and electric vehicles revolution? Maybe it is.
There has certainly been chatter about Rio Tinto taking a look on the basis that it could make sense to match up its monster Jadar lithium deposit in Serbia to the monster Balama graphite deposit.
But that is all it is, chatter, helped as it has been by recent comments by Rio, reported by Matt Chambers at The Australian newspaper, that its (new) Ventures business unit had a brief to look for projects consistent with trends towards renewable energy (batteries, electric cars and urbanisation trends), and not bulk commodities like iron ore.
---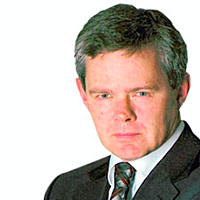 Principal
Independent Journalist
One of Australia's leading business journalists, Barry FitzGerald, highlights the issues, opportunities and challenges for small and mid-cap resources stocks, and most recently penned his column for The Australian newspaper.
Expertise