Stavely's stunner fires up investor interest in nearby Navarre
---
Plus, Canterbury holds its breath ahead of Queensland copper assays and Strandline's big WA mineral sands project on track to secure funding from the Government's Northern Australia Infrastructure Facility.
Demand for stock in Stavely Minerals' (SVY) $19.6 million placement at a $1 a share in the wake of its high-grade copper hits at the Thursday's Gossan project in Western Victoria was a staggering $100 million.
Hits like 32m at 5.9% copper and individual assays of up to 40% copper have obviously fired up interest in the discovery, with Stavely only stopping at $19.6m because that was the threshold for proceeding without the need for shareholder approval.
The stock gets allotted today and it will be interesting to see how it holds up given the temptation for the less committed of the placement recipients to take a stag profit. There was some of that evident on Thursday with Stavely's fall to $1.18.
But given there was as much as $80m of unrequited demand for the placement stock, it is assumed it will quickly stabilise.
What is more certain is that the Thursday's Gossan hits have done a world of good for Navarre Minerals (NML), a hardy Victorian gold explorer and the only other ASX-listed group which a meaningful exposure to the excitement generated by the lightly explored Stavely Arc volcanics.
Navarre was floated back in 2011 with Stavely Arc rocks part of the package. But all of its work in recent years has been focussed on finding another Stawell gold deposit (5Moz) in a 60km stretch of prospective rocks to the south of the recently re-opened mine and a search to north of Bendigo/Fosterville for repeats of those monsters.
It has been kicking some goals too, with the expectation that in the Stawell corridor at least, it could be in a position to announce a maiden resource in the second half of next year.
But as might be suspected, the excitement caused by Thursday's Gossan has prompted a renewed effort in the Stavely Arc, not to the detriment of the gold plays, but as an addition. So much so that it is now in the hunt for a project geologist to take up the running.
More to the point is that Navarre was able to suck up some of that unrequited demand for stock in the placement by Stavely. Earlier in the week it pulled in $4.75m from a placement of 43.2m shares at 11c a share.
It closed yesterday at 12.5c a share. It has never been in better financial shape for its twin focus of high-grade Victorian gold and the seemingly big-time potential of Stavely Arc copper.
Because it has been there from day one, Navarre is in a position to move quickly on targets on its 100% Stavely Arc ground while Stavely looks after future drill targets in a joint venture (Stavely earning an 80% interest) surrounding the Thursday's Gossan area.
Drilling at Navarre's Eclipse prospect at its Black Range project is expected to start in December, followed by drilling in January at the Glenlyle project , 25km north-east of Thursday's Gossan.
Cheering the company on are Kirkland Lake, owner of the fabulous Fosterville gold mine near Bendigo, and Victor Smorgon family interests. They have about 10% each.
Canterbury Resources
Talking about Eastern States porphyry-related copper exploration, the spotlight could well swing in coming weeks to south-east Queensland thanks to Canterbury Resources (CBY).
Canterbury raised $6.15m from an IPO at 30c a share back in March and came to the market with a specific brief to drill high-impact copper and gold-copper targets in Queensland and PNG, many of them with a Rio Tinto (Rio) background to them.
Shares in the thinly-traded $17m junior are now back at 22c. The fall from the IPO price is pretty standard stuff and masks early success in the hunt for a "big one" in PNG as well as in Queensland, where Canterbury has been punching some holes into the Briggs porphyry copper project, inland from the industrial town and port of Gladstone.
Briggs was picked up in Canterbury's private days in early 2017 from Rio Tinto, with the project area covering very large, but sparsely-explored copper porphyry systems. Sparse in the sense that historical drilling rarely went below 50m deep.
Three recently completed holes in the Central Porphyry Zone to depths beyond 300m have confirmed broad intervals of lowish-grade copper (197m at 0.22% copper from near surface in the first hole, and 370.5m at 0.27% copper from near surface in the second hole).
Assays are pending for the third hole, which was drilled to a depth of close to 400m. Importantly, Canterbury has said that "visual observations include a strongly mineralised zone of pyrite and chalcopyrite-bearing massive quartz".
Core from the zone has been for sent for priority assaying, which suggests the results will start coming in over coming weeks.
The hope with all that is that higher copper zones will emerge to sweeten the overall grade. Because of the near-surface start to the mineralisation – and the infrastructure support from Gladstone – it won't take much of a lift to make Briggs something of real interest.
As it is, the prospectus for the IPO contained a conceptual "exploration target" for Briggs of 45-165 million tonnes grading 0.4-0.8% copper to 300m (there are other nearby zones). (For comparison purposes, Newcrest this week said the life-of-mine copper grade for Cadia in NSW was 0.3% copper. It comes with 0.48g/t gold as well but it is deeply buried).
Based on results from the latest holes at Briggs – and assuming the indications of grade sweetening is confirmed by assays – Canterbury would been seem to be at the northern reaches of the exploration target.
The company has said it is now in a position to establish a "significant near-surface resource by year-end".
Things will get interesting then as the resource estimate will trigger a clause in the agreement with Rio Tinto under which it has the right to claw back a 60% joint venture interest by paying $15 million cash, plus sole-funding the next $50 million of exploration.
Will Brigg's make Rio Tinto's threshold? Maybe not, but what's the bet that there would be a conga line of mid-tier companies happy to take its place.
Strandline Resources (STA):
September last year brought fresh momentum to plans by Sheffield Resources (SFX) for a $392m development of its Thunderbird minerals sands project near Derby in Western Australia.
The fresh momentum came from the approval of a $95m concessional loan by the Federal Government's Northern Australia Infrastructure Facility (NAIF) for elements of the project.
The momentum difference triggered by the NAIF loan was reflected at the time in a share price spike for Sheffield. Its shares have drifted lower since while it works away at completing the financing package for Thunderbird, hopefully before the end of the year, notwithstanding current weakness in zircon prices.
But the point is made that the NAIF funding was a real plus.
Today's interest though is in another mineral sands developer, Strandline (STA). It has just advised that its $207-$257m Coburn project in WA's Mid-West (hey, its north of Sydney) has advanced to the "detailed due diligence phase of the NAIF assessment process".
Strandline noted that funding from NAIF would "significantly boost Coburn's ability to attract the remaining project funding on competitive terms".
It has not got NAIF funding and there is no guarantee it will. But the fact that it has reached the due diligence phase has to be seen as a positive.
The potential for NAIF funding to be part of the debt mix for a Coburn development is of course of great interest to potential product offtakers, construction and operations contractors, senior debt financers, and strategic equity partners.
The DFS of Coburn released earlier this year pointed to pre-tax NPV of $551m, an IRR of 32%, life of mine revenue of $3.9b, average annual EBITDA of $86 million) and a revenue-to-operating cost ratio of 2.2, based on price forecasts by the leading mineral sands consultancy, TZMI.
So it is a big project, notwithstanding Strandline's 11.5c share price for a market cap of $43m compared with Sheffield's $113m (Strandline also has advanced projects in Tanzania).
A Coburn development would also deliver jobs, jobs and jobs to the Mid-West which is kind of the hole in the doughnut between the Pilbara and Perth, hence the potential funding help of NAIF.
---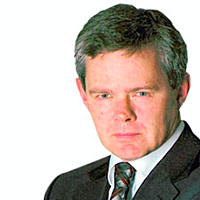 Principal
Independent Journalist
One of Australia's leading business journalists, Barry FitzGerald, highlights the issues, opportunities and challenges for small and mid-cap resources stocks, and most recently penned his column for The Australian newspaper.
Expertise