Stavely's Thursday's Gossan emerging as one for the days, weeks and years to come
---
Plus, Pilbara Minerals' chief Ken Brinsden explains why the lithium story is no flash in the pan, with many more big mines needed to satisfy looming demand wave.
Premier Daniel Andrews' "why would you want to go there'' jab in response to being left out of South Australia's travel bubble had a certain irony about it for active mineral explorers in his state of Victoria.
Stavely Minerals' (ASX: SVY) executive chairman Chris Cairns said this week that when the company listed on the ASX in 2014 in a $6.1 million float focused on the big-time copper potential of the Stavely volcanic belt in western Victoria, he was often asked: why Victoria?
"When we went to Victoria no-one wanted to be there. People said it was the worst state in Australia to explore,'' Cairns told a Resources Rising Stars webinar during the week.
It was a reference to the red and green tape hoops and an active anti-mining brigade and bureaucracy that had choked off the flow of exploration dollars into the state despite its rich gold mining history having made it a place you want would to visit in the first place.
The red and green tape is still a hindrance, but the flow of dollars into Victoria's ailing regional communities in response to Stavely's success at its Thursday's Gossan copper/gold prospect, and Kirkland Lake's Fosterville gold bonanza, has made for a more welcoming environment at the local level.
Cairns told a story about some visiting state and federal government-types being introduced to a local farmer on whose land some drilling was underway.
The pollies asked the farmer what he thought about "those boys being there.''
The farmer remarked that the local primary school had had to shut down because of low numbers, with the kids now having to take the bus to the school at Dunkeld. He added that local footy club didn't have the numbers to field teams and has had to amalgamate with Lake Bolac.
"There're no kids on the oval kicking the footy…we really need something in the area to diversify the economy (mainly broad acre farming and tourism to the nearby Grampians) to keep families in the country through well paid jobs.''
From that, it can be taken as read that Stavely feels welcome in Victoria.
Copper province in the making:
It is just as well Stavely feels welcome in the state because latest drill results at its Thursday's Gossan prospect have stepped up expectations that the company is on a pathway to unlocking a new and potentially world-class copper-gold province in western Victoria.
Theoretically at least, more results like those generated between last September's Cayley Lode discovery hole, and the "monster'' hit reported this week in follow-up work (87m at 1.74% copper and 0.57g/t gold from 140m), point to Stavely having a mine on its hands within five years.
It's why Stavely is a now a $132m company (61c).
Last September's "discovery'' hole was actually the 50th hole. Up until then, the hunt was for a deep buried porphyry copper-gold system.
While there was encouragement on that front, it was the suggestion from a consultant to follow up the near-to-surface high grade hits that has paid dividends.
The 50th hole delivered a 32m hit grading 5.88% copper and 1g/t gold from 62m and led to Stavely pursuing a Magma-type model, a reference to the Arizona orebody mined for 86 years in is upper reaches and now owned by a Rio Tinto and BHP joint venture.
Mineralisation at Magma is high-grade, structurally-controlled lode-style copper-gold. It is vertically and laterally extensive across multiple structures, with the source of the metal being the deeply buried (1.5km) porphyry intrusion which Rio and BHP are planning to develop.
They have spent seven years in permitting and have spent $US2 billion on the project to date, with the porphyry development said to eventually be capable of supplying 25% of US copper demand. It is a style of deposit not seen before in Australia.
Cairns told the RRS webinar that Stavely will have a stab at finding a deeply buried Magma-style porphyry with a couple of holes towards the end of the year. But the focus of drilling is currently the top 200m of the Cayley Lode, one of three known mineralised structures in the vicinity.
The idea there is to come up with an initial resource estimate in an open-cut position.
Cairns said that said drilling was now up to the 95th hole and that the mineralisation has been "surprisingly consistent.''
"It's a very coherent body of mineralisation.'' From that it can be assumed that more drill results are in the pipeline.
"It's a big system. We are drilling the shallow bit (on one of the three structures) and there is a lot to go,'' Cairns said.
Pilbara Minerals (ASX: PLS):
There has been lots of noise around the prospect for a recovery in the lithium sector in response to the turbo-charged efforts in Europe to get its citizens to update their ICE-powered cars to electric vehicles.
Pilbara Minerals boss Ken Brinsden reckons the inducement through subsidies now accounts for 30-40% of the cost an EV, and he noted that UBS and others reckon the stimulus will push Europe's uptake of EVs past that of China.
But what does it all mean for lithium demand, in particular the (6% lithium) spodumene concentrates like Pilbara produces at its currently choked back Pilgangoora operation?
Brinsden said that with spodumene now acknowledged as the preferred precursor in the production of lithium hydroxide for the energy dense batteries needed to increase mileage, there is going to be a lot more needed.
To meet the demand in the next 10 years, another 25 Pilgangooras (at its first stage full capacity) will be needed, increasing to 75 Pilgangooras in the next 25 years.
"Now I can tell you that there is no way – today at least – that 25 mines of that scale are going to be developed in a short enough period of time to satisfy the wave of demand that is coming, and the situation gets more and more acute over time,'' Brinsden said.
"We will benefit from those market dynamics, in fact you could arguably see some of that already happening.''
Brinsden's example on that score was the recent share price performance of China's Ganfeng, a key hydroxide player in global markets.
"Its share price has had a really big run in the last couple of weeks (about 8% in the period, and up 45% since global markets got smashed on March 23). It's happening because of the (increased) sourcing (of battery materials) that is starting to emerge in global markets.''
A space to watch.
Get investment ideas from industry insiders
Liked this wire? Hit the follow button below to get notified every time I post a wire. Not a Livewire Member? Sign up for free today to get inside access to investment ideas and strategies from Australia's leading investors.
---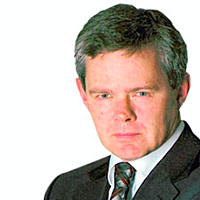 Principal
Independent Journalist
One of Australia's leading business journalists, Barry FitzGerald, highlights the issues, opportunities and challenges for small and mid-cap resources stocks, and most recently penned his column for The Australian newspaper.
Expertise