Stay liquid. Stay invested. Stay safe.
---
Everything about this crisis is unprecedented. The nature of the exogenous shock that has precipitated it. The global response to the health crisis itself and the resulting economic crisis. The volatility of markets, the speed of the bear market and now seemingly the bull market recovery. Even the most seasoned investors have never seen anything like this before.

So how do we invest in this environment?
First, the good news. We appear to be getting the health crisis under control. Lockdowns and social distancing are working. Test, track and trace will help us to maintain pressure on the virus and likely enable the government to free up some part of the social restrictions.
Accelerated development of a vaccine appears likely to yield positive results possibly as soon as 12 months from now. Massive monetary and fiscal measures in response to the crisis will go some way to mitigating the now inevitable global recession.
The bad news, though, is no one knows how the recession will play out. Can we achieve the V-shaped nirvana, the bounce back to normality that governments around the world are desperately hoping for? Or will a second wave of virus outbreaks drive an extended period of lockdown? 
Notwithstanding potential success against the virus, will the economic devastation be larger than policy can cope with? Do we face the U-shape, the weak W-shape or, heaven forbid, the dreaded L-shape? Given the speed and severity of this crisis, these uncertainties are challenging for the smartest of economists and investors.
Who will be the winners and the losers?
What can we say with some certainty? Well, as in any crisis there will be winners and losers. Working from home has accelerated a number of technology trends directly benefiting telcos, data centres, e-commerce, delivery businesses, etc. Essential services like healthcare, utilities and food supply are vital and potentially have improved pricing power and asset utilisation. Obvious losers include anything travel-related and consumer discretionary.
But what of the second and third-order effects? Bad debts and a weakening housing market will negatively impact the banks. The long-term shift to working from home will likely cause a permanent reduction in demand for business travel and office space. Oil demand may also be permanently impacted (have we seen peak oil?).
Regulatory responses are inevitable. Will we see greater requirements for liquidity throughout the system? Global supply chains will be questioned, with a focus on national self-reliance likely. Socialisation of the economy will take time to unwind, and we could potentially see universal basic income introduced, especially as virus-immune robots increasingly manufacture and deliver essential services.
Investing through the volatility
For stockmarket investors, the cataclysmic changes, stomach-churning volatility and unprecedented uncertainty make plotting a course through these troubled times exceptionally challenging.
But with zero interest rates and the financial system awash with liquidity we will almost certainly over time see inflation in hard assets — gold, commodity prices, property and equities. The imperative remains to stay invested, albeit selectively.
The risk of a renewed bear market and retesting the lows is very real — caution is required. Balance sheets of governments, corporates and households globally will be severely damaged.
However, chaos creates opportunities, as long as you survive to participate. My suggestion is to focus on strong balance sheets, both at a personal level and as an investor.
Listed companies have the huge advantage that they can access capital in a way private companies cannot, so they may emerge stronger from this crisis, with improved competitive positions.
"This too shall pass."
And I believe we will look back on this period as one of the greatest buying opportunities in our lifetimes. 
Stay liquid. Stay invested. Stay safe. 
---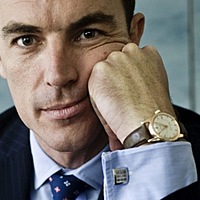 Global Co-Head of Listed Equities
IFM Investors
Neil is IFM Investors' Global Co-Head of Listed Equities, responsible for managing all aspects of the firm's active equities investment, advisory and management functions.
Expertise