Strandline re-rating rapidly as mineral sands prices turn white hot
---
And with a resource update pending at Genesis, is Raleigh Finlayson set to emerge as the King of Leonora?
Things are booming in the mineral sands space.
Russia's invasion of Ukraine has added to long-term supply concerns as, along with a lot of other hard and soft commodities, plucky Ukraine is a significant mineral sands producer.
But the reality is that mineral sands prices began to take off last year on long-term supply concerns alone. War in the Ukraine has only added fuel to the fire.
Talk of the boom should come as no surprise as the share price of Iluka, the local king of the mineral sands space, has soared 60% in the past 12-months, carrying it to a $4.6 billion market cap.
And just this week, the London-listed Kenmare (LN:KMR) reported its mainly-ilmenite (a low grade titanium dioxide for paints, plastics, and titanium metal) revenues from its Momo mine in northern Mozambique soared 87% in 2021, driving its earnings 182% higher to $US216 million.
And for good measure, PYX Resources, the London and Australian National Stock Exchange (NSX:PYX) producer from Central Kalimantan, reported last week that it had increased its price for zircon (ceramics, zirconium chemicals, casting and foundry applications) by 34% from an already-elevated $US2,305/t to $US3,100/t.
Current prices for mineral sands are now well ahead of the long-term pricing forecasts by TZMI, the consultant the industry turns to for outlook pricing. But its forecasts for the next four years (based on a market study report in November) are nevertheless up in a big way on 2020/21 prices.
And that was before Ukraine. So it can be said that good times for the mineral sands sector are set to roll well into the foreseeable future. Up until recently, the upside from all that was mainly being priced into the majors like Iluka.
But now investor interest is moving into the explorer/developer space in the search for leveraged exposure to the mineral sands thematic.
Strandline (STA):
Strandline is closing in on first production at its Coburn project near Geraldton in WA and it recently hosted an analysts' tour of the project, as you would when a development is going as well as Coburn seems to be.
They came away impressed. Euroz initiated coverage of the stock with a 74c price target. Another visitor from Morgans came away with a 62c price target, while longer-term follower, Shaw and Partners, has just increased its price target to 80c.
On Thursday, the stock closed at 44.5c, up 5c or 12.6% on the day. So the re-rate for the advanced zircon-heavy developer in response to the boom conditions in the mineral sands space is finally underway.
Coburn is a large-scale and long-lived project, with exploration upside to take it to a 40-year operation. Two points of interest arise from that – is it a takeover candidate for one of the big incumbent producers like Iluka, and does the company start thinking about a bigger operation funded from early cashflows?
Shaw noted that apart from the progress at Coburn and higher mineral sands price assumptions, its higher price target also took into account the new momentum for Strandline's mineral sands ambitions in Tanzania, initially with the small $US35 million Fungoni "starter'' project.
SOVEREIGN METALS (ASX:SVM):
The company has put the market on notice that the world-class credentials of its Kasiya rutile deposit (a high-grade titanium dioxide) in Malawi will be "significantly" increased in a resource update in the next couple of weeks.
The stock has edged up from 40c at the start of the month to 52c this week ahead of the pending upgrade of what is already a monster deposit .
Sovereign is playing a smart strategy of presenting the project's natural high-grade rutile to the ESG-focussed European market as a low-carbon alternative for the pigment industry compared with the energy intensive alternative of upgraded ilmenite.
Paint produced from Sovereign's natural rutile is estimated to have up to 35% lower carbon footprint than that produced from ilmenite-upgraded alternatives. It's just what the Europeans want to hear, as we all should.
SHEFFIELD (ASX:SFX):
The company has got its skates back on after losing its way there for a while at its 50:50 Thunderbird joint venture with China's Yansteel near Derby in WA.
What was a 36c stock at the start of the year is now trading at 47.5c, with this week's release of a tweaked bankable feasibility study in to a $484m Thunderbird development helping the cause.
The BFS into the zircon-dominant project arrived at an improved net present value of a stage one and two development of $1.28 billion (Sheffield's share is $640m). The scale of the figures go to the large scale potential of the project at a time when the market is screaming out for new supply.
Targeted financial close on the project – helped by the presence of Yansteel – is targeted for late in the second quarter of 2022, with first production possible in the first quarter of 2024.
GENESIS MINERALS (ASX:GMD):
Growth stories in the junior gold space have been a bit thin on the ground of late. But there are plenty to come before 2022 is all said and done, as might be expected in a $US1,940/oz ($A2,592) market.
Leonora gold explorer Genesis Minerals (ASX:GMD) will be one of the first to arrive, next week in fact, given it has said previously that it would be updating its 1.6 million ounce gold resource at its Ulysses gold project in late March.
And here we are, in late March. Based on drill results reported by the company since the last resource estimate, a new estimate with a "2" in front of it will not surprise.
Reaching that milestone gives Genesis some real grunt in the Leonora region.
Apart from enhancing its stand-alone development credentials, particularly as the resource continues to grow, the new resource estimate will give the company a seat at the table in the over-due rationalisation of the Leonora region.
St Barbara (ASX:SBM) should have led the rationalisation years ago but didn't, instead heading off to Canada to pay way over the odds for a gold operation that is struggling with permitting delays for life-extending developments. It's why its market cap has been smashed.
Genesis could well take up the challenge, now that its managing director since early February, Raleigh Finlayson, is back in town.
Finlayson was previously MD of Saracen, which merged with Northern Star early in 2021, and was briefly MD of the latter before jumping into the fun part of the gold industry - growing a junior into something much bigger - by joining Genesis.
Notably, the Saracen-Northern Star marriage was a nil-premium deal, the idea there being that consolidation and rationalisation benefits can deliver much greater rewards than going solo with an ego can do. The big gold investors certainly think that is the case, and they are the ones that matter.
Finlayson led last September's $20.8m strategic funding package for Genesis and acted as a part-time consultant before formally taking control of the command module in February. He has been low-key since.
But a resource upgrade in coming days would give him a chance to make a bit of splash. He is also down to appear at a Resources Rising Stars lunch (and online) next Thursday in Perth, sharing the stage with Ken Brinsden from the lithium darling Pilbara Minerals (ASX:PLS).
Will Finlayson talk about any ambitions he might have to become the King of Leonora? We will have to wait and see.
(As an aside, the future of former Fortescue boss Nev Power on the Genesis board as a non-executive will likely be known by then. Power was this week handed an eight-month suspended prison sentence for busting WA's COVID-19 iron curtain border in his helicopter in October last year).
And finally, it's worth noting that within 50km of Leonora you will find mines, mine developments, and advanced exploration projects owned by St Barbara, Saturn and AngloGold. And well within 100km, you will find those owned by Red 5, Kin Mining, Dacian and Goldfields.
---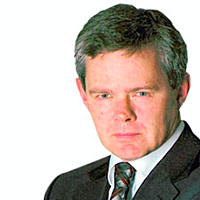 Principal
Independent Journalist
One of Australia's leading business journalists, Barry FitzGerald, highlights the issues, opportunities and challenges for small and mid-cap resources stocks, and most recently penned his column for The Australian newspaper.
Expertise