Strong A$ gold price fuels talk of M&A among mid-tiers
---
With bumper margins and bloated kitties, Australia's mid-tier gold miners are primed for M&A. But this time, it's expected to be more bolt-on than mega-merger. Smaller companies with growing inventories are seen as potential targets. And talking of targets, Argonaut Resources is about to drill several in the Gawler Craton.
It's almost time to take in some of Kalgoorlie's big blue sky at the annual Diggers & Dealers bash.
Given the astonishing cash-build inside the gold producers, one of the key themes expected to emerge inside the big tent and various watering holes at D&D is a step up in merger & acquisition activity among the mid-tier gold producers.
The feeling is that the dam wall is going to burst before long.
There is well north of $1 billion cash ex-Newcrest held by the mid-tiers and the pressure is building for them to get cracking and seize some ready-made growth through M&A.
Will the US-dollar gold price weakness drive the mid-tiers back into their burrows or will they push that aside, knowing that their Australian-dollar receipts are actually up by more than 6% on 12 months ago because of exchange rate weakness?
The latter is expected to prevail as the mid-tiers continue to enjoy $A600/oz margins, something which has underpinned elevated valuations despite $US gold weakness.
So both surplus cash and scrip are available to them as M&A currency, with the only thing that could hold them back being a fear that they will stuff up like many did in previous M&A waves.
That's why the M&A focus this time will be morsel based. What bolt-on acquisitions can they make which will absorb some of the surplus cash, or take advantage of their over-priced scrip, without causing any heartburn?
GENESIS MINERALS
The dealers planning to rock up to D&D are full of M&A ideas. A recurring name on the receiving side is that of Leonora gold explorer/developer Genesis Minerals (GMD), trading at 4.7c for a market cap of $43 million.
Its Ulysses gold project currently stands at 3.3m tonnes grading 3g/t for 321,000oz, including 1.22m/t grading a sweet 5.5g/t for 215,000oz from the deposit's (open) high-grade shoots.
The story of Ulysses is fast-changing though, with a half completed 30,000m drilling campaign expected to lead to a substantial resource upgrade early in the December quarter.
The company isn't saying so, but followers of the story reckon that the consistency of the results from the infill and extensional drilling campaign now underway suggest something around 750,000oz is on the way.
Then there is wildcard of what comes from the recent discovery of high-grade reef gold (3m at 26.3g/t from 182m) encountered 300m north of the Ulysses lode-style mineralisation.
Follow-up work is needed there to determine its significance, but it is nice to make a "blind" discovery of quartz reef with visible gold any day of the week.
On the expectation that Ulysses grows to 750,000oz-plus, things will get interesting for Genesis because it could get working on a stand-alone development proposition rather than having to rely on the margin-shaving toll-treatment route.
Timing wise, a feasibility study could be done early next year. That's a good thing because no investor should buy stocks on expectations of a takeover alone. If one doesn't emerge for Genesis, it still has a bigger and brighter future thanks to the unfolding stand-alone potential of Ulysses.
But having said that, it is also clear that 750,000oz of better than average grade gold is going to be of interest to any of the existing operators in the Leonora region.
The research desk at Perth's Argonaut – its corporate arm was lead manager to a $5m placement in April – has a 10c price target on stock, citing the stand-alone appeal and takeover potential.
No surprise that it reckons St Barbara (SBM), up the road from Ulysses, would make sense on the takeover front.
"It is a cheaper growth option than the Gwalia Mass Extraction Project ($100m capex) given Genesis' market cap of about $40m," Argonaut said.
"Ulysses could add 70,000-100,000oz of annual production (versus the GMX project at about 50,000oz a year) from a secondary source proximal to Gwalia."
"Alternatively, we see the likes of Pantoro (PNR) acquiring the asset as a second production asset to their current Nicholson's Project."
Argonaut Resources (ARE):
There is a bit of buzz building around Argonaut (ARE) the exploration company – not the broker above – as it gets closer to a drill campaign at the Torrens exploration joint venture on the eastern margin of South Australia's Gawler Craton.
Argonaut (30%) is the more lightly capitalised of the joint venture (2.1c for a $31m market cap) and is the operator. The 70% partner, Aeris (AIS), is a $60m company (16c a share) and is an established NSW copper producer.
All that doesn't matter much if the joint venture snags something special in a region best known for BHP's Olympic Dam copper monster, OZ Minerals' Prominent Hill mine and OZ's $900 million Carrapateena mine development.
Three quick holes in 2007-2008 confirmed the presence of a similar mineralised system at Torrens but native title issues frustrated follow up work.
That's in the past now, with the joint venture planning to start hitting multiple drill targets beneath the salt crust on Lake Torrens, starting towards the end of the current quarter.
Modelling of geophysical data has defined 28 "large volume (gravity and magnetic) targets, most of which have similar geophysical features" to SA's known iron oxide copper gold deposits.
More importantly, the 28 can be broken down into the various categories of the different geophysical characteristics that IOCG deposits can have.
The size of the potential prize is huge - the multi-target Torrens anomaly has a bigger footprint than Olympic Dam – but only if the drill bit proves the high science of exploring for these things is on the mark.
---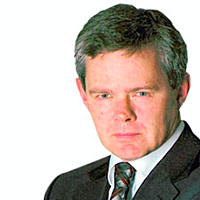 Principal
Independent Journalist
One of Australia's leading business journalists, Barry FitzGerald, highlights the issues, opportunities and challenges for small and mid-cap resources stocks, and most recently penned his column for The Australian newspaper.
Expertise