Supply Chains: From just in time to just in case
---
Since the invention of just-in-time manufacturing in the 1960s, companies have been pursuing ever greater efficiency in their supply chains. Consolidating suppliers is one of the most common ways to reduce supply chain costs and improve efficiency. However, the risks of doing so are often overlooked. Robustness and resilience can be sacrificed along the way in exchange of greater efficiency.
Trade tensions
This approach works just fine until it doesn't. The looming problem first became apparent as the trade relationship between the U.S. and China started to deteriorate in late 2018. China is known as the world's factory. It accounts for 35% of global manufacturing output (McKinsey Global Institute). Many multinational companies rely on its well-developed network of suppliers to produce their products. The trade dispute between the US and China prompted many companies to reassess their sources of inputs. However, that is easier said than done. After all, China has become a dominant manufacturing force for a reason. It has built a very efficient supply chain ecosystem over the years. Its labour and talent pool is still very attractive to many companies.
As global trade relationships continued to deteriorate further, countries and companies began to realise how critical it was to develop more diversified supplier networks. 
Some were even thinking about uprooting their manufacturing facilities and moving to other countries. Japan has already announced that it will provide funding to help companies move manufacturing out of China. Toshiba and Komatsu have moved part of their component provision from China to Thailand, Mexico and Japan (The Australian Financial Review). The U.S. government is also considering providing incentives for U.S. companies to pull component sources out of China.
And then COVID-19
As companies were scrambling to restructure their supply networks to minimise the impact of trade tariffs, the COVID-19 pandemic hit the world. This time, the pandemic fully exposed the vulnerability of global logistics networks. 94% of Fortune 1000 companies saw supply chain disruption from COVID-19 (Fortune). Even global companies like Apple, Airbus and Hyundai encountered meaningful disruption in their supply chains. It once again highlighted the risk of overly-lean global supply systems.
'Near-shoring' supply chains
Businesses are rethinking their supply networks and looking to build flexibility and resilience to protect against future disruptions. In the second quarter of 2020, the topic of 'supply chains' was discussed on nearly 80% of all investment analyst calls within the industrial, consumer and tech hardware sectors (Morgan Stanley). The specific theme of 'near shoring' – identifying supply chains that are domestic or regional – was mentioned on over 15% of these calls. More than three times the previous peak in 2013.
One of our investee companies, Premier Inc, is a case in point. Premier is a group purchasing organisation in the US, which plays a unique role as a connection point between healthcare providers and suppliers. It has been helping its customers to diversify their sources of supplies for many years. However, personal protection equipment (PPE) products are still overwhelmingly sourced from outside the U.S. with approximately 80% coming from China and Southeast Asia (Premier Inc.). In response to COVID-19, Premier has started working with domestic PPE manufacturers to expand their production lines.
The issue has also attracted the attention of policy-makers. U.S. Democratic presidential candidate Joe Biden has expressed an ambition to rebuild the U.S. supply network for critical medical supplies. The plan will provide incentives to create more resilient supply-chains by shifting production of a range of critical products back to the U.S. COVID-19 will, in our view, accelerate supply chain automation. 
Technologies such as the Internet of Things, robotics and artificial intelligence play a key role here. 
These technologies bring many benefits in manufacturing and warehouse automation. They provide higher productivity, improved safety, more efficient use of materials and more predictable quality.
Such automation technologies are particularly useful in the manufacturing and retail sectors given the spike of e-commerce in recent months. WHEB's strategy holds a Japanese company called Keyence which provides sensors and machine vision systems for factory automation. We also hold two leading warehouse automation companies Daifuku and Kion. Their products improve logistics efficiency in factories and warehouses. They also help reduce energy consumption and improve employee safety.
This global pandemic calls for re-prioritising between supply chain resilience and efficiency. We do not believe these are necessarily mutually exclusive objectives. Technologies are now ready to offer solutions to strike a better balance between the two.
Learn about the positive impact your investment could make
WHEB have developed a bespoke methodology to measure the environmental and social impact of their investments. Access the latest Impact Report and calculator here, or click 'contact' below to get more information.
---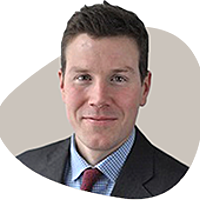 Pengana WHEB Sustainable Impact Fund, Fund Manager
Pengana Capital Group
Ted is the Fund Manager for the Pengana WHEB Sustainable Impact Fund and helped to found WHEB Asset Management in 2009.
Expertise